A complete tipsheet for WooCommerce Product Feed Management.
Running short of time? Get PDF of the blog in your mail.

Play Now
The changing dynamics of eCommerce sector requires selling and establishing your brand on different eCommerce platforms, simultaneously. The approach of 'Multi-Channel Selling' is an indisputable path to bring in more conversions for your online business. But, without Product Feed Management, your multichannel strategy will lag all the essentials to flawlessly manage all the product related data.
Though it's a reliable approach to expand your consumer base but selling through several channels can be a time-consuming procedure. Integration of more than one eCommerce channel and controlling them on a centralized platform is one of the most efficient ways. As a result, you'll be able to sync your WooCommerce store's products with Amazon, eBay, Google Merchant Center, and so on.
The following article will help you understand how effective product feed management can play a big role in the success of  your WooCommerce store.
What is a product feed?
A product feed is a digital asset in the form of organized structures that stores product data for retailers, manufacturers, or ecommerce sellers. The raw form of a product feed can be a CSV, TXT, JSON, or XML file.
For a product feed, details such as – product name, attributes, SKU, stock status, price, quantity, etc., are required. These organized data structures not only store your product information but are also helpful in transferring data from one ecommerce space to another.
Why you need product feed management for your WooCommerce store?
As a matter fact, product feed management is important for any online store selling physical or digital products. It is amongst the important supporting pillars of a successful e-commerce strategy. Not only does it facilitate feed optimization, but it also assists in monitoring the store's overall performance.
WooCommerce is no exception, as it relies on product feeds to keep track of inventory and product availability. Without proper feed management, your store could quickly become overwhelmed with data and frustrated customers.
Here are 5 important reasons why the WooCommerce store needs effective product feed management-
a) For better SEO 
Classifying products based on attributes like design, aesthetics, weight, size, color, etc., is important in uplifting the overall SEO. Besides classification, using keywords in product titles, descriptions, and alt texts in product images is of utmost importance. Hence if your products have to surface organically in the search results, these SEO tweaks are a must opt. 
b) For enhanced visibility
Following the appropriate SEO strategy can render desired visibility of your product listings. Moreover, search engines prefer displaying product listings as search results that follow the SEO guidelines correctly. It helps you attract more attention from buyers and make it easier for them to find your products online.
c) To grab new customers
Improved SEO and increased visibility build up space to attract the attention of new customers. A well-managed product feed helps you keep up with what your customers are interested in and makes it easy for them to find what they are looking for. Additionally, they provide you with ways to track customers' behavior and preferences so that you can continue to build a transactional relationship with them.
d) To achieve more conversions
Automated promotions are amongst the most common ways to generate more conversions. Customers love shopping when they have offers and coupon discounts in hand. Using optimized feeds, you can share custom coupons and offer your existing and new customers some discounts to generate more sales.
e) For extended global reach
There are no boundaries whatsoever in the e-commerce arena. Cross-border e-commerce merchants must ensure that their product feeds contain localized information for the particular market in which they display advertisements. For instance it includes listing prices in the local languages and currencies, the exact shipping costs, and other descriptive product details.
Also, with a well-organized feed, scalability is never going to be an issue. Sellers can move ahead to diversify their product listings via multichannel selling strategy using WooCommerce integrations. Above all, going global with optimized product feeds unlocks new selling horizons for WooCommerce sellers.
Understanding the key elements of a perfect product feed.
Product Title:
Product titles are generally the first to pop up as a search result for buyers' queries. It is the first line of introduction that helps in conveying the summary of the product to customers. If it doesn't have the set of keywords that your targeted customers are interested in, your products might not be able to make it into the search results.
Product Images:
Images of your products play a crucial role in the buyer's purchase decision. Product images with the right backgrounds and sharp pixels can capture much more attention and directly influence your sales numbers. Also, alt text descriptions in the image backend strengthen the visibility of products with minimal effort.
Product Description:
There are 3 basic components of a product description – product features or capabilities, keyword placement, and appropriate formatting of text. Each one of these components consequently assists in boosting the visibility of your products across platforms.
Bullet Points:
Bullet pointers are of utmost importance when portraying your products as the right pick for your target audience. They provide an overall glimpse of the product features in a short period. For instance – Amazon allows its sellers to fill in 5 key features of the product, which automatically gets displayed in the product descriptions in boldly highlighted bullet pointers. As a WooCommerce seller, you too can implement this tactic in your product descriptions to provide a quick glimpse of the product.
Pricing:
The price tag of your products is among the key factors in deciding the success of your e-commerce business. Understanding the costs involved and an in-depth study of the target marketplace are the focus pillars of analysis before reaching the right price tag for your products.
Product Categorization:
Correct categorization of items allows search engines to fetch products appropriately as answers to customers' queries. Right product mapping strengthens the visibility and relevancy of products to customers.
Availability:
While searching for products on platforms, you might have come across terms like- In-stock and out of stock. These are nothing but indicators of whether the products are available or not for customers to shop.
To be specific, out-of-stock status is the epitome of mismanagement of product inventory. As a result, sellers lose not only sales but also their reputation every time a potential customer lands on their product page.
Remaining Quantity:
It is an early display of the exact number of product units before going out of stock. This creates an urgency to buy the product because a delay will lead to sold-out status. Only 2 left; 7 left; hurry up are some of the examples.
Pixel ID:
Pixel IDs are tracking codes installed on web pages to track and remarket products to targeted customer segments. Appropriate tracking of the buyer journey is a fruitful option as it supplies you with the database of users who interacted with your website at some earlier point in time.
Other key attributes:
Other key attributes include various supplementary product aspects that a seller should never forget to mention. The material used, size, color, etc., of the product are some key characteristics to define the product better.
How to improve the quality of your feed with feed optimization?
Now let's have a look at some key concepts of feed management and feed optimization first. A brief understanding of both will give a roundabout idea of how to improve the quality of your feed.
Feed management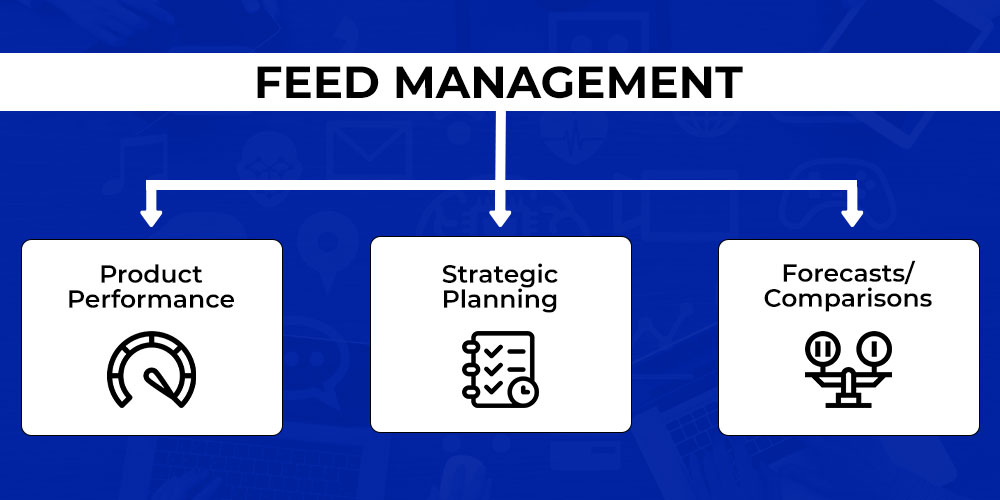 The concept of feed management revolves around administering as well as refining the product feed data. The sole purpose is to have a complete grip over every granular data so that it can be customized to adapt to the requirements of every e-commerce platform.
Apart from this, there are other objectives of feed management, such as-
It facilitates the study of product performances, overall sales monitoring, and devising strategies to overcome challenges faced by retailers.
It promotes better decision-making with the help of projections and comparisons.
To increase customer interaction with suitable advertisement campaigns and reduce customer acquisition costs.
Managing the feed from WooCommerce onto other marketplaces.
Feed optimization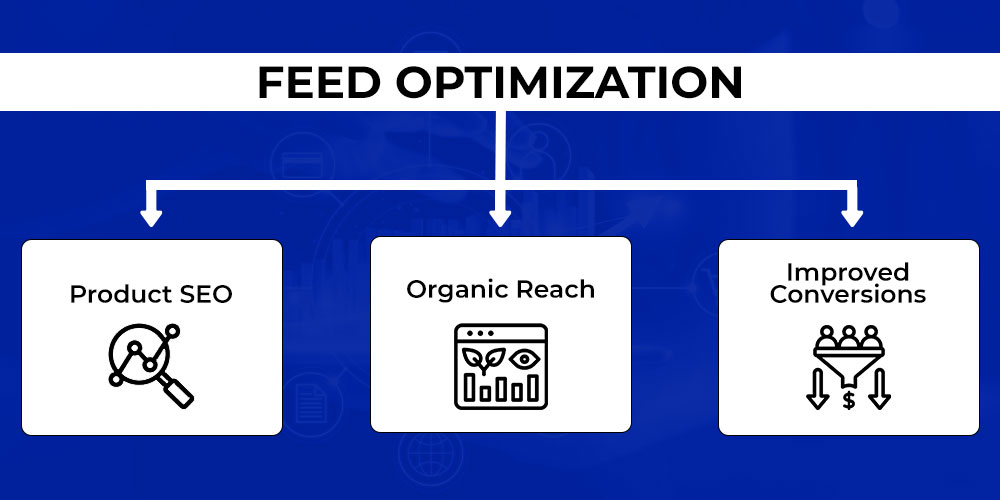 Feed optimization encompasses all sorts of hacks for optimizing the feed to reach more buyers organically. From adjusting the title, descriptions, image alt texts, etc., to assigning products in the right category everything is part of feed optimization. Some of the unrivaled objectives of feed optimization include-
Extending the reach of products by adding relevancy to them via the right set of keywords.
It helps in creating engaging product listings for multiple e-commerce platforms.
Providing the shoppers with the exact availability status of products.
Tips to improve the quality of your feeds with feed optimization
Product feed optimization is a key to sustaining the dynamic e-commerce scenario. The sole purpose of optimizing the feeds is to instantly let your potential customers start relating to the products or services. Otherwise, at least a hundred other options are available at their fingertips to jump off your product page.
Here are a few tips using which you can optimize your WooCommerce product feed for enhanced customer interaction-
Use product titles with the right keywords
Finding suitable keywords for your products is not that difficult. The ultimate source to unlock the set of right keywords are the customer queries on different search engines. Moreover, you can look ahead into competitors' listings for a better idea of your niche. Your product title should be a combination of the following information – brand, gender, product type, color, size, fit, material, weight, model, etc.
High-quality product images
Images of your products are like the head salesperson for your listings. Customers rarely click on blurry images with unclear backgrounds. Using clear images of your products is highly recommended to attract attention and intrigue the customers to click on your products and go ahead. Pixel-perfect images with white backgrounds and a fixed upper limit on file size are the priority requirements of a majority of platforms out there.
Easy to understand product descriptions
Ineffective product descriptions can lower conversion rates, so avoiding jargon and complex wording when writing them is important. Simple and clear descriptions help potential customers understand the product and why it would be valuable to them. As a WooCommerce store owner, it's your responsibility to optimize product descriptions so that there is nothing left to explain outside of it. Using bullet points is often a good idea to deliver the information about your products and services conclusively.
Never ignore alt texts
Alternative texts are the descriptions of your media files. Alt texts are assigned to your images and videos at the time when they are uploaded online. These are nothing but a combination of keywords like the product title.  Alt texts are crucial in product feed optimization by improving image SEO. Search engines prefer to crawl images with the right alt texts to display as a search result to customers.
GTIN/ MPN
GTIN refers to the Global Trade Item Number. It's a 14-digit number provided by the manufacturers as an item identifier which is equally important like metrics. It helps to distinguish your product from other competitors in terms of packaging and labeling. This identification creates a sense of trust among the end-users. MPN is the Manufacturer's Part Number and is used to specify a single unit among a group of multiple units. Shoppers often search for the exact MPN, where the product feeds with the MPNs that dominate the game. However, using any one of GTIN and MPN will add to the quality of your feeds.
Selecting the right product category
To succeed in product feed optimization, WooCommerce store owners must carefully select the product category they wish to submit the products into. It is of utmost importance because it helps to improve the overall customer experience. The selected category must relate to its attributes, application, function, usability, target gender, etc. Choosing the appropriate and hyper-targeted categories leads to increased sales and improved product feed.
Optimizing the other data points
Other data points include customer reviews, dynamic product pricing, product ids, and more. The use of customer reviews in product feed optimization is becoming increasingly popular. It is because customer reviews help ascertain the positives and negatives of the product. Besides customer reviews, dynamic repricing also plays a key role in increasing conversion rates. It refers to modifying the product prices as per the market's need or tackling competition. It's so important that more than 21% of ecommerce companies in North America and Europe have already implemented it.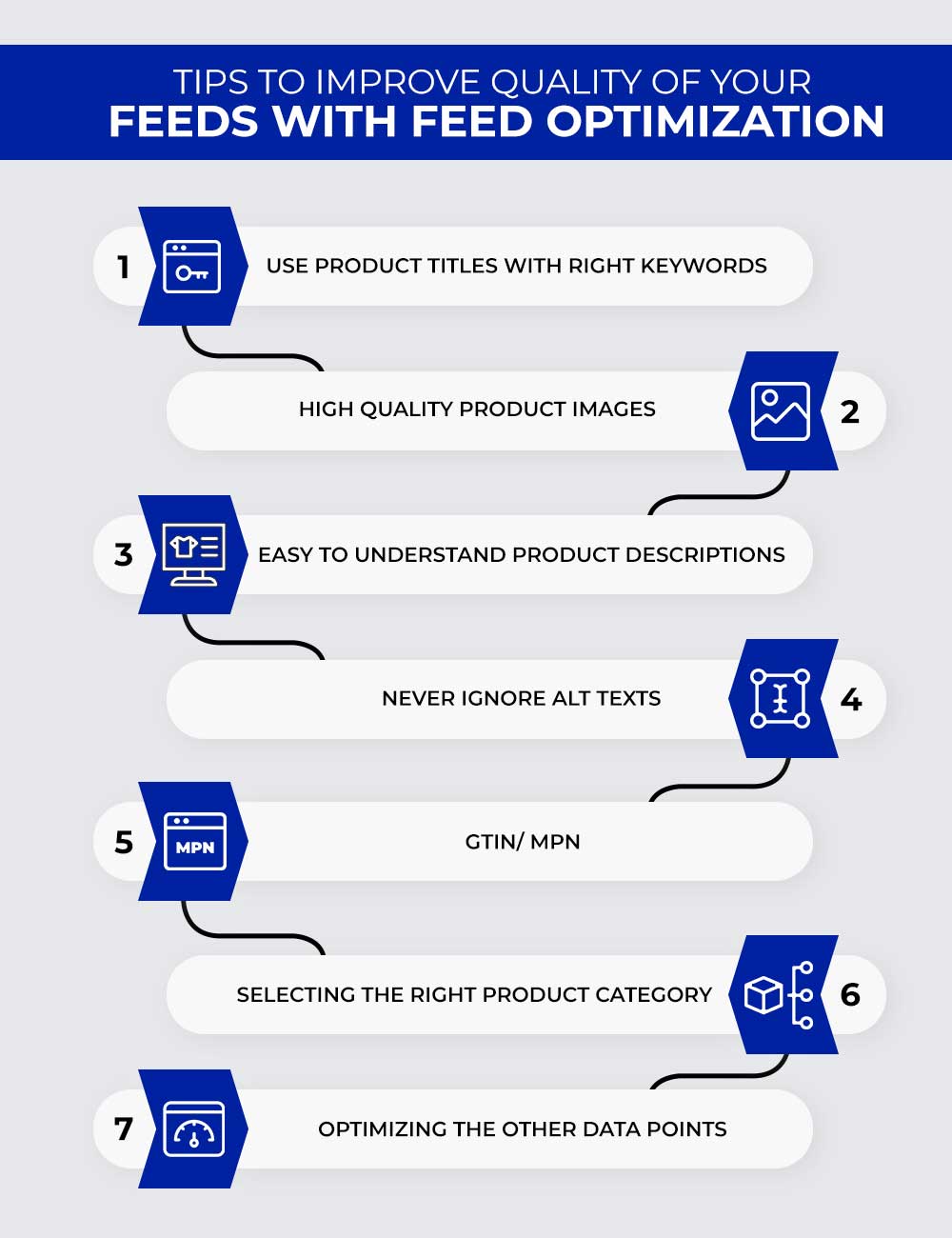 CedCommerce solutions to assist in WooCommerce Product feed optimization
In recent times, where technologies are shaping the e-commerce world, online sellers should not limit their stores to just product listings and wait for miracles to happen.
CedCommerce is constantly thriving to fill the gaps between advanced e-commerce solutions and WooCommerce retailers. Using CedCommerce's expertise, merchants can easily manage their product data, optimize their listings, boost conversions and build a unique brand identity. 
WooCommerce product feed management services provided by CedCommerce ensures that your products are synchronized without causing any confusion for inventory managers.
Serving a number of prolific brands CedCommerce is a well-known name among sellers. For full-fledged digital solutions and product catalog customization, reach out to our experts today on – Skype or WhatsApp!