10 Must-have app features to survive and thrive in the online market
Running short of time? Get PDF of the blog in your mail.

Play Now
The current world scenario seems to move toward mobile apps. Nowadays, mobile apps are the perfect way for an enhanced and fast way of online shopping. Online retailers are now investing in mobile app development. And expecting huge success in a very short period. But merely having a mobile app won't skyrocket your business in the infinite pool of app stores. To stand out in the online market, you need to make something exceptional. And you must be well acquainted with the features and functionalities in depend or expecting from online sellers. Here, we will discuss 10 must-have app features that mobile apps should include in enhancing user experience.
1- Easy Navigation
The moment someone installs your app on their device, their journey with your brand starts immediately. So the experience you are offering your users should be enriching and completely satisfying.
In fact, research reveals that about 25% of users leave the app after the first use. So it is imperative to hook your attention from the beginning of your app's development phase.
The first thing user comes in contact with your app is its navigation, layout, and user experience. When the users navigate through different points in your app. Bad navigation or user experience makes users leave your app instantly.
Offering a great mobile app with an enhanced user experience and easy navigation requires an excellent design, complete understanding of the user requirements, and high performing native app build. In fact, seamless navigation can be the ultimate growth of your business.
Read Also: What are the top mobile Commerce trends that will dominate 2022?
2- Social media login
Social media login is a quick and easy way for new shoppers. It helps shoppers to login into their accounts by using their existing social media accounts. By using social login users don't need to waste their time in a long registration process. But users can directly login via their social media accounts. So it is a seamless way of accessing apps and sites. And prevents help users from skipping the cumbersome registration process.
Moreover, social login is an excellent feature for businesses that helps simplify user verification. And offering them more trustworthy access to user data for personalization.
3- Push Notification
Push notifications are a great way to build a strong relationship with the audience, drive revenue, and recapture your lost customers. Mobile push notifications act as one-on-one messaging for user engagement directly on your mobile device. Sending push notifications is the most effective way to drive users' attention and traffic to the latest updates, services, and products. You can entice your users with personalized push notifications. Push notifications like geolocation notifications let you target the user of a specific area. Or when they are entering or leaving a specific location.
4- Augmented Reality
In AR, digital content like text, images, or sounds is overlaid upon the real-world environment around us. AR is used in different sectors including medical, education, E-commerce, and even in social media apps. The most common example of augmented reality can be seen in social media app filters like Instagram filters and Snapchat filters. Now there are Ecommerce mobile apps with in-built augmented reality features. AR features let the shopper get a better visualization of the item they are going to purchase online. So Augmented reality is much useful tool and is increasing steadily. Mobile Augmented reality users are expected to reach 1.73 billion by 2024.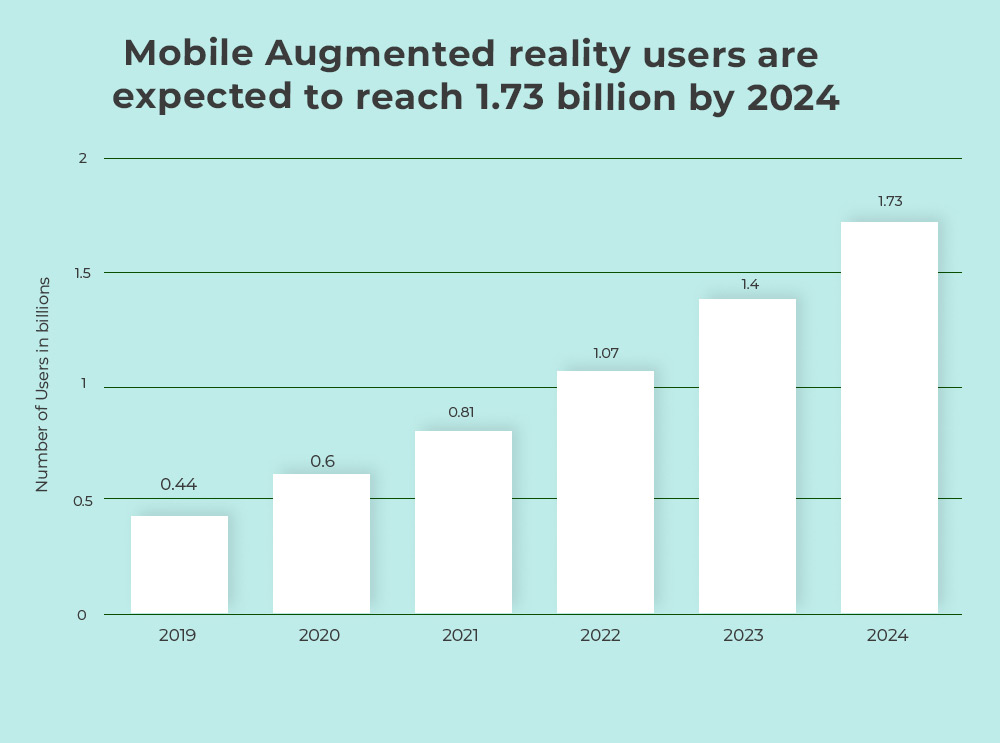 5- Multi-language and RTL Support
Having a global presence for every business is imperative for its growth. And When you target an international audience you must have a multilanguage app and RTL support. This will help you end all the language-related barriers. If you think you can address all of your clients using the English language, you are wrong. English is the most widely spoken language globally. Yet still, it can't address more than 30% of your audience. And 70% of the audience is non-English. Which is a big figure you will miss if you don't use multi-lingual features. RTL support is right to left writing direction. Many languages in the world start from the right-hand side. Like Arabic, Aramaic, Azeri, Persian, Urdu, Kurdish, etc. So using multilanguage and RTL support in the app is imperative when targeting international clients.
6- Multicurrency Feature
Multicurrency is another essential feature needed in the app. When you are targeting a global audience base. Multicurrency features help your customers view products in their local currency. Making it easier for users to convert currency into their local money. Moreover, the multicurrency feature will help build trust and credibility. Among your users by offering them prices in their native currency. Multicurrency app features help improve conversion rates and offer a reliable shopping experience.
7- AI Product Recommendations
AI-product recommendations help ensure shoppers search for the item they want to purchase. It makes customers' search process easier. Helping them by recommending them similar products they are looking for. Moreover, they also highlight the items based on user's preferences or past purchases. In this way, it is the most useful feature that saves users time and energy. When a user is searching for the item they want to buy. Consequently increasing the conversion rates.
8- Reaching Audience via Social Media
Social media has made it much easier to attract users than ever.
Like generation z and millennials. Generation z users regularly use social media. Like acquiring news and online shopping. As these generations remain the key impetus in worldwide spending, drawing their attention will be critical to building brand awareness and sustained growth for your business.
Consolidating the range of social media and the advantages of E-commerce. Social commerce implies the utilization of networking platforms to promote, sell, and purchase items. Gives clients a great way for discovering new brands. And items while making buys through apps. Social media is a great way to reach a large audience base and convert them into paying customers.
9- App In-built Analytics
With the increasing number of app users, you can't survive marketing just by monitoring the number of app downloads. You must comprehend how users interact with your application. The type of users are using your app, their location, age, gender. And how long they are staying on your app, and other crucial metrics. With the help of these crucial metrics. You will be able to craft an effective marketing strategy. That helps you to grow in the market. Mobile analytics is a great tool that can help you capture crucial metrics. It helps you in
Driving better ROI.
Crafting a customer-centric marketing strategy.
Tracking achievements and goals.
So having this feature is a must to survive and thrive in this cutting-edge market.
10- Cart abandonment campaigns
Cart abandonment campaigns are follow-up messages to the customers who abandoned their carts without making any purchase. The average shopping cart abandonment rate is 69.82%. And this number is increasing unluckily. So implementing a cart abandonment campaign in mobile apps is a good way to recapture your lost customers.
Recaptivate Your Lost Customer With An effective Cart Abandonment Campaign
To put it briefly
As the world is inclining towards m-commerce the need for mobile applications is also increasing day by day. Now there are mobile apps for almost everything from social media to eCommerce. Mobile apps are convenient, fast, and efficient. And new features and functionalities are also getting added to make them more efficient. Features like augmented reality, analytics, etc. enhanced the user experience and gave a new direction to online shopping. if you want to turn your online store into such a fascinating mobile app, you must try MageNative. Try it for free.