Why 'Content is the King' for your eCommerce store?- A definitive guide to Content Marketing.
Running short of time? Get PDF of the blog in your mail.

There are different tried and tested techniques of reaching out to your customers where they are. Although most of them will definitely cost you money, content marketing, on the other hand, being less expensive, is the absolute need of the hour. Through a strategic approach, the content is distributed on a number of platforms, mostly online, to attract, engage, entertain, inform and finally convert the potential customers. An effective content marketing strategy is a sure-shot action towards building customer loyalty and customer retention. In a nutshell, content marketing is all about problem-solving. You provide answers to your audiences or potential clients surrounding their problems in the form of products or services. The idea is to provide quality information right on time- Content Marketing is that information. Takin many different forms, content marketing can be done via:
Blog posts.
Tutorials.
eBooks, manuals, and checklists.
White papers.
Special reports.
Infographics.
Videos.
Regardless of the format, nearly 60% of marketers create one or more pieces of content every day. The purpose remains the same- which is to provide consumers with clarity, answers, and solutions with your services and products.
Benefits of Content Marketing for your WooCommerce store:
86% of B2B marketers say their companies use content marketing, and 70% of them say they're producing more content than they were a year ago. Offering great benefits to every size and across all sectors, Content Marketing works upon:
Creating more brand visibility.
Building trust and loyalty for your brand.
Ranking higher on SERPs and generating huge traffic.
Aiding in customer retention.
Allowing you to respond to queries, provide important and useful information, and overcome sales roadblocks.
Assisting in establishing your brand's credibility as a thought-leader, an expert in its industry, and a reputable source of information.
It is the catalyst in the progression of customers through the sales funnel.
Giving your 'consumers and community' approach an actual value.
Objectives of content marketing:
Lets' say you opened a new company and your friend asks whether you have insurance for your company or not! The first thing that you would do is go online and search for "why a company needs insurance?" and not "best insurance company." Once you enter your query "why a company needs insurance?" all the insurance companies writing blog posts surrounding the queries will be listed, and others won't.
This is how content marketing easily attracts new leads. Without any engaging content, your store will consist of only product pages. But your potential customer might not be aware of the products that you have, or even product like yours even exists.
Google is known for providing answers to questions and not products solving those problems. Content goes hand in hand with search engine optimization helping you catch eyes on the search engines.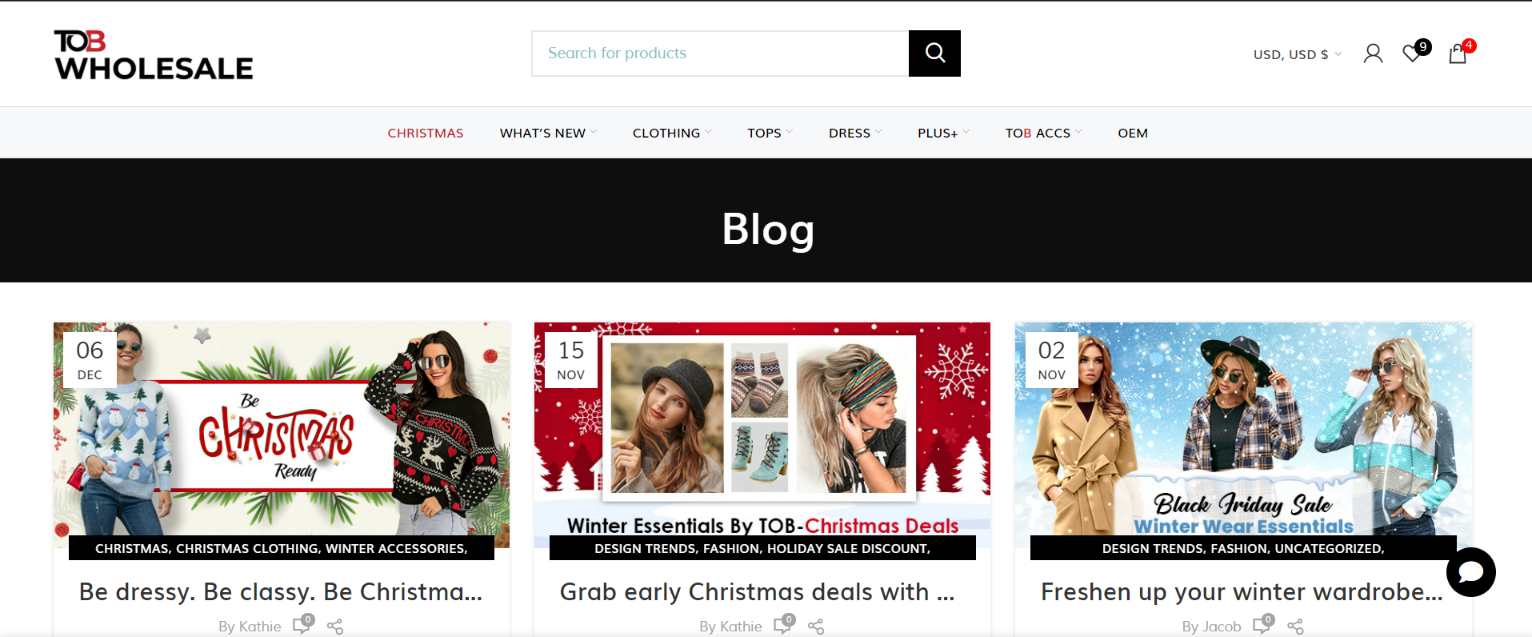 Photo credit: https://www.tobwholesale.com/
TOBWholesale is presenting its product line easily via blogs. From seasonal wear to sizzling lingerie, the store showcases its catalog with updated SEO strategies on Google. CedCommerce is providing a helping hand to establish the brand name on Google to stay ahead of the competition.
Do you think you can find the product from the store without the respective articles? Highly unlikely.
New leads can immediately buy something from you, or you can move ahead to nurture them by keeping them informed with the updated products and services. therefore, the leads who are not interested in buying at that moment can show interest in receiving some of the other information from your brand. In fact, if you create more personalized content, 78% of consumers will trust your company.
Your leads have now in your contacts, and you can contact them with ease. Send fresh material to your email list and share it on social media as you create it – blog posts, videos, PDFs, infographics, and webinars, for example. And hence, people begin to trust you as a source of good knowledge if you consistently provide material that solves problems and answers concerns. They'll choose you when they're ready to buy.
Convert leads into buyers.
Depending on the problem you're trying to solve, some content can directly market the solution while also linking to relevant product pages. Hence, It solves the problem by recommending particular objects that readers can invite guests to their wedding reception.
However, even if your blog postings don't directly connect to your products, you can still turn readers into buyers. According to the CMI's digital content marketing statistics, 72% of marketers believe that content marketing boosts engagement. Furthermore, 72% think it has enhanced the number of leads.
Increase customer loyalty.
You improve and maintain customer loyalty by developing and sharing quality material that your target audience needs, while the engagement created when people share, comment, or like your content helps reach more members of your target audience, a process known as amplification. Isn't it true that you want your customers to feel heard and understood?
Demonstrate to them that you are genuinely concerned about their troubles. Sharing content and communicating with individuals individually on numerous platforms might show your audience that you're paying attention and that you care.
Going for up-selling and cross-selling.
Being a customer of a certain brand pushes or rather compels you to go back to the same brand in case you feel the product or services are up to the mark. As per the number, nearly 32% of the customers come back to the same brands.
Channel your content marketing resources in re-selling and re-converting the previous clients rather than just putting all the resources in catching the new leads. Create and run effective advertisements on more than one channel to up-sell and cross-sell your product.
Becoming a thought leader.
Content marketers utilize thought leadership to establish credibility for themselves or their company's leaders. The basic purpose of thought leadership is to establish yourself as an expert in your subject and be viewed as a go-to resource.
Create and promote instructive, helpful content and become involved in the industry community, particularly on social media sites, to become a thought leader.
Upsurging brand awareness and brand reach.
Content marketing covers a spectrum of important objectives for your brand. From understanding the targeted audience to being authentic while planning your content strategy- all should and are must be covered while you plan out your content. Content marketing will benefit your company in a variety of ways, including enhancing your SEO and EAT reputation in addition to brand recognition.
It's not only excellent for your brand to create valuable content, but it's also good for SEO. Quality content is valued by search engines, thus offering high-quality, well-researched information to your customers will benefit you in the long run.
More engagement through social media.
Creating your brand voice on social media will add to the trust factor via social media engagement. Let's dive into 'How and why?'
Why?
Well, as published by Statista Research Department, social media being one of the most engaging activities among the people, has successfully engaged over 3.36 billion people over the globe. People nowadays don't just want to buy from firms that make good items; they also want to buy from companies that they enjoy. And social media as a global hub is one of the most effective ways to get your target audience.
How?
Social media engagement at its basic level is a measure of how people are interacting with your social media accounts and content. Therefore, you can easily produce engagement, which raises the odds of even more people seeing your posts and interacting with you, even if they have never heard of your brand before. There are numerous social media sites available, with new ones appearing on a regular basis. Instead, concentrate on figuring out who your target audience is and what type of content you can deliver to each location.
Deciding the 'type of content marketing for your business.
Building and creating a good content marketing strategy takes time and energy, as well as a financial investment. Hence, it's critical to make sure you're using the correct sorts of content marketing for your company's specific goals.
When determining 'the kind' of content marketing to use for your business, keep the following points in mind:
Investigate what your competitors are up to. Naturally, you want your content marketing strategy and activities to be unique to your company, but market research can help you figure out what is currently engaging or not engaging your target audience.
Use proper formats for your target audience. Consider how your clients consume information, including the platforms they use, the amount of time they spend reading or viewing it, where and when they consume it, and so on. Make sure that the designed formats are easy to distribute on social media.
Test and try the formats which will work best for your products and services. A how-to guide or video, for example, can be valuable for a complex product line. Infographics may be useful if you need to condense a lot of information in a single go.
Analyze the content marketing success and return on ROI from the strategies.
In most cases, content marketing is a long-term investment. Because trust and engagement take time to develop, the return on investment is unlikely to be rapid. It can be difficult to quantify and credit conversions to a specific content marketing activity because you may not see any changes in Google rankings for weeks or even months. Customers may visit your site via multiple channels on multiple occasions before converting.
There are, however, a few approaches to assess the success of content marketing, such as:
Keep track of your sales activity. The term "success" refers to the number of sales that have been reported since the campaign began.
The process of generating leads. This is very valuable for companies that sell things that don't sell quickly. Keep track of how many inquiries you received and, if necessary, segment them. Even better if you can relate them to other content marketing initiatives and channels.
Keep track of how much time you spend on social media. It is not always fair to assign a return on investment (ROI) to likes and shares.
Analyzing the effectiveness of your content marketing efforts. This could contain website analytics, depending on the style (unique and repeat page visits, time on page, links clicked, click patterns, downloads, etc.). Likes, comments, and shares are examples of social media engagement indicators.
Common mistakes to avoid for content planning for your WooCommerce store.
It's all about being genuine, authentic, and listening to your audience when it comes to content marketing. The most common content marketing blunders occur when companies fail to execute these things and instead focus on activities and methods that they want to do or those brands they like in various industries are doing.
Be where your customers and prospects are, provide them with the information they want and need, and mimic what others are doing. If you remember these points, you'll have a decent chance of engaging and converting those customers. Continue to pay attention to their demands and concentrate on what makes you and your company exceptional and distinct.
In a nutshell- CedCommerce Content marketing services.
Understanding your business motives and building a stronghold in the market for your business is what we strive for. CedCommerce provides a wide spectrum of services to tackle your every digital requirement. From building a store from scratch to putting your brand's name on different social forums – get it all under the same banner.
Feel free to reach out to our experts on WhatsApp or on Skype. TODAY!