What is YouTube shorts and what it means to businesses!
Running short of time? Get PDF of the blog in your mail.

Play Now
Euphoria sees a new name in YouTube shorts! In the world of shorter, entertaining videos, what's it that YouTube shorts can offer? And why should you look forward to it now? The questions are rolling in now.
Well, in this blog, what we have tried to look into is;
What it is and things on the proper usage.
Along with, few ideas about what it means now.
Businesses are always on the lookout for new opportunities to explore. And this rollout of YouTube looks promising to them. YouTube as a platform for marketers has been very optimal so far. All that it has implemented in terms of targeting to SEO has brought in significant help.
Thus, this feature caught our attention. Before we start with our blog, here's a complete overview of the sections covered.
What is YouTube shorts?
So what is it? The YouTube shorts? YouTube as a platform has been very diverse in hosting different generational needs. That led to its active user base growing to 2 billion per month.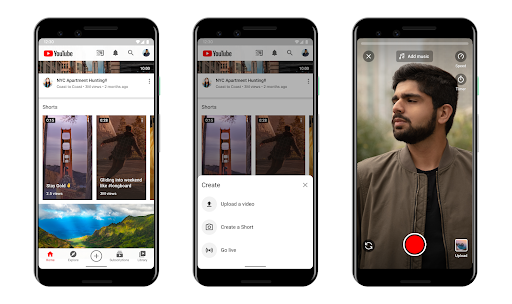 Shorts come in light of the rising user-generated content and their acceptance amongst the user base. Ironically, it was YouTube where the first user-generated content was shot. The 18-second video, "Me at the Zoo" by Jawed. Ever since then, the platform has been a welcoming hub for various content creators. And is presently available across 100 countries.
Therefore, this rollout aims to aid artists who wish to express themselves in shorter durations using their smartphones. As 70% of the video views to YouTube come from mobile phones now. So YouTube decided to participate in this sphere as well. At the same time, making it more inclusive for everyone.
Know more about here: The complete overview on YouTube marketing!
With shorts, a user like you and I can create videos via our smartphones in 15 seconds or less. Something you have observed with Instagram reels and TikTok. But wait, YouTube brings this with a focus across:
Create
This is the primary aim and lays the foundation of shorts. To make it easy for the creators, specific attributes are given that include:
A multi-segment camera that attaches several video clips together.
Along with, the option for Record with Music to pick from YouTube's music library.
Speed control will help you explore the video speed and be creative with them.
A countdown timer and hands-free to enhance the smartphone experience.
To make the same more accessible icon is being made for android users in India. At the same time, the team works up the iOS. Thus, trying to extend the shorts to many other countries. 
Get discovered
With this, YouTube is trying to invite the generation next for content creation over the platform. To have their presence intact and help the consumers grow.
Watch
This feature will be up on the homepage, where the viewers can scroll up vertically to view shorts that interest them and discover the ones that are right suited for their viewing.
What it means?
The YouTube mobile app users will now be able to create short 15 second videos!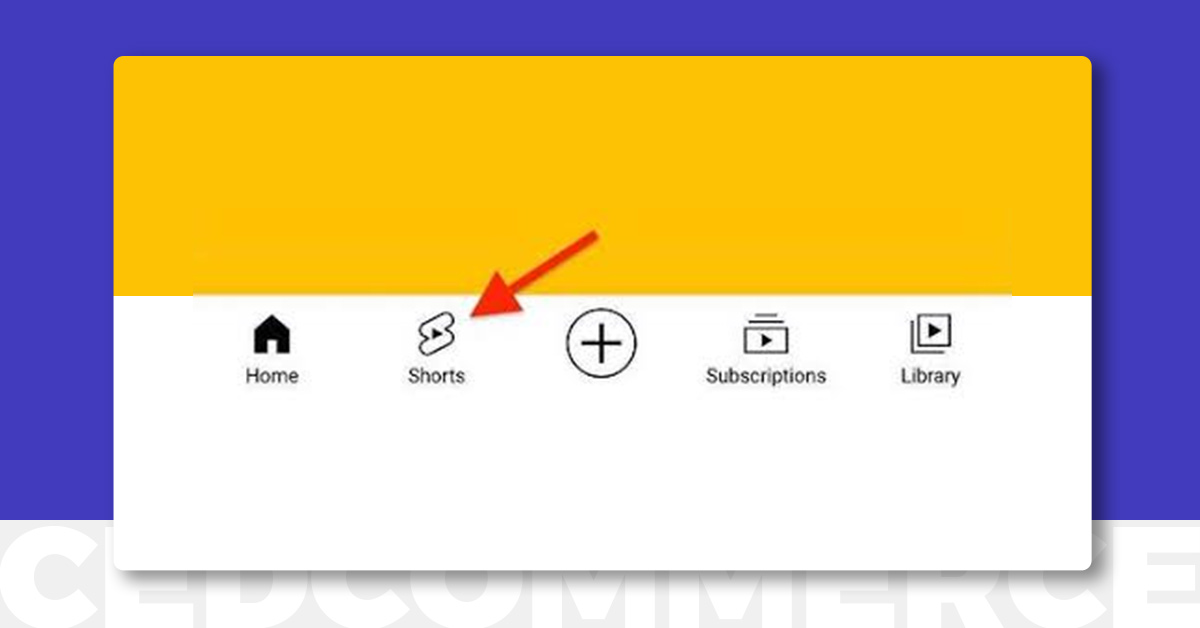 Those of you who got access to the shorts camera can create the vertical YouTube shorts now. All you have to do is check for the "+" icon or video icon (for iOS users). If "Create a short video" comes to your display, you can use the shorts features mentioned above. Also, the "+" or create icon is available in the app's bottom navigation for users in India to start it easily and early.
Hold up if you can't see any of these. No worries, you can still add your short vertical videos by using the hashtag #shorts in your descriptions now and get listed with this feature over YouTube.
Tap in to the world of videos!
How to use YouTube shorts?
To all those wanting to start and explore this feature, we have got your back and studies from YouTube's support article for you to go ahead and make this. There's definitely more to the simple steps and things to notice here too.
Sign in to your account over YouTube first, and tap on the create icon (+ or create a short).
To shoot beyond 15 seconds, all you've got to do is tap above 15 seconds, and you are good to go. But when you use YouTube's music library or original music from other videos, you can only create shorts for up to 15 seconds.
With, of course, options for the timer (to go hands-free) and speed for increasing/ decreasing the recording speed.
Tap on the capture button to record and stop once done.
You can also use the undo button to remove your recording or the redo button to have it again.
Post this, tap done to have your video preview.
Then tap NEXT, where you can add a title to your video (with at most 100 characters) and choose your video privacy.
Grab your chance to explore!
Just so you know, YouTube has different by default privacy settings for creators based on their age, which goes like this;

13-17 years: Private
18 above: Public Although you can always choose the video privacy settings by switching to either public, private or unlisted.

Last but not least, select your audience, i.e., "Yes, it's made for kids"/" No, it's not meant for kids."
Then done; upload the video!
What it means for businesses now?
So far, we have seen all about the roll of shorts. One thing that I feel might have rung you up is, "How is this different from reels or TikTok and why now?" True that the feature resembles these two.
But being a platform of masses, YouTube is trying to roll out this for ensuring better mobile responsiveness. And in this section, we will also see how it will bring goodwill to businesses or say "expected to."
Bringing in long term benefits
Here comes the first buster about shorts. Shorts are just like your other video uploads and stay on your channel beyond 24 hours, just in case you mistake them for a story! So anyone who stumbles upon your content of shorts can check it all out in your profile. 
It will be there even after days or months for anyone who wants to have a quick glance at your short video. 
More trusted platform
YouTube is one of the most trusted platforms. It is not really vulnerable to censorship. Because it's the most widely used platform and the oldest one too. It is more trusted by organizations as it does not fail to give the needed public data security information. To top it all, it's been received well.
Here's an overview of that.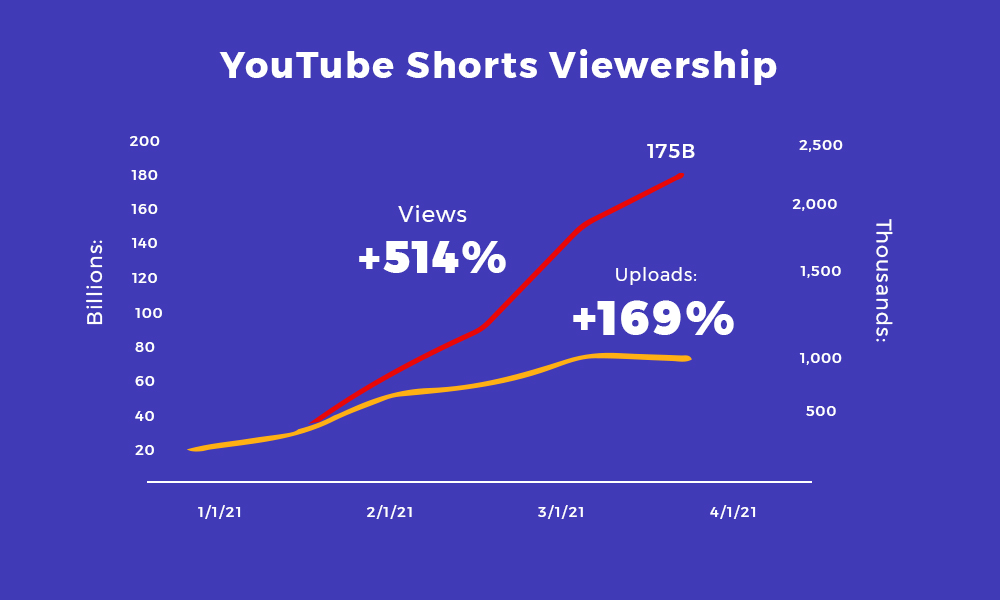 So businesses who plan months strategizing for the output can take a sigh of relief with the platform. At least the platform won't be under a ban threat.
Helps brands vividly
There's everything for everyone now! YouTube with shorts also aims at helping brands to connect with the next generation of users. B2B organizations can now target them too with this over YouTube. By bringing out short video content on the lines of infotainment.
For all our searches, we end up over YouTube. With this feature, brands are trying to tap into all the possible chances of video marketing. So yeah, it's a win-win for both creators and businesses for brand visibility.
Better reach across the platform
2 billion monthly active users is a lot. Don't you think? With this vertical format YouTube is trying to tap into all the potential content consumers across various age groups.
If planned and curated well, your content can have the mile you wish it achieves. So, reach as far as YouTube is concerned, is massive. Therefore work up with the proper optimization of your videos and get going in the new world of shorts!
Also, don't forget, it is still the second largest search engine after Google.
So best of luck!
Conclusion
With that, we have reached an end to our glimpse of YouTube shorts and their expected impact on businesses. I hope the blog here helped you develop an insight into what this rollout will bring. Do connect with us if you wish to share some queries right here on WhatsApp or Skype. Also, please drop us a comment and let us know your thoughts. We will be happy to help!