What is The Best Customizable Marketplace Software?
Running short of time? Get PDF of the blog in your mail.

Play Now
B2B, B2C, C2C or Hyperlocal, an eCommerce marketplace is invariably a 'major leaguer.' eCommerce entrepreneurs often mull over the question What is the best customizable marketplace software? prior to the kickoff. After all, their entire business frame and functionality banks on the software they ordain. Hence the choice is crucial.
But preceding the hot topic,  let's probe the options on how one can spawn their own marketplace.
Either, one can begin from scratch with profound coding of the whole structure, which is parenthetically a tardy process. Or choose a modular frame, groomed to suit the customers' covet.
Types of Softwares  
For all those entrepreneurs who want to go frugal on time & capital the option of getting a prepared frame is commensurate.
Suited to the various needs of entrepreneurs two kinds of software have been ventilated in the market.
Prior to uncovering the features of a SaaS-based platform let's revise a bit about SaaS.
Elaborated as Software as a Service, SaaS is one of the 4 internet-based software services. The others are :
Infrastructure as a Service (IaaS)

Platform as a Service (Paas)

Serverless (Serverless Computing)
As all four are Internet-based services you can deduce that the saas model implements a cloud platform i.e one it can't be installed and the entire frame is on cloud, multiple SaaS vendors avail these virtual platforms on subscription. These subscriptions can be yearly monthly or as the vendor poses them. A popular SaaS-based platform is Shopify
How Does It Work?
The software service is kernelly catered through the internet and provide with cloud services. The users create their accounts and draw a platform similar to that of an open source yet different on many levels.
Advantages of the SaaS-based platform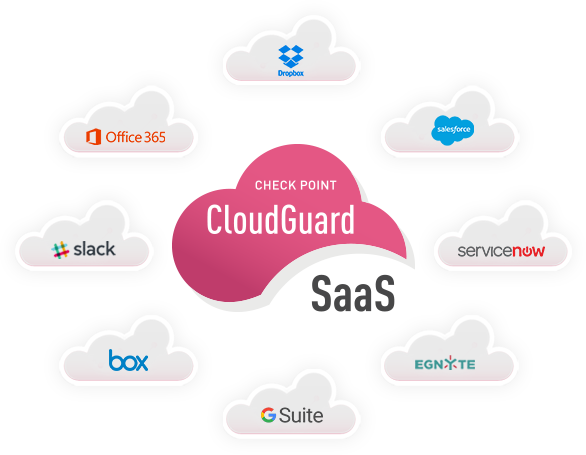 Source: www.checkpoint.com
Quick Authorization and Service Provision: As soon as the customers subscribe they can commence with their platform.
No Concern With the Maintenance: The service provider is the one culpable for anything regarding the maintenance, hence the customer can totally concentrate on his work.
Uniform Security Standards for Every Customer: Since the SaaS-based platform is entirely established on the internet and all the customers are registered online, the security standard is not biased or specified for each customer, it's uniform.
Effortless Assimilation for New Employees: You can just register your new employee and that's it. Installation of the entire software on a fresh system is not needed, saving time.
Cost-Effective: SaaS-based platform is comparatively economical.
Disadvantages of the SaaS-based platform
No Data Privacy: Spawning your platform online means you will have to share the data with the service provider. Exposing your data can lead to serious consequences like data piracy, data cloning etc.
Recognized service providers like Shopify won't do that to you. Make sure to make an audit of the service provider you are choosing.
Constant Internet Connection Required: You can't operate on the platform offline. There is a constant need for a robust and snag-free internet connection.
OS and Browser Compatibility Required: These online platforms may function differently with various Operating System and browsers. You may have to spend some generous amount of time to find the most compatible SaaS base to shape and flourish your platform.
Limitation on Customization: The SaaS service providers have prebuilt frame and themes for customer convenience, but you can't customize according to your needs. You can't add or remove any feature if needed. You are not free to mould the platform according to your taste without any parameters.
Paying for unfinished features: Several SaaS platform development providers often launch some features while they are being worked on, maybe on the purpose of 'Beta testing' but users are charged for these features without the knowledge that they incomplete.
Let's understand what is an open source software first, before delving into how open source ecommerce platforms are assisting businesses.
Open Source Softwares are the ones that enable everyone to freely use and modify their code to change it according to their requirements.
Open source softwares are high quality, well designed and mostly the best choice for organizations that are looking at customizable products' manufacturing. Take a look at the Top Software Development Companies for open source solutions.
Open source platform providers had long ago sensed that though the base of B2B, B2C and C2C eCommerce seem to be alike yet they are quite vivid and different on so many levels. Then there is Hyperlocal eCommerce.
On exploring all the segments of each of these eCommerce terrains you will see why SaaS-based platforms are not ample to suit each one of the business models, especially B2B. Why? Because a robust website needs a robust frame that lets the user have more control over the whole system.
Even in the case of open source, there are sundry solution providers that can match the stipulation of B2B. Some of the most suitable solution providers are-
Magento
Woocommerce
Prestashop
X cart
Virtuemart
Yokart
Pimcore etc.
Advantages of Open Source Platform
Cost Effective: Spawning an eCommerce website from scratch is definitely not a cheap job.
Customizable: Open source solutions provide the exemption to customize the platform to suit the requirements of the user.
Developing a custom made software involves rigorous stages of planning and testing for foolproof results. A Top Custom Software Development Company goes through all the phases of the software development life cycle to provide the results that the customer is looking for. Only then can the quality and robustness of the software be trusted.
Flexible: A platform concocted with an open source solution is unduly pliable. Susceptible to transitions and upgradations these solutions are befitting for any kind of eCommerce podium.  Surely no one will want a platform that can't be upgraded as, going through the ordeal of reconstructing the entire website periodically.
Scalability: With a robust open source platform, scalability is infinite. One can do a lot with their website if it's framed on such solutions. Expanding the website to any level is possible with open source solution as it can take all that load without crashing down, neither it binds the entrepreneurs with limited options.
Verifiability: You can review the claims made by the solution provider for yourself in case of open source solutions, unlike  SaaS-based platforms where you have to rely on the solution providers blindly as you don't have other option.
Various addons: With open source frame you can get numerous addons from various companies who work on the same frame e.g Magento marketplace. You can get Magento addons from various solution providers.
Easy and Trusty coading: The developers also use the open source software as they work on it so you can trust the coding to be flawless and even if there is any kind of minor bug it can be fixed in a jiffy.
With a trusty open source solution, a measure-to-match platform for any kind of eCommerce business can be chalked out. Magento tops the list of open source solution providers the list as it is rigged with all the traits plus it dispenses most flexible and second-to-none frame feasible to future modifications.
For B2C: For a marketplace platform like Amazon or eBay there are solutions that can fit one's postulate. Even if you are thinking of expanding in the Middle East and getting a website like Souq.com or in South-east Asia Magento's frame is best-suited for the purpose.
For B2B: Building a site like Alibaba is often what B2B  entrepreneurs want, Magento has a robust frame that can support the whole platform very well.
For Hyperlocal: These days hyperlocal eCommerce is especially a hot zone as many venture capital investors are taking interest in it. In Developing countries like India, hyperlocal eCommerce is dilating its roots. Online grocery stores are growing popular rapidly.
There are numerous solutions and addons plus extensions if you want to create one for yourself.
Cedcommerce Can Help
For a remarkable amount of time, CedCommerce has been offering the necessary technical solutions specifically made for building one such platform. These extensions come with a multitude of features to aid in the development of a rich multi-vendor e-commerce marketplace. CedCommerce's Magento 2 Marketplace extensions and add-ons are ready made and reasonably priced solutions. A marketplace armed with these features is undoubtedly going to possess the best in class features. For building your own multi-vendor marketplace platform  and to see what our satisfied customers have to say about us do visit: CedCommerce