What are the top Ways to Improve App Engagement & User Retention?
Running short of time? Get PDF of the blog in your mail.

Play Now
Nowadays, mobile apps are the most popular way to connect to the internet for tech-savvy, modern-day customers. Mobile devices' seamless user experience. And App Engagement levels make them popular among digital buyers for connecting to the internet via different mobile apps.
App engagement level is generally how many times a day, week, or month your user uses your app. In contrast, user retention is also almost the same thing as app engagement. User retention is the percentage of users who continue using the application.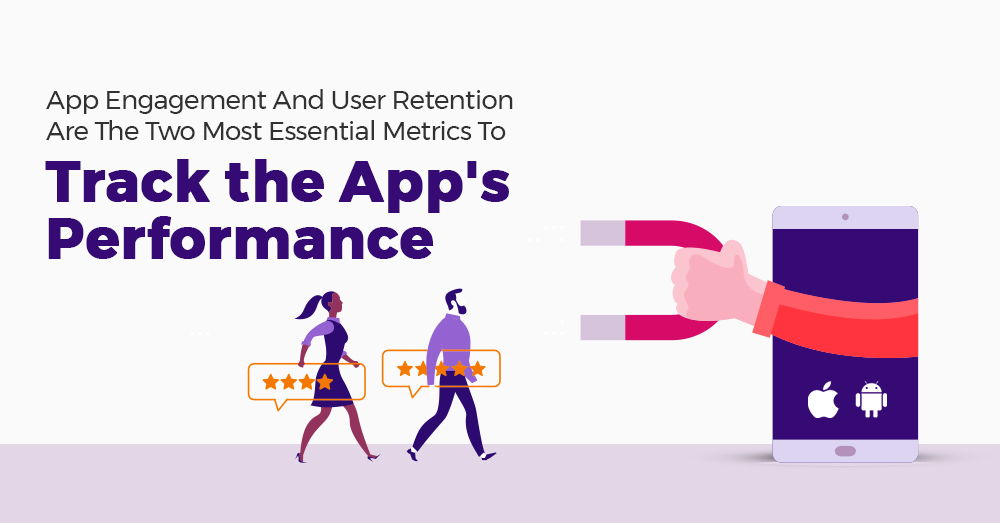 User retention and app engagement are two crucial metrics. Businesses from banking, healthcare, eCommerce, and other sectors can use to get complete insights into the success of the mobile app. So high retention and engagement level leads to app success. Whereas low retention leads to app failure.
What Are The Metrics For App Engagement?
Common metrics for mobile app engagement incorporate the following.
Active users: It refers to the number of app users who opened your app at a particular time or date. It can be subdivided into two categories:
1- Number of users who opened an app in a single day.
2- Number of users who have opened an app in a month.
App retention rate: App retention rate tells the percentage of users returning to your app.
Churn rate: Churn rate is a metric that tells about the number/percentage of users unable to retain your application.
Session length: Session tells the duration of a particular user using your app.
Achieving higher user retention and engagement levels could be the most challenging task.
Achieving higher user retention & app engagement level could be the most hectic and challenging task. A recent survey by Statista shows that "32% of users returned to an app 11 times and more".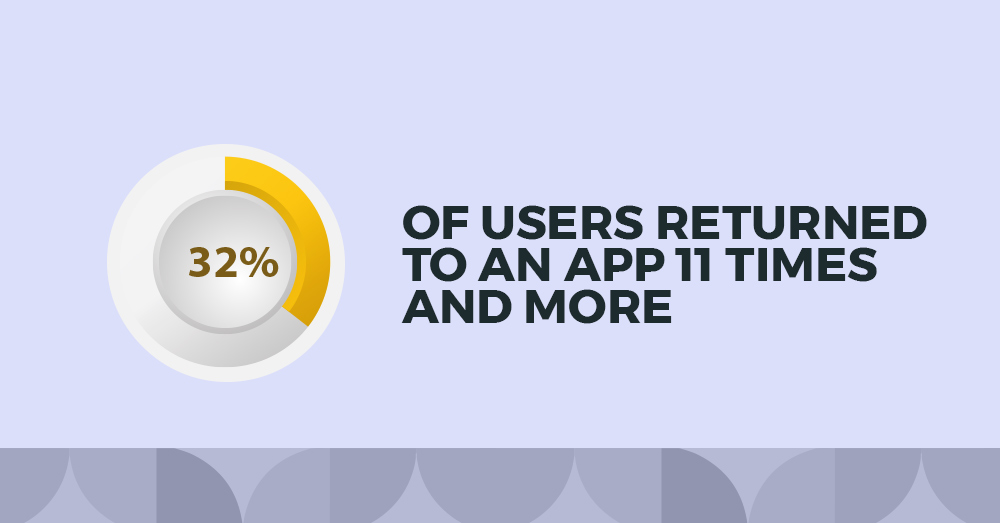 Whereas another survey by localytics shows that "25% of users stopped the usage of an app after a single use."
So as per the above numbers, it is clear that it is challenging to retain app users. Retaining users and increasing engagement levels are very important for the success of any business. And it will help your organization to achieve the desired return on your investment. So here will discuss some top ways to increase your user retention and app engagement level.
What Are The Top Ways To Increase User Retention And App Engagement Level?
App engagement level and user retention are the two most important metrics. That provide genuine insights into the success of any app. So low retention and app engagement will lead your app to failure, While high retention and engagement levels equal the opposite. Below are some essential points to consider for increased user retention and engagement level.
Simple And Efficient Onboarding Process.
The onboarding process is the first step when a user operates your application. The poor onboarding process can leave a bad impression on your visitors. So a seamless onboarding process could be the most effective way to increase user retention and app engagement level.
Besides, an effective onboarding process can help increase app retention by up to 50%.
So to offer a seamless checkout experience to your customers. And offer them efficient and simple onboarding, below are a few tips:
Reduce steps in the registration process
Keep the total number of information fields as little as possible
Use interactive ways to get user information
Most importantly, keep it simple
Send Creative Push Notifications
Push notifications are a great way to grab user attention and engage them. So sending the right push notification at the right time can help in increasing retention rate and engagement levels.
Increase retention rate and grab your user attention by following the tips below:
Use location-based notification
Deliver highly target push notifications
Send relevant notifications
Send unlimited push notifications to your users and grab their attention.
Use Creative Emails To Engage Your Audience
Another important technique that can be used to engage your audience is sending emails. Email marketing is a great way to connect with your target audience directly. So you can engage the audience by sending them appealing and attractive emails.
Following are the tips that can help in increasing your engagement via email
Craft a well-structured email to grab user attention
Notify your users about the latest offers and discounts
Provide suggestions and tips to explore unused features of an app
Update about the latest feature of an app
App Personalization
App personalization is the process of creating an app to meet the requirements of specific users. As in the case of any other personalization process. Mobile App personalization aims to offer a user experience that is customized to the particular need of the user. Personalization is one of the most crucial factors that brings an increase in engagement levels. So the personalized app can be super helpful in increasing interaction with users.
Use In-App Analytics
To monitor and check the performance of your application and user behavior. It is essential to make use of in-app analytics. If you want to increase your app engagement and take it to the next level. You have to learn app analytics. In-app analytics lets you get a complete understanding of user behavior with the app. So, Based on these, you can create an effective action plan to increase the engagement levels of an app.
In-app analytics lets you to:
Track the achievements of marketing goals
Drive ROI
Gather accurate data to get a better understanding of user behavior and app performance
App analytics lets you track fallout rates, engagement metrics, user acquisition metrics, event data, location, device information, page views, visits, track visitors, etc.
Read Also: Mobile App Analytics: Important things You Need to Know about it
Use Advertisement Techniques To Connect With Your Audience
Advertisements help you to reach a larger audience base. And could be very helpful in increasing the engagement level of an app.
Display advertisements related to rewards, app discounts, and so forth on various channels. (for example, search engines, social media, etc.) to connect with your users. So putting resources into search ads helps you connect with potential clients searching for services, like the ones you offer.
Conclusion
In a nutshell, competition in the mobile app market is increasing exponentially every day. So to survive or perform outstandingly in this competitive market. So you need to create a robust action plan to engage and retain your audiences. Also, you should plan out effective strategies and improve the user experience of your app.
So pick out an app development company. That can build fast, interactive, and seamless checkout apps for your business. Try it with MageNative apps. MageNative offers a fast, interactive, and full-featured app with a 30-day free trial.