Ship effortlessly with Delhivery Shipping Extension – By Cedcommerce
Running short of time? Get PDF of the blog in your mail.

What is Delhivery Shipping Extension?
The Delhivery Shipping Extension for Magento 2 will allow the admin to provide shipping method for product shipment. The customers will be able to choose this shipping method at the time of checkout for receiving their products via Delhivery Shipping. This shipping method can be used to receive the shipments within India only.
Delhivery Shipping Extension has been designed for Magento based e-commerce website.  This delivery extension is perfect for shipping anywhere within India. Reason being, Delhivery works on Indian Postal Code System. Secondly, it provides the facility of  COD (Cash On Delivery) which is the most preferred mode of payment in India.
Features of Delhivery Shipping Extension
Delhivery Shipping Extension is a Magento 2 extension by CedCommerce that has full-fledged features required for the process of shipping management. This extension is enriched with features like Pickup Service, Order Tracking System, Shipping Label Generation, Manifest Allocation and many others.
The CedCommerce Extension for Delhivery Shipping has a purpose to integrate Delhivery processes with your e-commerce stores running on Magento. It provides the following features
Allows admin to enable or disable the shipping method as per convenience

Download and store AWB series from Delhivery system.

Download and Store list of serviceable Pin Code from Delhivery system.

Allocate AWB to Order automatically from the stored list while shipping order and Delhivery selected as Carrier

Pin code Check while shipping order.

Facility to submit manifest for the allocated AWB.

Facility to print the shipping label for the selected AWB.
Pincode Manager
The Delhivery Pincode Manager Shows the list of all serviceable Pin Code. By just clicking on [Download Pincode] button to refresh the list.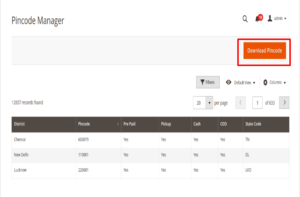 The downloaded Pincode shows the type of service that the company offers and even with the availability of service at the mentioned Pincode.
Now if the Pincodes are not serviceable and if a certain type of service is not available at the mentioned pincode even that is generated and displayed for the store owner to check.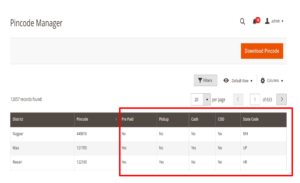 AWB Number
An air waybill (AWB) or air consignment note is a receipt issued by the company for order; evidence of the contract of carriage, which can also be used as a Tracking number for the order generated.
When you click on 'Download AWB' the new unused series of AWB Number is downloaded and further you can use those AWB numbers to assign to any order while creating the shipment.
The current Status of the order to track down is updated when admin clicks on 'Update AWB Status', now the order tracking can be checked by the customer as updated by the Shipping Service.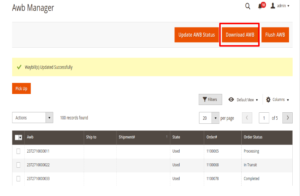 Print Shipping Label
Printing the shipping label is an essentially required feature that the shipping extension should have to have an easy process flow. Therefore it has the option to allow downloading of shipment label PDF for selected AWB(s). Below is the format of the shipping label, each page will have 4 of them.

Source: Delhivery
CedCommerce Can Help 

For a remarkable amount of time, CedCommerce has been offering the necessary technical solutions specifically made for building one such platform. These extensions come with a multitude of features to aid the development of a rich multi-vendor e-commerce marketplace. CedCommerce's Magento 2 Marketplace extensions and add-ons are ready made and reasonably priced solutions for building a website like Amazon, eBay etc. A marketplace armed with these features is undoubtedly going to offer the best in class experiences.
For building your own multi-vendor marketplace platform and to see what our satisfied customers have to say about us do visit: CedCommerce.
You can refer to the following link in order to know more about the description, pricing etc. 
Also Read: CedCommerce partners with leading logistics provider Delhivery