Get more out of Selling on Jet.com by choosing right Product and Effective Pricing!
Running short of time? Get PDF of the blog in your mail.

Play Now
Now that Jet.com is here to stay, it's better to understand and learn the dynamics of Selling on Jet.com. Understanding & learning the Jet.com dynamics is the only way forward for getting more orders for your stores as Jet.com tries to minimize and, if possible, eliminate the embedded costs involved completely.
Jet.com is not functional anymore. If you want to continue selling your Jet.com inventories, we can assist you in shifting them to Walmart till July 16, 2020. This is not an automatic process, sellers will have to place a request through the Walmart Seller Center or Contact us. If you are a new seller wishing to sell on Jet.com, don't be disheartened, we can help you sell on Walmart.com instead.

The embedded costs that make pricing of products go up are return fee, logistics and paying from methods that have high taxation involved to it. Understanding this help you the price and group products so that it attract more orders from Jet.com.
Also, it is quintessential Selling on Jet.com to understand who are the major buyers of Jet.com products and understanding the demographics help you understand what they buy. The main consumers of the Jet.com are PRIMARY HOUSEHOLD.
Therefore, selling to fulfill their requirements increases the probability of you getting more orders from Jet.com. Following diagram from Slice Intelligence depicts the categories contributing most to the Jet.com's total earnings.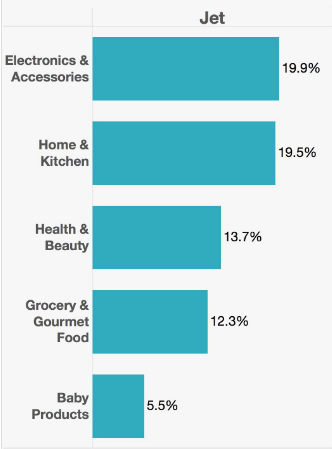 As confirm from the above statistics, if you sell products belonging to these categories, chances are, you will be getting more orders from Jet.com
#Caution
It's important that you shouldn't sell on Jet.com the products which belong to common household brands or the ones which are easily available.

5 Tips for Selling on Jet.com to get more benefit
Now that it's clear what to sell and what not. Try following Jet.com practices that it expects from its sellers.
1. Share your savings from logistics with your customer:
First and foremost, avoid benefiting from Logistics. Jet.com's very philosophy relies heavily on awarding orders to sellers nearest to them (customers). Therefore, try sharing savings from logistics with consumers. Not only this will help you sell the product cheaper but you would be held in the good book of Jet.
2. Encourage the basket economy
Encourage people to buy more. As Another USP of Jet.com has been getting successful in encouraging people to build bigger baskets. Therefore you must price the products in a manner that customers are incentivized for purchasing more and you will end up getting more orders from Jet.com. 
3
. Upsell and Cross-Sell More
Stocking complementary products together is another great option. It has been one of the most successful e-commerce pricing strategies and it goes along with 'building bigger basket' philosophy of Jet.com.
4. Try Same Day Fulfillment
Fulfilling the orders same day of the placement is what Jet expects and prioritizing the fulfillment of orders from Jet.com is only going to benefit you.
5. Eliminate Return Costs
If possible try eliminating all the return costs from your products. This helps in creating customer friendly policies and Jet acknowledges it as well.
Marc Lore's observation that customers are willing to buy from stores that are offering prices even 5% lower and are not concerned about the delivery time as well is the key indication that pricing your products 5% lower than your immediate customers can get you most of the orders.
AND FOLLOWING AFOREMENTIONED TIPS MOST DEFINITELY HELPS YOU GET MORE ORDERS.
Still not a seller, apply here to become a seller.
Thanks for your interest!
Regards
Team CedCommerce