Omnichannel vs Multichannel: How To Drive Growth and Accelerate It Like Pro
Running short of time? Get PDF of the blog in your mail.

Play Now
Omnichannel vs multichannel, the best between the two retail models is still shrouded with mystery. The reasons responsible for the rise of misunderstanding between the real meaning of multichannel and omnichannel can be multiple.
We will ponder about both retail strategies at an in-depth level to be knowledgeable enough to shed light on why having a crystal clear view on omnichannel vs multichannel is vital and which is best suited for your business expansion.
Omnichannel vs Multichannel – What Makes Them Different
Multichannel – Mainly focused on using different channels with brand at its core.
Multichannel – Merchant can adopt multiple channels and manage it separately
Multichannel – It is retailer oriented approach allowing them sell products to maximum potential
Multichannel – Makes your business keep generating profit despite failure of one channel.
Multichannel – Channels are independent of each other
Omnichannel – The customer experience is at the center stage
Omnichannel – The goal is synchronization of existing channels using centralized data management
Omnichannel – Makes it easy to deliver personalized shopping experience
Omnichannel – Channels acts in sync with each other
What is Multichannel Retail?
The multichannel retail in simplest terms can be understood as offering customers options to engage with brands over the channel of their choice
Multichannel allows businesses to maximize their growth potential by targeting shoppers over multiple platforms. These channels include email, social media, online stores, marketplaces and more.
Hence, Merchants won't miss on selling opportunities beyond their websites. As a result, significant increase in sales figures within a short span of time.
Did You Know, A Whopping 90% customer retention rate is easily achievable with a multi-channel approach in comparison to single-channel approach.
What is Omnichannel Retail?
The advent of the digital age has made customers more ambitious than before. They aspire for a high degree of convenience during online shopping.
Omnichannel business model is a popular retail strategy owing to the flexibility it provides that benefits customers and merchants alike. Basically, it allows shoppers to use more than one channel to complete their shopping journey.
As a result, customers have the freedom to choose their preferred methods and make shopping a seamless affair. No wonder, thus omnichannel emerged to be an ideal approach to better engage with millennials and gen-z shoppers.
Hence, it can be derived that this model is based on centralized data management.
Omnichannel vs Multichannel – How It Works
The Omnichannel Approach
Customer visits the website and adds a jacket in the cart, but leaves without completing the purchase.
Website owner understands this visitor is in consideration stage.
Website offers discount to the visitor upon signing up for mailing list.
They retarget the visitor with ads of various jackets over numerous social media platforms (Facebook, Instagram, Pinterest, YouTube)
It inspire the visitor to click on YouTube ad. He is redirected to product page of the jacket and discount was applicable on it.
This time visitor is impressed with the item and the discount offer on it. He adds shipping information but leaves the site without purchase with though it will be better to experience the product before paying for it.
Now, website owner upon finding the shipping details request the visitor to visit nearest outlet of the company.
Visitor after trying the jacket in the showroom decides to purchase it. Eventually, the sale is made.
The Multichannel Approach
Customer wants to reload balance of brand's loyalty app.
He has the option to complete it on the brand's website, on link over email, and also inside brick and mortar store.
Hence, there are multiple touchpoints that enable seamless customer journey.
Omnichannel vs Multichannel – What Are The Benefits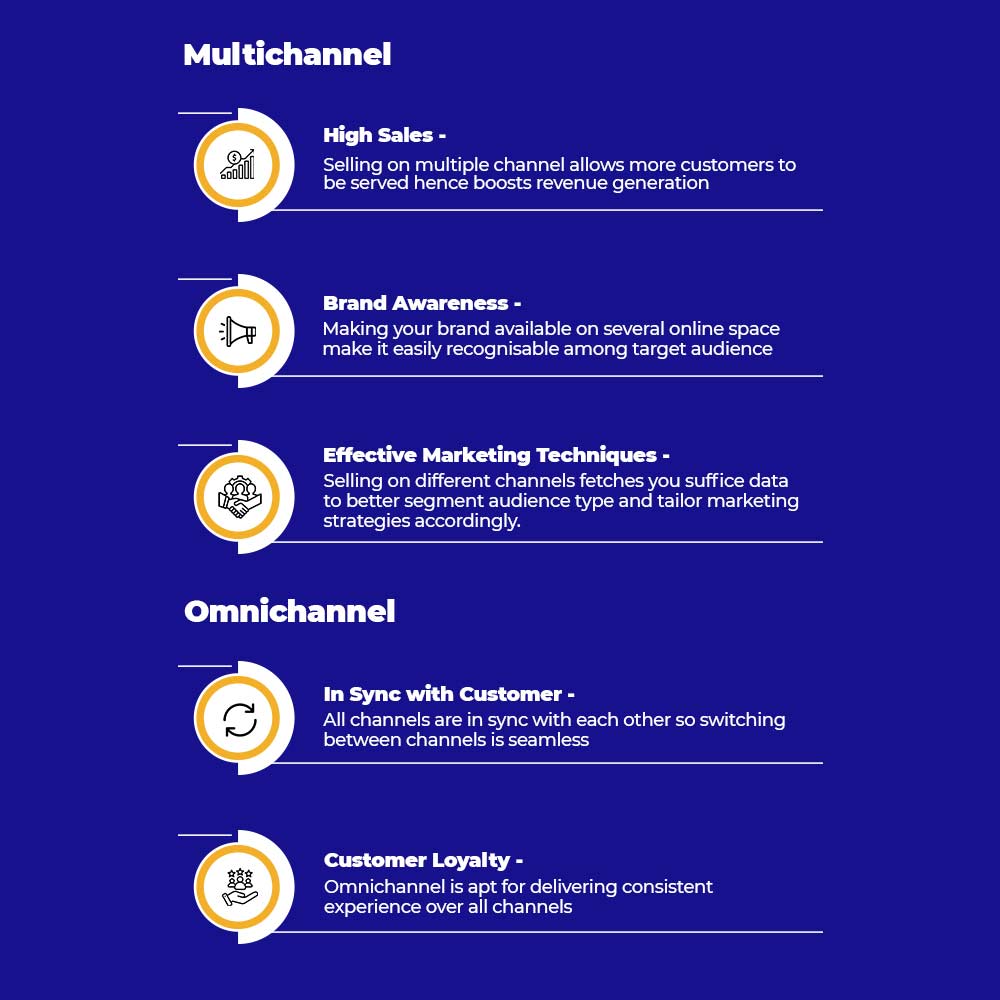 Starbucks Omnichannel Strategy That Fetched Loads of Customer and Customer Details
Vision:
Give It For Free of Cost, But Not For Free
Strategy:
Starbuck offered customers free wi-fi at their outlets upon registering for it with email id.
Result:
Received tons of email addresses of potential customers. They also added 10 million customers in their digital customer database.
The Best Practices To Deliver Impressive Multichannel Experience
Mobile Optimization
Mobile optimization is vital to deliver an impeccable multichannel shopping experience for more than one strong reason. It helps you ensure customers can interact with your brand from anywhere.
Moreover, irrespective of geo-location, the majority of customers prefer smartphones at different phases during shopping for a real multichannel experience.
A well optimized site for mobile devices is your gateway to capture 82% mobile users who want product, price, shipping and checkout info to decide either to purchase or not.
Hence, ignoring mobile optimization will weaken your efforts towards enabling true multichannel experience.
Mobile Optimization Quick Checklist
The Checklist Enabling Excellent Shopping Experience on Customer's Prefered Shopping Channel
Ensure site search is placed above the fold on the mobile screen
Responsive design to avoid unwanted pinch and zoom
Insite search option to speed up search process
Optimize for local search
There is no pop up that blocks user from accessing site content
Focus on All Channel
The real crux of multichannel lies in supporting your customers everywhere. Actively responding to customers over facebook but not sharing stories over instagram garners a negative brand image.
Localization is Vital
Website or social media both must be well optimized for catering to a global audience. Therefore, inculcating below strategies will help to gain trust in less time and ensure solid omnichannel experience.
The language, content, and review must align with local preference. I mean an italian would love to see reviews by fellow italians more than by any one else.
Instagram reels shared by local influencers can bring comparatively better engagement than a global influencer.
Optimize Your CTA
All forms of engaging content ends with good CTA. Ensure you have enabled an effective CTA that is device and platform appropriate. The purpose of CTA is to make the shopper feel he completed his task.
Content Type
Apt CTA

Social Media Ad

Mobile Website
Email
S

chedule meeting button
The Right Strategies For Smooth Omnichannel Experience
Support on All Channels is Mandatory
Your customers can be on any channel during their shopping journey. Therefore, a highly skilled customer support team capable of catering 24/7 will serve as backbone towards enabling successful omnichannel experience.
Now deploying multiple resources will better position your brand to deliver consistent experience over different touchpoints. But, a limited budget can be an obstacle and limit your potential.
But, it is wise to primarily focus on channels with better chances of high ROI. As a result, your strategy can still fetch you the lion's share.
Inventory Management – Let It Not Be Achilles Heel
It is no brainer selling on different channels means inventory management goes complex. Hence, with the rise of sales your business requires a centralized dashboard to avoid underselling and overselling.
Benefits of inventory management solution for omnichannel retail
Real time inventory sync across different channels
Helps you take data driven decisions about next stock purchase
Provides data about the next possible demand surge.
Saves on cost as data reveals the best selling items well in advance to negotiate a better price.
Order processing irrespective of the high number of orders is carried out seamlessly and shipping delay is ruled out.
Personalized Recommendations
Fragmentation of customers based on shopping behavior (specially past shopping trends) and other factors is helpful to fine tune your omnichannel strategy. Hence, you are in the position to offer personalized recommendations.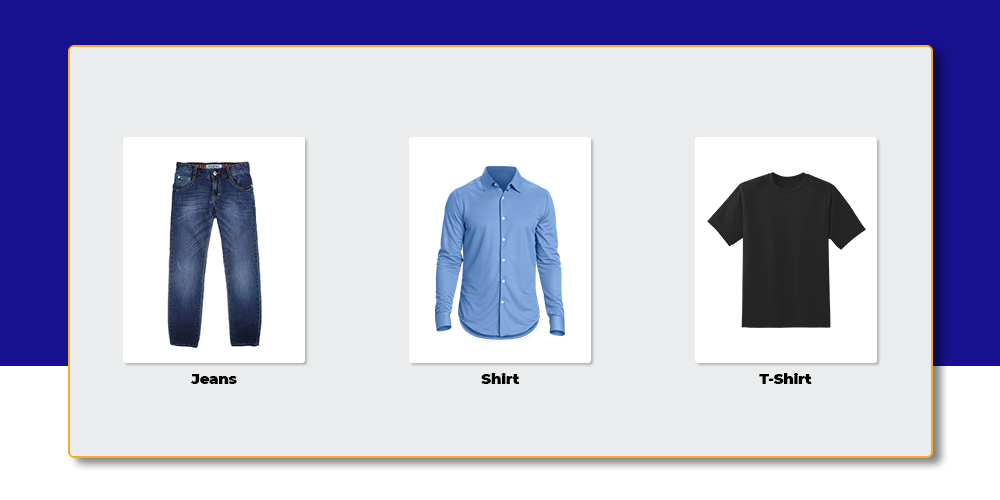 Using these insights it gets easy to know about price sensitive customers and personalize upcoming offers to target them.
Gather Customer Data (Meticulously)
Customer data is capable of positively impacting business ROI in the long run. Higher the volume of data better you can plan your next engagement move.
Best Practices To Extract Customer Shopping Journey Insights
Collect data on which channels customer interaction with the brand is maximum.
Frequency of specific product pages visited on your e-commerce store
Which products are fetching maximum ROI for particular channel
Average time duration spent on different channels to interact with brands.
Number of successful purchase on various channels over a period of time.
Customer from which geolocations are completing purchase on which channels.
Offer discount to complete the survey about customer shopping preference. It updates you with data that sets your business growth trajectory in the right direction.
Hopefully, these tips will help you discover the best touchpoint in terms of lead generations and those are underperforming.
Invest In New Channel
Expansion to new channels is critical to drive customer loyalty in less time. Moreover, it adds value to the customer journey by making it a more integrated experience.
Moreover, it diversifies your selling channels and an added advantage is the opportunity to deliver a consistent shopping experience. A game changing move for impeccable customer experience.
How To Choose Your Next Right Channel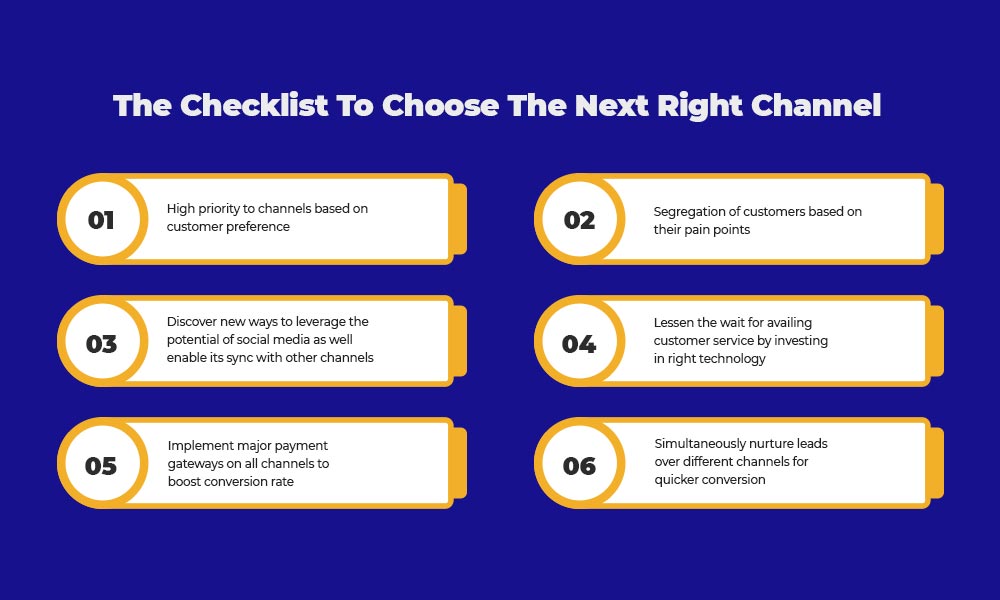 Plethora of benefits that result from multichannel retail methods makes it too lucrative to be ignored by the merchants. Moreover, more than 60% of customers interacting with brands over ten or more channels tend to purchase a product every week.

Now, this statistics is inspiring enough to try multichannel selling with high hopes for increased revenue.
Why Not Opting Either (Omnichannel vs Multichannel) is Not An Good Option
Customer shopping expectations in the world of instant gratification are evolving fast. As a result, shoppers are expecting brands to be everywhere.
Why You Shouldn't Ignore Omnichannel and Multichannel
Customers rely on multiple devices to explore the brand and communicate with it.
Nowadays, the majority of customers prefer to engage with brands before, during and after the transaction. Expecting seamless experience in the form of complete information and quick response on all channels.
Omnichannel approach reveals loads of customer data from different channels. This data can better be used to predict upcoming issues. Therefore, you have ample time to solve them before it shapes into a major obstacle in the customer journey.
Simply selling on one or two channels is not sufficient to reach new customers who are on some different channels.
Hence, the best solution is making your online store available at multiple avenues with an omnichannel and multichannel approach is always a good idea to be super responsive towards customer needs
Also, it can be concluded omnichannel and multichannel methodologies allow merchants to ease the shopping journey by connecting the dots and blurring the gap between digital and physical presence well before competitors who miss on implementing omnichannel and multichannel approaches.
Moreover, you get the opportunity to put your brand on top of the customer's mind.
Conclusion – The Power of Presence On Multiple Channels is the Game Changer
The business dynamics in recent years have been shaped strongly by customers' likes, dislikes, and emerging needs. Therefore, creating a cohesive ecosystem for customer journey gets easier by unifying the potential of multichannel and omnichannel.
As a result, merchants will position their brand to target buyers at the best time, win customer trust, and have an edge while scaling the business to the next level.