Try these marketplaces to diversify your Shopify Store Sales
Running short of time? Get PDF of the blog in your mail.

Marketplaces have entirely changed the face of e-commerce. With the dawn of e-commerce, many marketplaces are coming into existence with something great to offer. Getting your hard-worked products a right address is always the priority at Cedcommerce.  We want you to have an overview of each marketplace. Yes, there is Amazon, eBay, and Walmart. But, they're not the ideal platform to get started. You must start your journey where competition is slightly lower and prepare yourself to face the cut-throat competition at leading marketplaces later.
Etsy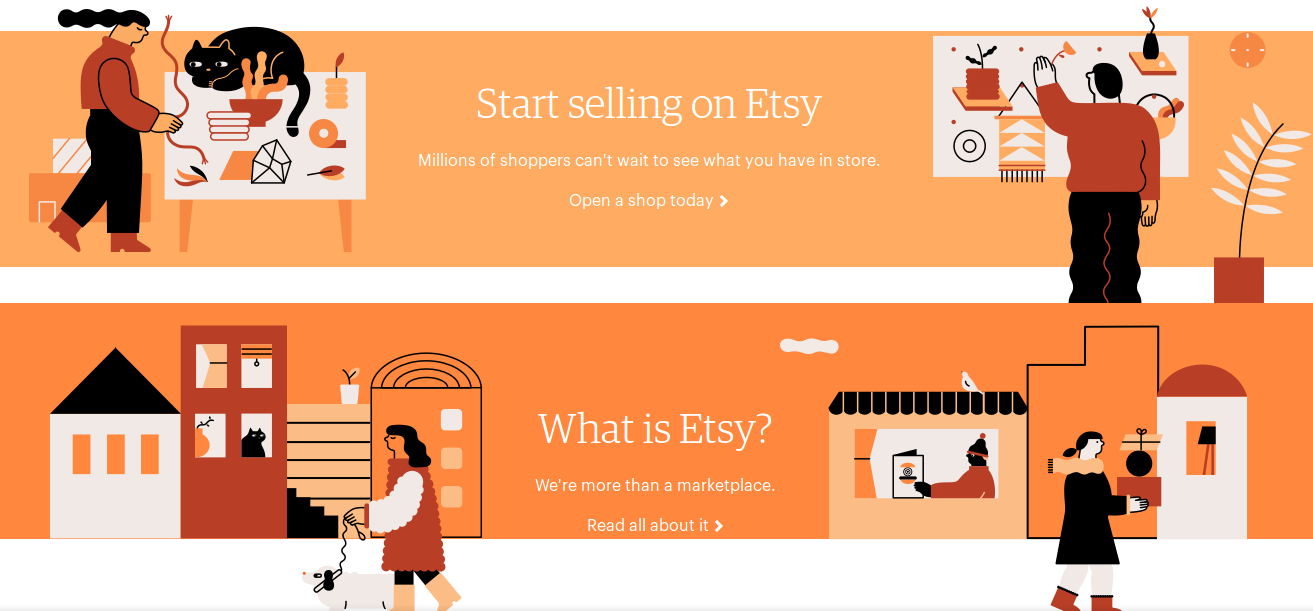 Etsy is an online marketplace where 29 million buyers from around the world flock together to buy unique items. Over 1.7 Million sellers thrive on Etsy. It is among the most popular marketplace in the US and across the world and also a great sales channel to diversify your Shopify sales.
Top-selling categories on Etsy are Paper and party supplies, Clothing and Shoes, Home & Living, Jewelry & Accessories, and Vintage Items.
Selling fee on Etsy is Divided into three components. Listing fee, you are charged $0.20 USD for the listing of each item. Transaction Fee, when you make a sale from Etsy, you are charged a 3.5% of the transaction fee. The fee is charged on listing price of item. Payment Processing Fee, Etsy shops can use Etsy payments to accept certain payments from Etsy. Though Etsy charges a payment processing fee for each transaction.
Reselling on Etsy is not allowed. Reselling here means, you have listed an item that is handmade, but you were not involved in its making or designing. Etsy allows you to directly communicate with the buyers through Etsy Convos. It strengthens the relationship between buyers and sellers and also introduces an element of transparency.
Sellers at present can purchase two types of paid advertising through Etsy's Advertising Dashboard: Promoted Listings and Google Shopping ads. Etsy allows sellers to promote their listings on third-party shopping engines or Shopping Engine Ads. Sellers on Etsy are enabled to offer promotions for their own shops. Etsy currently offers two promotional tools: Sales and Coupons. Etsy also has Targeted Offers that is a paid marketing tool that allows sellers to offer a Coupon to specific audiences of buyers who have interacted with a shop in pattern behavior.
Catch Au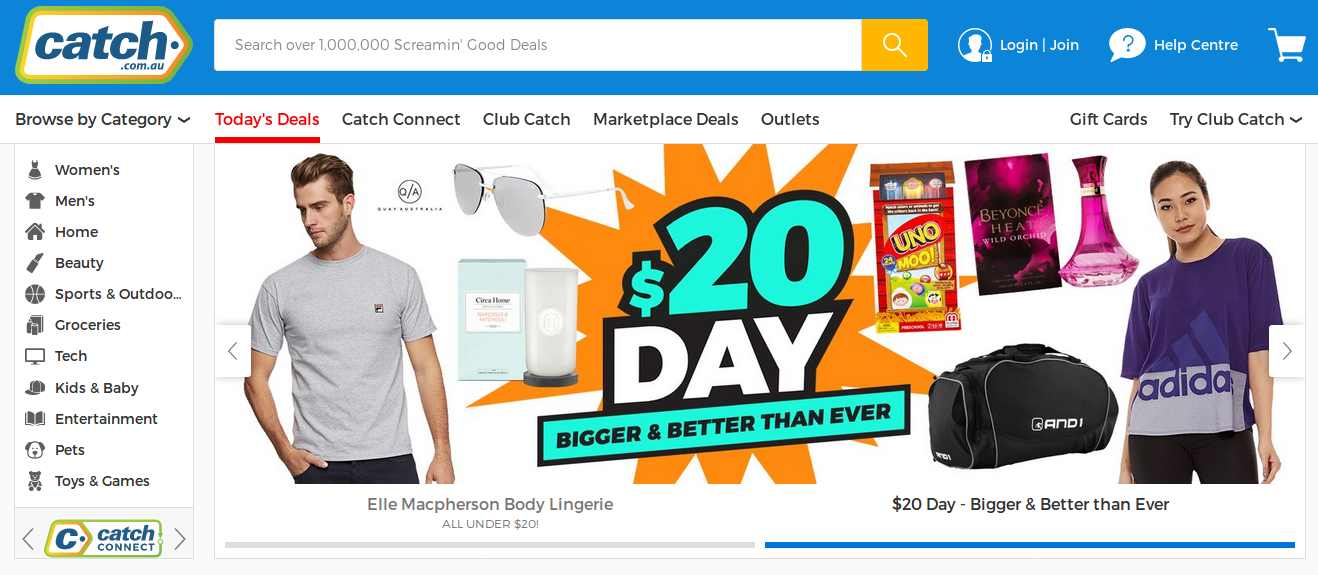 Catch has over 4 million registered customers. It has shipped over 2 Million parcels in the last 12 months and has 4.4 / 5 Average Product ratings from 1.2 Million genuine reviews made in the past 12 months.
The main listed categories on Catch are Women's fashion, Men's fashion, Home, Beauty, Groceries, Tech, Kids & baby, Entertainment, Sports, Pets, Toys & Games.
The website has already signed up with big brands like Speedo, North Face, and ASUS, with more coming in the kitty to be enabled to sell millions of products in the next couple of years.
It also has a Catch Commercial service that is a B2B offering specializing in facilitating bulk orders from all the items listed on catch. It helps businesses help procure a bulk supply of products, and provides Assistance in finding the right product, bulk discounts & tailored price offers logistics solutions to meet the needs, and a dedicated account manager.
It also has a Club Catch membership which can be availed by paid subscription. Has perks like Free Shipping, Exclusive weekly deals & savings, Early access to special events, Immediate Savings on Orders. Catch claims to have over 100,000 members of Catch Club.
Catch also has payment services ZipPay and AfterPay which are based on the model of Buy Now Pay Later. ZipPay is absolutely interest free and buyers can pay back the amount at end of month. Whereas for AfterPay buyers pay over 4 equal fortnightly installments. There is late fee to both the services. It eases the process of buying and is better than credit cards.
Catch doesn't sells same products from multiple merchants, so it becomes important to pitch unique items to the marketplace.
Catch is primarily a discounter based marketplace, so sellers with best product pricing model are likely to succeed on it.\
Trade me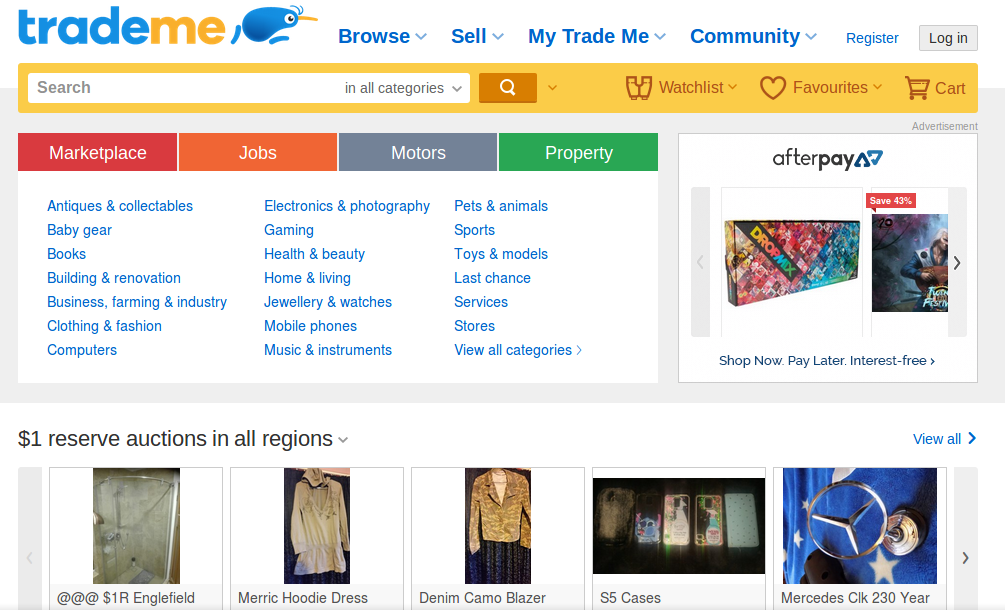 Trade me effectively reaches out to New Zealand's middle class with a growing customer base. It is country's most popular website and marketplace with 4 Million registered users. It is estimated that 85% of the population holds a Trade Me Account, hence making it easier for sellers to reach out to potential customers.
Trade me is similar to ebay, and products can be listed to be sold out via auction or fixed price. The popular and hot selling categories of Trade me are clothing and footwear, home and living, toys and games and sporting accessories. At present Trade Me has over 6 Million of active listings.
Trade Me has a service Book a Courier to facilitate shipping. The objective is to make Shipping cheap and convenient. To book a courier on Trade me requires few things, packaging of item as normal, provide details such as dimensions of package, pick up address, date, select a quote from fastway or courier post, and print courier label. Upon booking a courier both buyer and seller receive email containing a tracking number, that can be used to track the delivery status.
Trade me provides an account manager to international sellers to facilitate selling and maximize the returns in form of high sales.
Basic listing is free on Trade me and it charges a commission of 7.9% from the sellers on every successful sale of over $1.
Houzz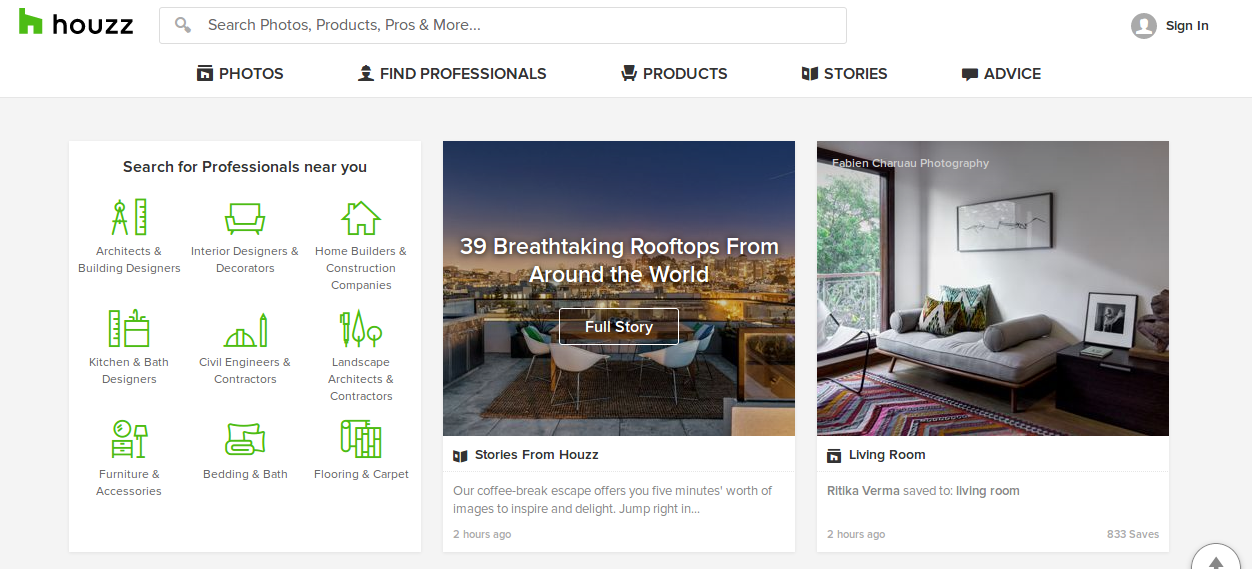 Houzz is a common platform for homeowners, architects, designers and builders. Houzz has reinvented the way homeowners choose professionals for home and home decor. It is like Pinterest for homeowners, designers and architects. Presently Houzz has over 25 Million of active users. Out of the total traffic Houzz witnesses, 59% of it comes from United States. It has over 200,000 5 Star App Reviews which makes it internet's favourite. There are over 500,000 professionals using Houzz making it a huge community. There are over 4.5 Million photographs posted by professionals.
Houzz is more used by women and much less than men. It is more used by people aged 45-54 and 65+. It is used more by people with some college education or no college education. It is more used by people with income bracket $60K-$100K and $100K+, less by those that earn $0-$30K.
Houzz is a visual based directory. If you are home builder, decorator, cleaner, Stagers, agents, then you should be on Houzz.
A brief personna of clients on Houzz looks like this. Upscale homeowners (89% own their homes) with an average home value of $450,000, and average income of $124,000. Out of total 78% of them are married, and 27% live in first home. They are actively building, remodelling or decorating, while 72% of them still planning to decorate or redecorate. 40% of them plan to remodel, while 10% are planning to build their home. All of them have high disposable budget for home projects (kitchen remodel budget is about $27,000 on average).
To excel in business you got to have high visibility. The bottom line is that you have to be search friendly with Houzz search algorithms that take these into consideration, high quality photos, keywords in photo description, company information, recent activity and frequent activity.
Features on Houzz are, Houzz listings, Houzz Photos, Houzz Projects, Houzz ideabooks, Houzz Questions, Houzz Reviews, Houzz activity, Houzz Community, and Houzz Advice.
Manomano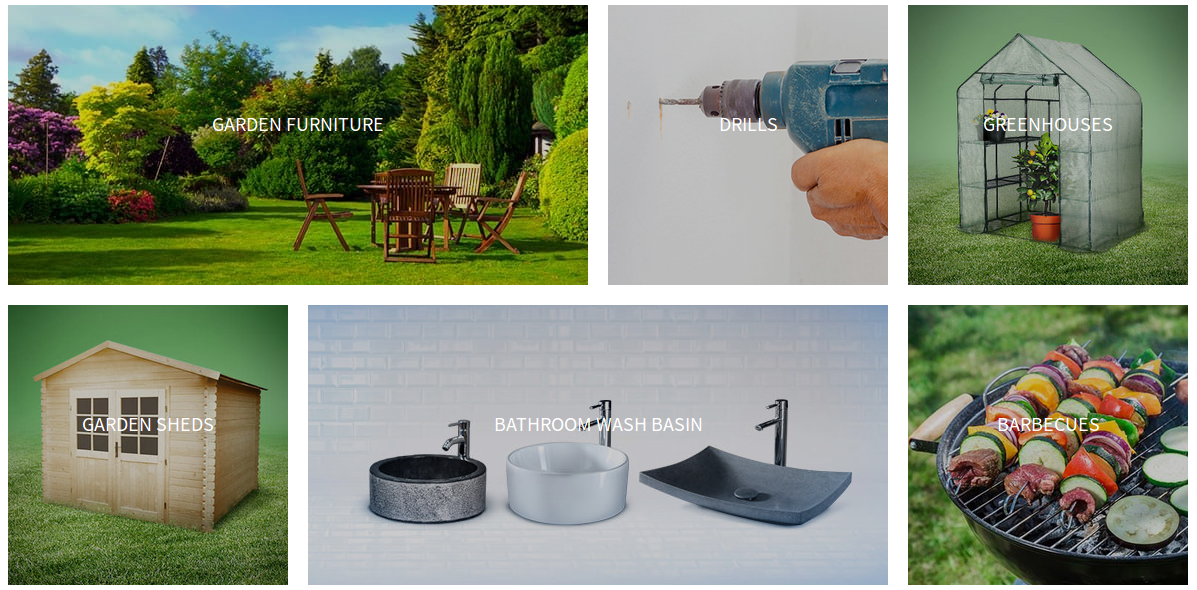 ManoMano is a leading DIY marketplace, and deals primarily in garden, Home Improvement, and similar tools. It is one of a kind and first marketplace to deal in DIY garden tools. ManoMano has been speculated as largest European marketplace for gardening and home improvement, with year 2017 ending with a global turnover of 250 Million Euros.
ManoMano has a huge set of catalog. It has over 1.6 Million items listed on the marketplace, with 200,000 items listed and selling in UK alone. ManoMano operates in the United Kingdom, France, Belgium, Spain, Italy, and Germany. It has more than 2000 vendors, and more than 950,000 customers. ManoMano is one of the top companies in Google's scale up program.
ManoMano has payment guidelines favorable to buyers. It uses ADYEN to handle its payments. The amount of purchase is only unblocked and transferred to the seller when product has been delivered to buyers and they are satisfied with the purchase.
ManoMano has very strict criteria to choose and enable sellers to get listed on the marketplace. The process is in place to ensure quality, reliability, ability to own stocks and deliver the items efficiently in stipulated time without any mismatch. It gives buyers a pleasant experience.
Top categories to sell on ManoMano are Bathroom, Flooring, painting and decorating, Tools, Heating & Plumbing, Construction and Plumbing, Garden & Outdoor.
There are two fee that are applicable to sellers for selling on ManoMano. There is a monthly subscription fee of €35 (excluding VAT) to start selling on ManoMano marketplace. Apart from it there is commission fee that applies to items and varies as per their product category.
To start selling on Manomano, introduce your company at following email address as per country.
For UK – seller.services@manomano.co.uk
For Germany – haendlerservice@manomano.de
For France – service.marchand@manomano.fr
For Spain – quieroservendedor@manomano.es
For Italy – serviziocommercianti@manomano.it
Cdiscount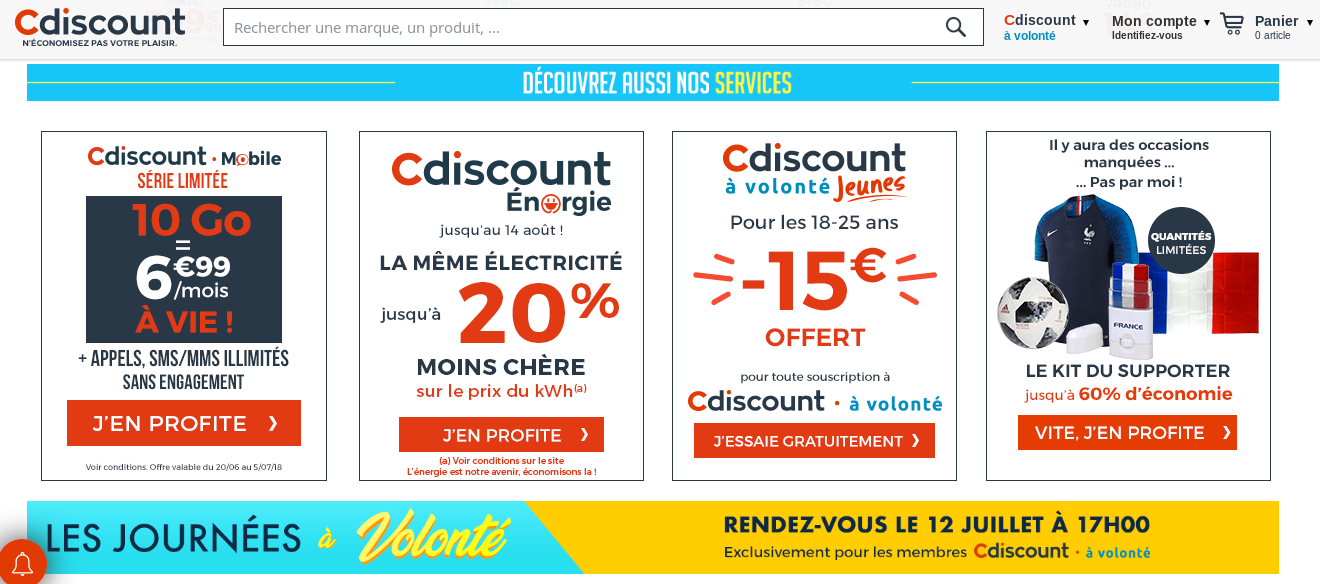 Cidiscount was founded in 1998, and by 2011 it became leading French E commerce platform. It provides over 18500 parcel pick up points in France alone. Cdiscount started as self supported platform, but by 2011 it also introduced its third party Cdiscount marketplace.
Cdiscount has over 8.6 million active customers. It witnesses 18 Million unique visits per month. It has over 500,000 sqm of warehouses. It has Up to about 10,000 professional sellers. Present in more than 150 countries across the globe. Up to over 40 Million Products in all categories. 2015 witnessed a turnover of around €2.74 billion. It has over to 21 product categories. Average basket value of €110. 28.5% of overall sales comes from High tech electronics and IT.
Cdiscount has almost all categories sellers want to sell their product in. Appliances, household items and furniture, Computers, photography equipment and electronics, DVD, books and music, Food, wine and alcohol, Clothing, cosmetics, baby products and accessories, Musical instruments and pet products.
Cdiscount is amongst top three ecommerce marketplaces in Europe. Cdiscount encourages and promotes cross border ecommerce as a part of its growth strategy. Cdiscount is known for low prices and high quality items, and is popular amongst price-sensitive customers.
Selling on Cdiscount requires sellers to have French Email customer service (It can be outsourced), though french phone support customer service is not mandatory. For returns, sellers need a local french return address, or they can send pre paid shipping labels for international returns or exchange.
Selling fee on Cdiscount consists of a monthly fee of €39, plus commission rates depending on categories of product varying from 5% to 20%. Fee is charged on total transaction value including shipping. A minimum fee of 0.50€ will be charged in case the commission fee comes out to be lower than 0.50€.
Orders on Cdiscount must be processed within 2 days. Cdiscount settles payments three times a month. French customers enjoy the privilege by law to return goods within 14 days. After considerable amount of complaints against a seller, Cdiscount will suspend or block the account.
Cdiscount also provides fulfillment services (Shipped by Cdiscount). Buyers can become become member of special loyalty program by Cdiscount 'Cdiscount à Volonté' and enjoy free shipping on all orders at a mere price of €19 a year. To qualify for free shipping, customers have to have a order of minimum €25.
Lazada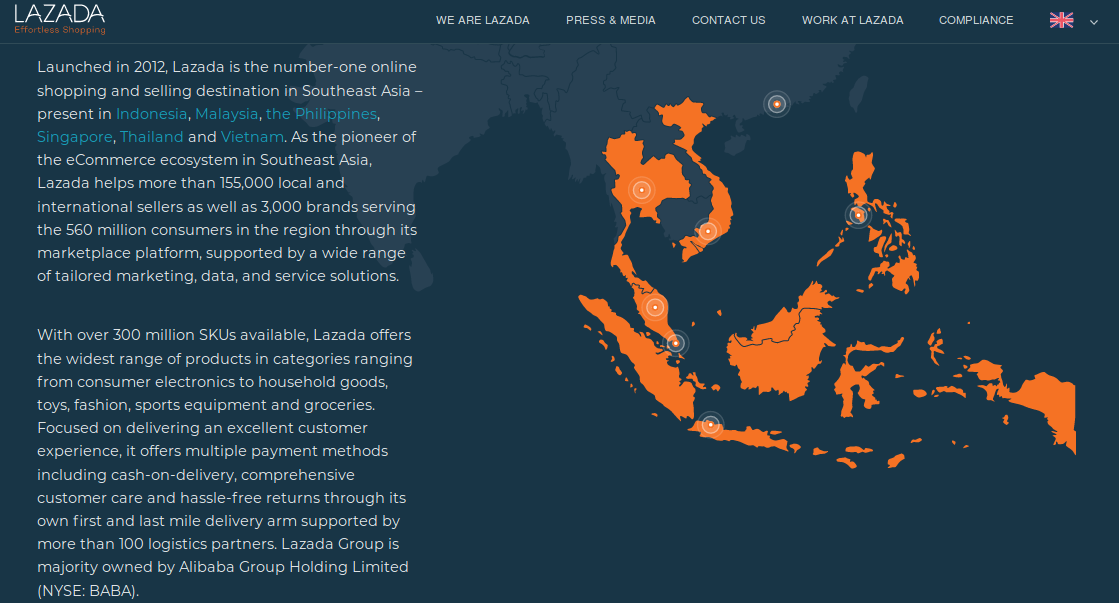 Lazada is the top ecommerce marketplace in south east Asia. It was launched in 2012. To this date, it has more than 1,45,000 local and international sellers on lazada marketplace. It has more than 3000 brands serving to the customers. It has got more than 560 Million customers connected to the marketplace. Lazada witnesses more than 48 Million site visits per month, making it a high potential marketplace for sellers.
Lazada gets more than 11 million of mobile apps download per month, making it a customer's favorite marketplaces. Once you are done with the registration process, you need to have at least 5 products to start selling on Lazada. Buyers on Lazada get various options for payment of their purchases through cash-on-delivery (C.O.D.), credit card, helloPay, and Payoneer for cross border sales.
Lazada in house team also helps merchants in creation of content for their store. Lazada provides 24 hours support both for sellers and buyers. Lazada will not interfere in between promotion of seller's own stores other than Lazada.
The commission rate for sellers on Lazada varies from 0.5% to 12%. The commission rates on lazada are cheap than its competitor marketplaces. Payment fee per product is 2%. Cancellation penalty per product is -> Listing Price * Commission * 2.5 (Minimum RM 10.00 and Maximum Rm 50.00). Handling fee for Fulfillment by Lazada, is RM 1.99 per product delivered.
Lazada has no question asked return policy for items that have defects or are mistaken. The items can be returned within seven days of receipt of item, with shipping costs for the returned item and new one to be borne by company. In addition this, manufacturer warranty that could be up to two years, the overall shopping experience becomes safe.
Help us understand you better
By filling this Google Form, help us understand what your needs are. We are constantly trying to bring ecommerce closer and enhance seller experience. We are currently on path of developing Shopify Apps for the aforementioned marketplaces. By letting us know your priorities, we will be in position to serve you better.