Connect Seamlessly With Your Magento2 Customers Via SMS NOTIFICATION Extension
Running short of time? Get PDF of the blog in your mail.

For the success of any e-commerce store uninterrupted communication channel between the seller and their customers is essential. Any gap in the channel only leads to necessary information not reaching to the desired entity. For sellers, it is quintessential that information regarding any promotional activity – sale , discounts or launch of new products – order placement notification, their status and change in the status not only reaches but reaches on time. The delay can cause pseudo losses which can't be measured accurately.
Whereas the opposite of the case establishes an unflinching trust among the buyers and sellers. In the modern era where there is cut throat competition is prevalent at every stage of life, in every activity business or personal, people look for a person who they can rely on. It is very easy for them to get discounts only they have to use Google.
However, the discount is not the only thing they are looking for. Though it can be a big influencing factor but necessarily not the DRIVING one in every case. People look for quality service. They expect the product of uber quality, with discounts, Yes! And more importantly, they want complete information or information they are happy to receive. It is their right to be informed about the all the latest developments whether it is related to their orders or any information that can potentially benefit them.
This what Twilio messaging extension does. Developed for Magento 2 store owners, upon installation, it establishes a seamless and uninterrupted communication between sellers and customers. Sellers can notify the customers about the status of their orders, any change in them or about any activity that can be beneficial to them.
The features of Twilio SMS NOTIFICATION Integration are:
For Customers:
They receive messaging alert whenever,
Register with seller
Places the order
Receives the order
Order is invoiced
Order is shipped
And other promotional messages of their interest
For Admin
They receive messages when,
Customer registers
Order is placed
Order reaches or any change in the order status
How to configure the Twilio SMS NOTIFICATION integration
The Twilio messaging integration uses Twilio SMS gateway to send messages. For that sellers are required to have a Twilio account.
To enable the service following information is required:
Account SID: It is provided by the Twilio
Authorization or Auth Token: The Auth token provided by Twilio
Twilio Phone Number: The Number Provided by Twilio, to be used for sending messages
Now, The configuration settings can be open from
SMS Notification>>SMS Notification Configuration>>Twilio Configuration
To enable TWILIO MESSAGING
First Enable the extension: Select YES
Enter Account SID
Enter Auth SID
Enter Twilio Phone Number
Enter Country Code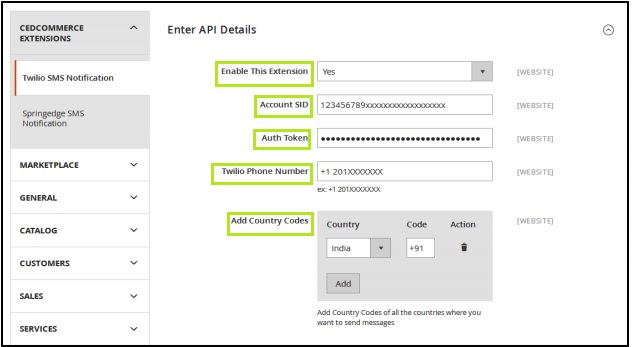 To Notify Customers when New order is placed:
Select YES to Enable and NO to disable
Enter the message you want to send
Select Yes (If you want to receive the update whenever the order is placed
Enter Your Mobile Number (Along With Country Code)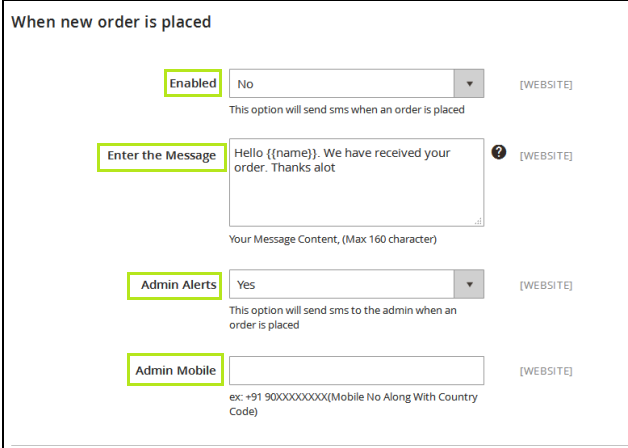 To Notify The Vendor WHO Got The Order
Select Yes to notify the vendor WHO got the answer
Enter the MESSAGE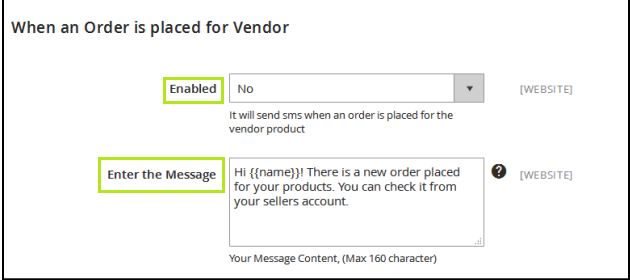 Visit Cedcommerce.com/TwilioMessaging for more integration.
Thanks for your Interest !
Regards
Team CedCommerce