List, Sell, and Shine on top Australian marketplaces through WooCommerce
Running short of time? Get PDF of the blog in your mail.

Play Now
With a predicted revenue of over US$43.21 billion in 2023 Australian e-commerce industry is yet to witness the record-breaking growth in near future. The exponential growth of the industry is largely fuelled by some of the well-known Australian marketplaces.
In the past decade, businesses have shifted their focus to online operations and customers have embraced the convenience of digital marketplaces. And, with the emergence of open-source platforms like WooCommerce, Australian businesses have been quite successfully harnessing the potential of marketplaces for their online businesses.
As a WooCommerce seller, if you're trying to find out the one-stop guide for a flawless start on marketplace selling then you're just at the right spot.
Statistics that may surprise you
In order to gain an understanding of the growth extent of the Australian e-commerce industry, it is important to look at some of the key statistics first. This will help you make informed decisions when setting up strategies for an optimized growth.
Now, here are some stats as per the report from auspost.com.au –
Aussies spent a total of US$353 billion on retail goods in 2022.
58% is the total marketplace share in online sales volume.
82% of Australian households made an online purchase in 2022.
The number of users is expected to reach 21.31 million by 2027.
In 2022, 6% of international customers shopped for goods in Australia.
21.6% growth in pet product purchases in 2022.
3 in 4 people look for sustainable options when shopping online.
12% of the total health and beauty spend came from online sales.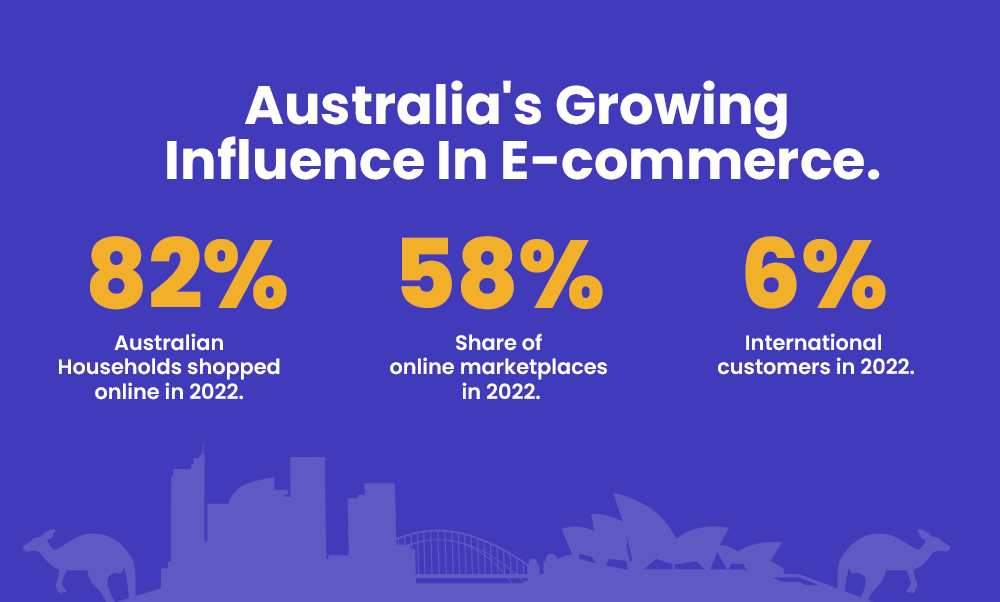 Marketplaces that are dominating the Australian region
In recent years, we have seen an explosion of online marketplaces catering to the everyday needs of Australians. This is great news for both buyers and sellers alike.
Here is a list of some of the most dominant marketplaces in Australia-
eBay
With a 24 year heritage in Australia, thousands of sellers and millions of Australians visiting the platform each month, eBay is Australia's largest marketplace and number one shopping site.
eBay attracted 54.4 million visitors in March 2023 making it the busiest marketplace in Australia. Moreover, the highest % of the audience on eBay is between 25-34 years of age which is a super important factor to consider.
Amazon
Amazon Australia is guided by four principles: customer obsession rather than competitor focus, passion for invention, commitment to operational excellence, and long-term thinking.
The marketplace received a total traffic of more than 53 million in March 2023. With a 6% increase in the traffic, compared to the last month, Amazon's growth is phenomenal in the Australian region.
Catch.com.au
With thousands of products available at unbelievable prices, you won't want to miss out on Catch marketplace. With over 9 million monthly visitors, there is always an abundance of perfect deals for every shopper at all times.
Kogan
Kogan.com is one of Australia's largest and most loved online retailers, guided by the ethos to make the most in-demand products available to all. With a monthly traffic of over 6 million the marketplace is a highly trusted by customers looking for different products like- mobile, internet plans, insurance, etc.
Bunnings
Bunnings Marketplace offers a wide choice of products sold directly by trusted sellers. The marketplace is becoming the top priority of buyers looking for home improvement and lifestyle products. The monthly web traffic of the platform crossed 28 million in March 2023.
MyDeal
Founded in 2011, MyDeal.com.au provides Australian consumers with over 1 million lifestyle products across 3,500 departments. The popularity of the marketplace is constantly growing and is turning out to be a fierce competitor for the giants.
Fishpond
Fishpond is an online marketplace, listing and selling new and used products from sellers all over the world. With a pool of over 25 million products and the unmatched prices, the marketplace has a dominant position in the Australian e-commerce space.
The Iconic
The Iconic is said to be the Australian's most favorite online destination when it comes to fashion and lifestyle. Also, the monthly traffic of the platform which is cruising above 8 million is just an epitome of trust.
Best selling product categories in Australia
As the economy continues to thrive, so too does the number of best-selling product categories available to consumers in Australia. With such an array of goods and services on offer, it can be difficult to ascertain which product categories are most popular among Australian shoppers.
Nonetheless, here is a list of top selling product categories in Australia which you can consider as a WooCommerce store owner.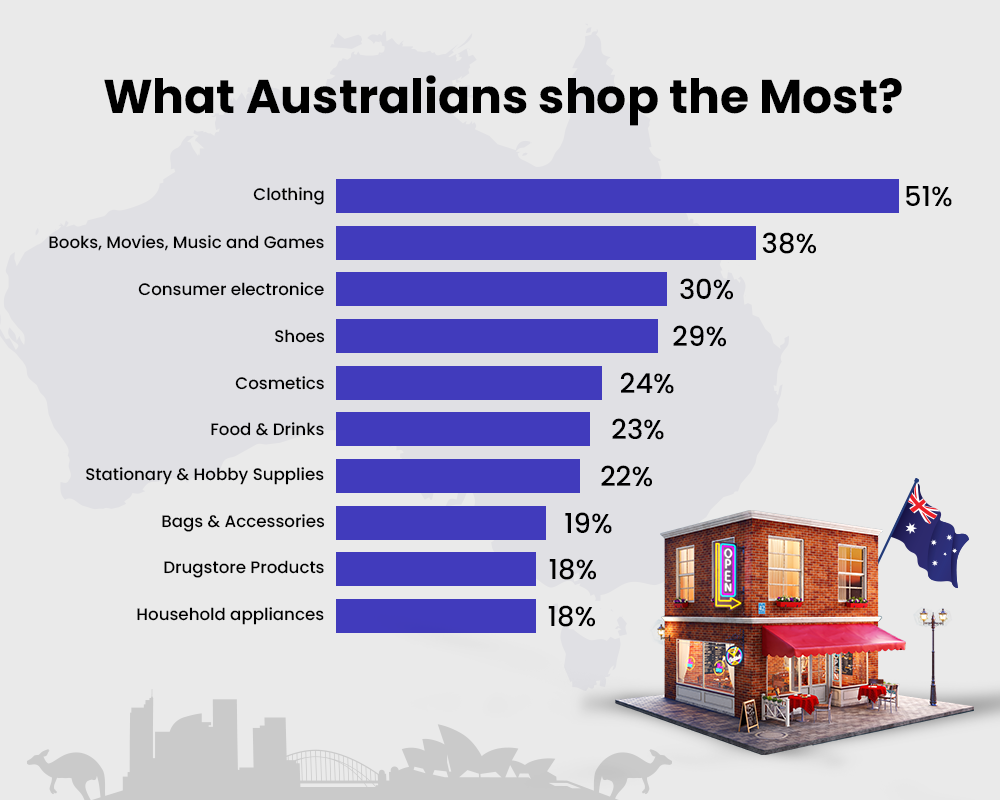 Plan your multichannel e-commerce growth with CedCommerce
Selling on multiple marketplaces via your WooCommerce store is easier than ever before. Also, Multichannel selling in Australia is an efficient and cost-effective way to reach potential customers across the globe.
With CedCommerce multichannel solutions you get to manage your WooCommerce products, orders, and inventory across all channels on complete automation. Moreover, our industry leading support team is here to set up a completely customized multichannel e-commerce strategy to skyrocket your online selling business.
Want to discuss in detail with one of our WooCommerce experts?
Schedule a meeting here- WhatsApp, Skype.