How to launch a mobile app : From market research to the successful Launch of an app
Running short of time? Get PDF of the blog in your mail.

Play Now
We can see that there is a mobile app for almost everything, and making new applications is getting easier every day. However the technology and app development practices are evolving gradually. Businesses should know how to launch an app and what marketing strategies should be used in it to increase customer engagement.
Increase In the Number of Mobile App Users
Nowadays businesses of every size are moving towards mobile app development. App development is thriving like never before. With the discovery and advancement of new operating systems and mobile devices. It has now become extremely important for every business to develop mobile apps for presenting their items and services.
A study report by statista shows that "Mobile apps revenue is expected to reach around $935 billion by 2023 and there are 2.87 mobile apps are available on google play store to download"
Another report by statista reveals that "In the app segment , the number of mobile app users is expected to reach 1033.3m users by 2024"
Seeing these stats, one is bound to wonder why people are so obsessed with mobile apps. Perhaps it's true to that fact that the main goal of app development is to launch a product that not only drives downloads but also maintains high retention rates and user engagement. However for most businesses launching new items, driving attention from potential buyers and standing out in the market place has become increasingly difficult.
This is because of a saturated marketplace that has become very competitive. For businesses who want to gain a competitive advantage, leveraging a comprehensive mobile app launch strategy is important for creating a way to succeed in the marketplace. Mobile app launch strategy has a significant effect on retaining and acquiring users. It is a process that needs extensive work, to acquire success in the marketplace.
With a number of mobile applications catering to client needs. Now after launching a mobile app the most important practice is app store optimization. In app store optimization the mobile app is optimised with an intent to rank higher on the app store . From market research to revenue generation there are numerous important practices to consider before you're going to launch your app in front of your targeted audiences.
Here we will discuss some important points, from market research to successful conversion for launching an app.
Want to turn your online store into a native mobile app without any coding or technical knowledge?
How to start before building an app?
Before you are going about building an app for your business you need to do a complete and thorough market research. Work on A/B testing and monetization models. A/B testing of an application helps you to deliver a flawless app to your users.
Market research helps you to gather relevant information and can help in the better understanding of your target audience. It helps in taking important decisions during the early stages of mobile app development.
Market research lets you know about
Your target audience
Your competitor's offerings
Different ways to reach your target audience
Your unique selling points
Competitor research
Competitor research is a crucial part of every business and also an important part of effective marketing strategy. It lets you know the strengths and weaknesses of your competitors also it helps in identifying industry trends and market gaps.
Competitor research lets you
Understand your market
Identifying market gaps
Improving marketing practices
Create a strong marketing strategy
So every market has more than one seller pitching for similar products or services to the same target audience. A good competitive analysis can help you to figure out which strategy you need to follow to standout in the competitive market.
Read also: Is Augmented Reality Technology an Effective Tool for E-commerce?
Buyer personas
Buyer personas help you to understand your buyers i.e. their behaviour, demographics, and practices that motivates them to buy your product. It can help you to create a good marketing strategy for your business.
Monetization modeling
Subscriptions
In-app purchases
In-app ads
Sponsorships
Are you looking for an application with fabulous features and outstanding design?
Set up your mobile app's landing page
Most people believe that the only source of traffic to their mobile app is the app store. However that's not true !
The fact is that you will actually need a central resource for marketing your app. Actually you need to grow your app's engagement level by building an overall sense of excitement around it.
For this reason there is a need for an optimised and well structured landing page.
Alright, so!! What is a landing page?
A landing page is a page that is specifically created to convert visitors into leads. The main purpose of landing pages is to generate leads. It is different from the home page because the homepage serves other purposes as well. But the main purpose of landing page is to generate leads for the business.
App Store Optimization (ASO)
App store store optimization is the process of optimizing an app in order to rank in an app store search engine. So it is obvious that if your app ranks higher in the search engine more will be its visibility as a result more will be the conversion rates.
Read also: The Ultimate formula for increasing conversions on Landing pages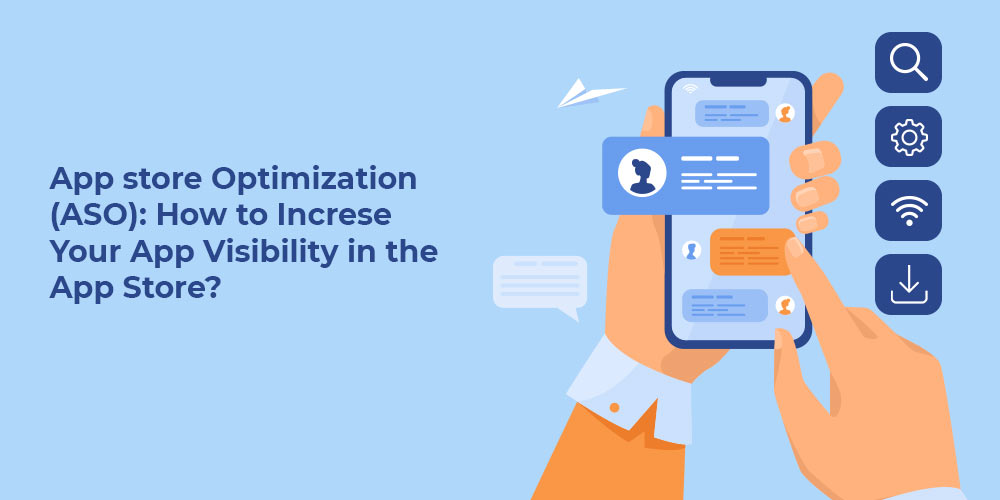 You should consider the following factors when optimizing an app for app store
1- App Title
The app title is the most important factor in ASO. Title is that, which draws the viewer's attention to the post. Optimizing a title with a proper keyword can increase the search ranking by 10.3%.
2- App description
Here in the description you can describe your product, explaining the features, and benefits of your product. Character limit for description is 252 characters and hence you have to make a pitch that convinces viewers to buy your product.
3- Keywords Metadata
User will be easily able to discover your app with the help of keyword or related content.
4- App subtitle
Through an app subtitle you can use more descriptive keywords for your product.
5- Reviews and Ratings
Reviews and ratings are the most important factor in app store optimization. Positive reviews and feedback can help you very much in ranking your app higher in the app store search results. The higher the rating of your product, the more will be the trustworthiness of it. Lower rating implies fewer users will be willing to download your app.
A/B testing
A/B testing is a test methodology that helps in the selection of the most suitable method among many methods. Through A/b testing you can apply different strategies to your marketing campaign and then find out the best way among many. So A/B testing helps in making data driven decisions that will help in the growth of your business.
Read Also: 16 Powerful Shopify Mobile App Marketing Strategies
Launching an app:Testing before a wide-scale release
Now that your mobile app is ready to launch; before launching an app it is very important to perform testing on it, in order to deliver a flawless app. There are a number of ways through which you can test the performance of your application. Through this you will be able to identify the issues in your app.
Develop a beta launch
Through beta launch you can thoroughly test your app by inviting a group of people to use your product and can share their valuable feedback with you. The main aim of beta launch is to know how the app will work, when it is in the hands of actual users.
Beta launch is an important part of the app development process. Because in the beta launch process first the developer tests the app then it is forwarded to the real user to test the app.
Typically, a beta testing process may take from 1 to 12 weeks, which may incorporate several smaller iterative cycles. This may vary depending on the type of app under development.
What do the testers do in the beta launch process?
Beta testers repeatedly use the app for a specific period of time and report back for any issues or bugs in the app. This helps the publishers of an app to decide whether the app is ready to launch for a real audience or not.
Soft Launching of an App
Another way, after beta testing to ensure the functioning of an app is its soft launching. In a soft launch of an app the app is launched in a specific region to check how it will perform in a similar region.
Conclusion
So to launch a successful mobile application, one needs to go through the several steps as discussed above. The success and growth of your mobile app will heavily rely on proper implementation of the processes in each step. That is before you start developing your app for testing and after launching by gathering feedback and reviews from different users. By following each and every step in a proper manner, you will be able to offer a flawless mobile app. If you are looking for a flawless mobile app for your business or if you want to convert your app store into an interactive mobile app you can try a 30-day free mobile trial by MageNative.