How to add product video to the WooCommerce listings?
Running short of time? Get PDF of the blog in your mail.

Play Now
We have already talked about the importance of WooCommerce Product videos and how to get them created. The point is, how to add a product video to WooCommerce listings?
So, here we will discuss the pathway of adding your product video to your WooCommerce store.
So, here's the point.
You have your video created successfully with the industry experts but you cant add them directly to your product listings.
To make this happen you need a Plugin!
Install Plugins For WooCommerce
To add product video to the WooCommerce store, it is essential to download and install a plugin to your online store, Now there are various plugins to make this task complete. Listing the top of them
WooThumbs
WooThumb is one of the best plugins featured by WordPress which helps you add a video to your product listings and add multiple thumbnails to them.
You can customize your gallery layout using this plugin, like adding a slide product view with multiple product videos!
View the Plugin HERE
Product Video for WooCommerce
It is an Official extension that comes in the premium mode for WooCommerce. This plugin gives you the liberty to add product videos to your WooCommerce store directly from the platforms such as YouTube, Facebook, DailyMotion, Meta cafe, etc, and also you can add customized self-hosted videos to it.
It gives you a wide variety of formats also, MP4, MKV, AVI, MOV, FLV, WMV, and many more.
If you want to view this plugin, click here!
YITH for WooCommerce
This plugin helps you to add audio and video to your WooCommerce store. This feature comes in both versions i.e a free one and a premium one also. Here you can
Add self-hosted videos
Add video from platforms like Youtube, Vimeo, etc
Unlimited video uploads
Customize your gallery
Change video positions in the product gallery
Also, helps the users to translate pages to their domestic language In case you need to view this plugin, then you can click
And, here for the Premium version
There are many more plugins available right now. But these are one of the best in the industry right now. You can choose as per your preference.
Now, the tool to be used is here, to add a product video to the WooCommerce store, you need to follow these steps
Install your preferred plugin
Add your product video
Customize your product gallery
Install your preferred plugin
Now, the plugins have already been stated. Pick the one you want to use.
You need to install the extension to your Woocommerce store. To be more accurate, let's say you want to use WooThumbs. First of all, buy the extension and download the zip file.
Once you are done with this then
Go to your WooCommerce Store
Click On Plugins
You have added this plugin to your store, so click on ' Add New' followed by 'Upload Plugin'
Select the downloaded zip file, add the plugin and click on 'Activate'
This will now ask you for the license key.
You will receive the license key when you will make the plugin purchase.
Now, use that key once you clicked on activate.
Your plugin has been added and activated.
Add your product video
Image source:- Iconic Wp
To upload your product video, these are the steps
On your WooCommerce store backend, click on 'products' and then 'All Products'
Your product list will be showcased.
Now, select the product to which you want to add the product video.
Now, the product gallery is open. Scroll down to the bottom.
You will see an option 'Add Product gallery Images' at the bottom right corner.
Click on it.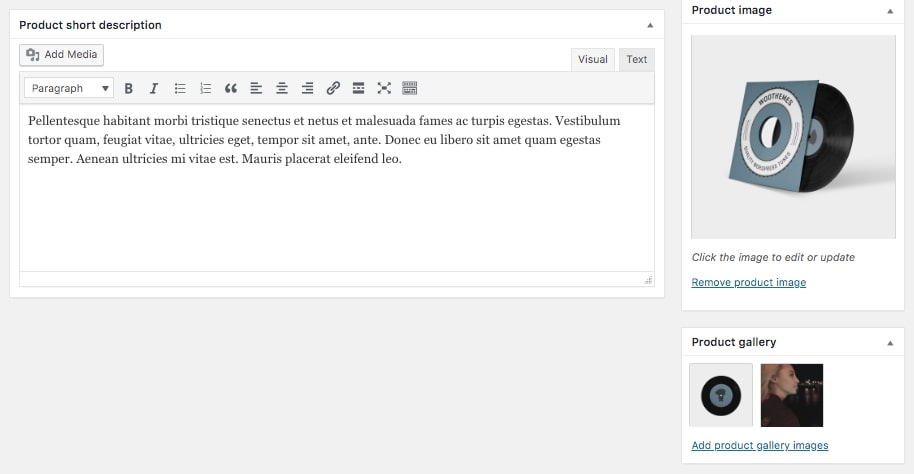 Image source:- Iconic Wp
Here you need to add the thumbnail image for your video. The thumbnail image must be eye-catchy and focused on the niche as this will be the preview before the video plays and will be visible with the play button in your WooCommerce product gallery.
Upload the thumbnail image in the gallery.
When uploading the image, you will see an option in the right corner bar as 'Media URL'
Now pick the link of the product video from Youtube, Metacafe, Vimeo, Daily Motion, etc, from whichever platform you prefer.
Paste that link in the box mentioned at Media URL.


Image source:- Iconic Wp

Now, you can also change the aspect ratio of the video to your preferred size. (16:9 goes the best!)
Yes, you are done!
There's no option for saving because WordPress automatically saves the work done at an instance.
Now you can see your product video in the selected product line.
Customize your product Gallery
This is for the beautification as well as the preferred format you wish your product line to look like.
You can make any changes to that such as
Aligning the video at the start, mid, or the end (as per your convenience)
Changing the layout, etc
Conclusion
We have got the answer to the question on how to add the product video to the WooCommerce store. Video is an essential part of the content strategy and the heartthrob for the users and target audience, it is the most important thing to get your product videos created at first and uploaded to your Product Line.
In case of any concern or expert guidance, you can connect with us over WhatsApp and skype. You can also come down to the comment section!
So, time to focus and maximize your sales.
Happy selling!