CedCommerce Launches Pinterest Magento Integration to Engage More Audience
Running short of time? Get PDF of the blog in your mail.

Play Now
Portland Oregon [September 5, 2022]: CedCommerce, a Magento marketplace solution provider, has announced Pinterest Magento Integration, a social plugin for Magento sellers to help them engage a huge audience from Pinterest.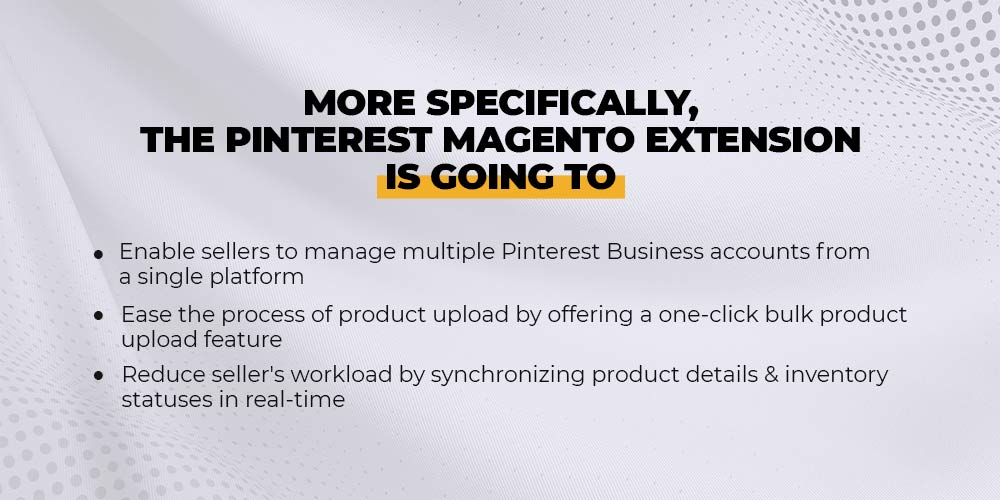 "Pinterest has now become one of the biggest social media platform; where 400+ million people visit every month to find ideas and inspiration for their next purchase. So, this brings sellers a great opportunity to showcase their products to a huge consumer base," said Mr. Deepak Gupta, Magento Development Lead at CedCommerce."The vision behind the launch of Pinterest Magento extension was to help sellers easily share their Magento products on Pinterest. This extension further reduces sellers' workload by converting manual repetitive tasks into automated ones," Mr. Gupta concluded.
Pinterest is offering a huge opportunity for sellers to reach more audiences and find the right customers by sharing their products on their platform. But, if they choose to do it manually, that is, uploading Magento products one-by-one on the Pinterest Business account, this process will do more harm than good to sellers. It is both a slow and inefficient way to manage products. It may further result in challenges like overselling and underselling.
Pinterest Magento Integration by CedCommerce is an eCommerce solution that eliminates these challenges by automating the whole selling process. It allows them to upload bulk Magento products to Pinterest accounts with a single click and manage everything including multiple Pinterest Business accounts from a centralized platform. This makes the process more efficient and reduces sellers' workload, saving more time.
"CedCommerce is a client-first company, working for the betterment of sellers for the last 12+ years. We have been growing with a single goal in mind to make eCommerce affordable. Also, provide best-in-class services to enhance the online selling experience for sellers worldwide.", commented Mr. Abhishek Jaiswal, CEO of CedCommerce.
Learn More About Pinterest Magento Integration
As Pinterest is not facilitating any purchase, sale, or delivery processes, the newly launched Pinterest Magento Integration extension only allows sellers to share their Magento product details like images, URLs, and descriptions on their Pinterest Business accounts. It further comes packed with many advanced features that make online selling a smooth process for sellers. Here are some major features of the Pinterest extension:
You can download the newly released Pinterest Magento Extension – click here!
Features of Pinterest Extension for Magento
Multi-Account Section
Sellers can create different Pinterest business accounts and manage all of them with a centralized platform offered by this Pinterest Magento extension. So, they don't have to manage each of them separately.
Bulk Products Upload
This Magento extension allows sellers to upload any number of Magento products to their Pinterest Business accounts with just a single click. So, they can reduce effort and save time doing the same manually.
Automate Inventory Status Update
Pinterest Magento Integration extension updates inventory statuses on the Pinterest account and Magento stores automatically. So, the sellers don't have to update the figures manually one by one.
Redirecting at Checkout
For checkout, customers are redirected from sellers' Pinterest accounts to their Magento store where all purchase processes from placing orders to tracking shipment information can be handled.
Explore more Magento-based Integration extensions in our store – visit here
Additional Features by CedCommerce
24 X 7 Customer Support
Step by Step User Guide for Installation and Configuration
Dedicated Developer for seller's account
About CedCommerce
Established in 2010, CedCommerce has now become a renowned name for providing eCommerce solutions. The new Pinterest Magento 2 Integration is one of them. Moreover, it has touched many milestones under the guidance of wise leaders, working towards providing a better platform for sellers worldwide. Recently, it has also established itself as the best ChannelAdvisor alternative. In addition to Magento, it provides solutions for other frameworks like Shopify, WooCommerce, BigCommerce, Opencart, Prestashop, and more. The services provided by the organization other than Integration are – website development, PWA solutions, customized extensions, migration services, and many more.