Build your video marketing campaign with these watch hacks!
Running short of time? Get PDF of the blog in your mail.

Play Now
What's happening around that you are missing as a marketer? Creating a video marketing campaign needs insights that come in with better reasoning and learnings. The core to any campaign's success lies in its audience. And that's what pulled us in, seeking the reasons that prompt people to watch videos.
In the following blog, we have captured the essence of videos along with the reasons and more. Here's the table of content for the same.
Why videos?
This is a question often thought about by businesses before diving into video marketing.
Video traffic will quadruple between 2017 to 2022 as per Cisco's video marketing index.
All these now get credited to;
the rising video streaming platforms,
quality
And increasing demand for video content.
People invest their time across many video types now. Thus making them a proven marketing tool.
When we talk about the frequency, 80% of viewers watch videos online several times a week. While consumption devices saw a rise in portable gadgets like laptops, notebooks, and mobiles.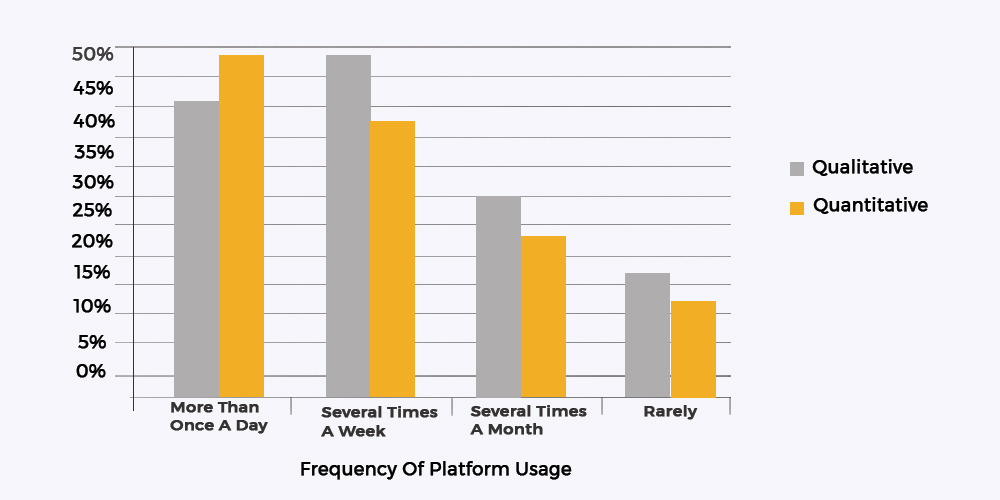 People now care about the way they discover the videos and not the platform. The one that gives them ease and results is where they go. So videos are something the viewers are seeking.
Reasons why people watch videos
To find information about a product/ service
Videos dissipate information far better than text manuals. But these videos also lose audience interest when they fail to stand their expectations.
So creating instructional videos that offer value is essential as it is one of the most sought-after video types. These videos are often consumed during early or mid-day hours. Thus, fanning out a considerable amount of time in a viewer's day. These videos are also searched by people and provide easy access against;
Time lag in the accessibility of required information
Thus, working on an instructional video can be helpful to win over your viewership.
Watch videos to stay informed with updates/ trends
Did you know almost 11% of people watch videos to keep themselves updated with the ongoing trends!
Creating videos that are at par with the ongoing trends always work wonders with brands. Provided the same appeals to their attention. Along with well-structured videos for the moment. Your audience watches trending videos to have a feeling of self-awareness and confidence amongst others. Working with these will boost your brand visibility and raise awareness among your target audience.
Videos to resolve concerns
Videos improve viewers' understanding by almost 98%. And it is one of the strongest reasons for videos being created as people search "How-to" a lot of times. This also helps people in making better decisions.
Here's an example for the same:
A video that answers all their queries well gets much appreciated. So work with demonstration videos or reviews/ testimonials to increase your brand authority.
Videos for entertainment
The advent of social media brought in easy consumption of videos for entertainment. At the same time, many marketers use platforms like Instagram, Facebook, YouTube, Twitter, or TikTok for marketing now. They are trying to use the entertainment factor with proper video optimization to establish reach and repute across the target audience.
Tap the video marketing potential today!
Besides, entertainment videos are attention-grabbing. They are preferred across generations, and platforms like YouTube offer more to it along with educational/ informative content. Here's something to look out:
Using this aspect of viewers watching can escalate your marketing video's performance. So make them creatively attentive.
Videos for relaxation
ASMR videos are making heads turn now. Standing for Autonomous Sensory Meridian Response has been made instrumental by brands to establish a sensory connection with the viewers. Coupled with a voice-over and detailed description; these videos get viewers for their sensory input and appeal.
That leads us to understand the role of sensory bonding in lieu of making your video content interesting. These videos are viewed because they act as triggers to emotions. And videos being one of the strongest triggers of psychological events, marketers should work on these fronts too.
To find something new
Around 38.1% of people are browsing across YouTube to find something new. Thus, making it the 3rd most searched type of content after entertainment and music. Videos that provide something new, something different, always make an impact.
So make sure your product or service launch has creative videos. As that makes 70% of the viewer's attention. Followed by 30% of marketing.
Favored by Gen Z and millennials
Videos are more widely consumed by Gen Z and millennials now. Furthermore, consumers now rely on these videos for the brand's credibility. This generation, i.e., 50% of them in YouTube's survey state that "they wouldn't know how to live without them." They consume it all, .i.e., from information to educational to entertainment videos.
Given the fact Gen Z's are attending buying authority. And millennials hitting the power 40's, they are most likely to be the prime focus of these messages.
Your business isn't online yet?
Viewers trust the marketing videos from brands
Videos are associated with trust. They instill viewers' trust in a product/ service when branded video content is pushed across platforms. Viewers undertake the label and trust the brand.
As it helps in formulating the buying decisions.
People now look for video reviews, testimonials, demo videos, or something relevant before deciding in your favor. If you fail to provide, they will easily switch to someone who gives them that. Videos give more authority and authentic touch to the product/ service being talked about. Hence including such brand videos can be helpful for your video marketing campaign.
Here's an example for your reference:
Video content type preferred across generations
While we look across the generational preference, let us first be clear with the age groups.
Boomers: 55-64 years
Gen X: 39-54 years
Millennials: 23-38 years
Gen Z: 13-22 years
Out of which, short-form content like tutorials, web episodes, and short videos had younger attention. Along with user-generated content that saw more consumption by almost 55%. Also, the video quality was secondary to them.
Here's an overview of genres preferred across ages. Based upon the research conducted by Christoph Lagger in his study on "What makes people watch videos."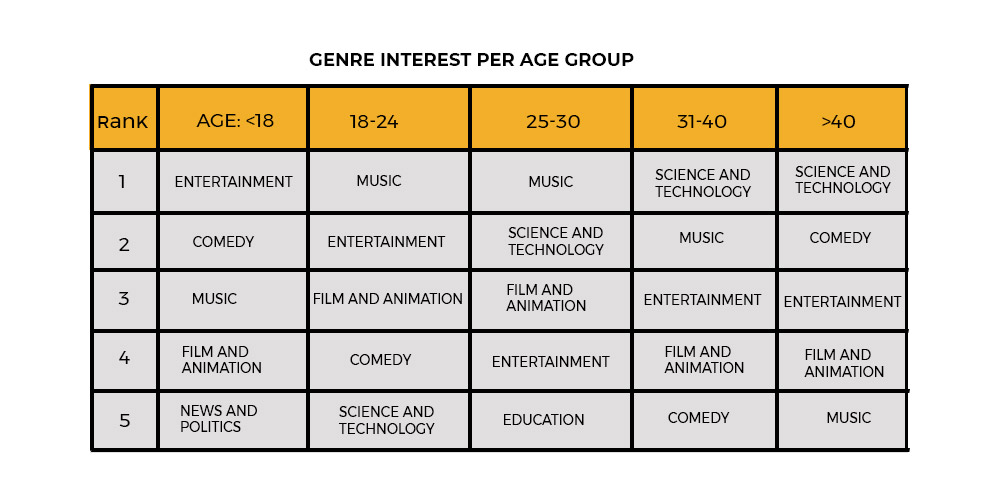 Most common video platforms for viewing
To understand the content consumption, here's an overview of the platform where YouTube has 78% of votes in terms of usage. Here's the platform-wise overview.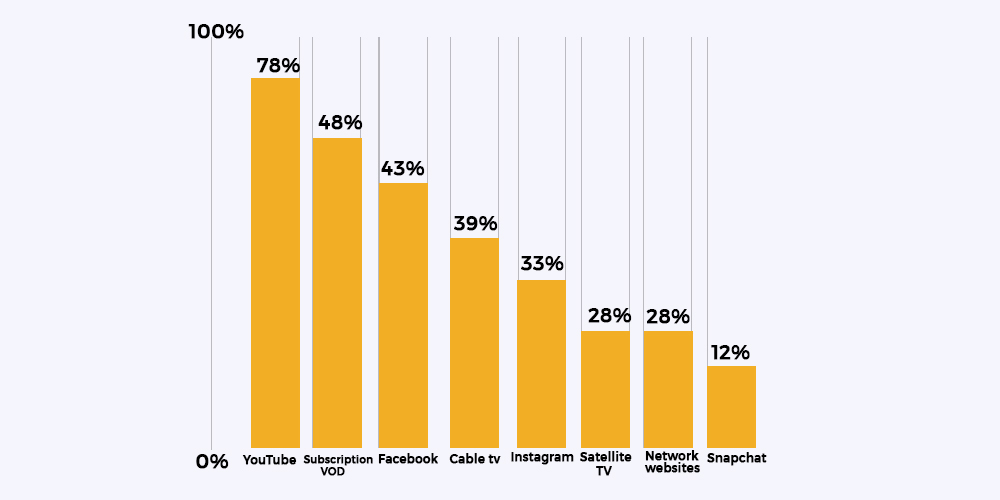 Src: Here
The reason is, the platform offers a wide variety of content. It also appeals to each age group's needs. Plus, being a video-only platform, people come in large numbers.
YouTube currently has an active user base of 2 billion users per month. Marketers actively invest in YouTube marketing today, given the reach and wideness it provides.
Conclusion
With that, we have reached an end to our blog. The aim of this was to bring out some common reasons that make people watch videos. Additionally, which will act instrumental in defining your video marketing campaign.
We create videos to give value to the consumer base. But it becomes important to learn what your audience wants. Because it will be fruitful only then. If you have any queries, please drop us a comment below or connect with us over WhatsApp or Skype. We will be happy to assist your video marketing journey. Best of luck!