In House Adobe Commerce Pricing for your eCommerce Store
Running short of time? Get PDF of the blog in your mail.

Play Now
Choosing the best platform for your store is one of the essential steps to start selling. Perhaps Magento is the right choice for your eCommerce stores. It is based on open-source technology that provides you with free software. Magento is your go-to platform if you are a beginner who wants to create an online store or move the offline business online. Also, it's the best choice if you want to expand your multichannel business with Magento.
Now, Magento being the base has two versions: Adobe Community Edition(CE) and Adobe Commerce Edition(EE). Hence, whether you are a beginner or an experienced seller, you must know about Adobe Community Pricing and Adobe Commerce Pricing.
In this blog, we will discuss these two editions and how much in-house Adobe Community Edition and Adobe Commerce Pricing are. By the end of the blog, it will be easier for you to choose the best Magento edition for your store.
Wondering what In-house Magento is? Well, "In-house Magento means hiring a Magento Certified Developer and then getting the work done on the free platform i.e., Community Edition.
What are the two versions of Magento?
The two editions of Magento are:
Adobe Community Edition: This is an Open source platform that is entirely free of cost but without the support of Magento. Adobe Community Edition is friendly for beginners as it does not require vast configurations. The majority of merchants are using it. This version is preferred because there are no additional or hidden costs for the website.
Adobe Commerce Edition: This edition is also known as Magento Commerce Edition or now known as Adobe Commerce. It is a paid version of the Magento eCommerce platform. Adobe Commerce edition comes up with powerful features not supported in Adobe Community Edition. A few of the features of this version are providing technical support with installation, configuration, usage, and troubleshooting
Adobe Community Edition is the most chosen for small and mid-sized businesses meanwhile the Adobe Commerce Edition is a must-have for bigger enterprises.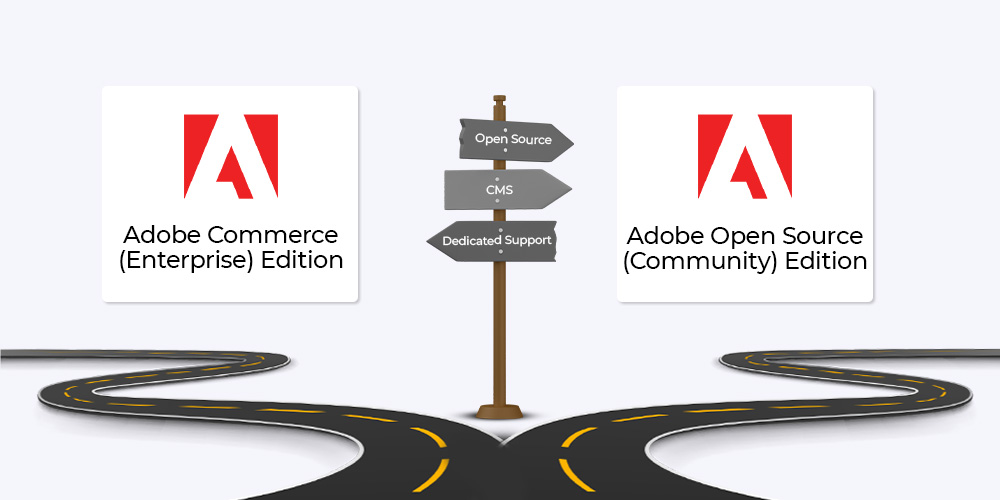 Adobe Community Edition Cost:
At the end of 2015, when the platform rolled out, Magento continued to offer a free Community Edition (CE). Overall, Adobe CE inherits much of the platform-wide architectural improvements made in the Enterprise offerings, with notable exceptions regarding scalability, promotions, security, merchandising, loyalty, and customer support.
Breaking it down:
Hosting cost = $200 per month x 12 = $2400
Developer cost- $40 per hour = 40 x 20x 12 = $4800 (considering 20 hours of monthly work)
Total = $7200 is the approximate cost
 Adobe Commerce Pricing (Magento Commerce Edition):
Adobe Commerce Edition license cost for merchants generating less than $1 million and pricing levels up based on revenue begins at $22,000.00 annually. In other words, the more a merchant generates gross income, the business will expand, and the license will cost more.
To know Why Adobe Commerce is Better than Adobe Community Edition, Click Here.
Adobe Commerce Cost Breakdown:
The development of an eCommerce store is divided into the following phases based on the Prices:
Website Development By An Agency: (Starting from $25 – $200/hr)
Employing a web development company is the most expensive of the three options.
On the other hand, you get high quality and competence for the high price tag. You also have the opportunity to work with top Adobe developers who can turn your dream into a refined reality. It also gives the option to get reviews once completed, which will help to add value to your eCommerce shop.
These agencies charge you based on the 'developer's expertise of their team and the value of their dev portfolio.
Also Read: 5 Critical Signs When You SHOULD Switch To Adobe Commerce
Freelancer: ($10 – $200 per hour)
It's a slightly cheaper option to hire a freelancer, and there's always a chance you'll get what you pay for. While you get an account manager in the case of an agency, a freelancer provides direct and faster communication.
Once a project is handed over, professional freelancers provide support as well. However, if you hire freelance developers, you should do your due diligence to avoid a bad experience. A freelance developer's cost depends on their reputation, skillset, and region.
Freelancer Cost in different regions is:
Southeast Asia -> $10 – $20 per hour
Eastern Europe -> $20 – $60 per hour
US, UK, and Western Europe -> $150 – $200 per hour
In House Development Team: ($40,000 – $120,000 per year)
Many large and medium-sized eCommerce companies prefer in-house development teams to keep up with the rapid improvements and changes at the store level. The important benefit of this type of team is that it has a very fast turnaround time and expanded control over the development cycle.
If you are hiring a junior developer (with less than one year of experience), you will need to budget around $40,000–$80,000 a year. From there, the developer's cost for each year of experience increases double. The salary expenses for an experienced developer of Magento could go up to $120,000 a year.
Magento Themes: ($0- $200)
It is a serious business to choose the theme because the theme depicts the store's graphical front-end and UX. The theme is the digital representation of your shop for the guests. You have two options when it comes to themes:
Choose Pre-built Magento Themes-
If you choose to purchase Magento themes, be prepared to spend anywhere between $0–$200. Most store owners start with a basic theme and then employ a customization front-end developer. While this approach benefits from accurate customization, a front-end developer with intermediate expertise will ultimately cost you $50,000–$60,000 a year.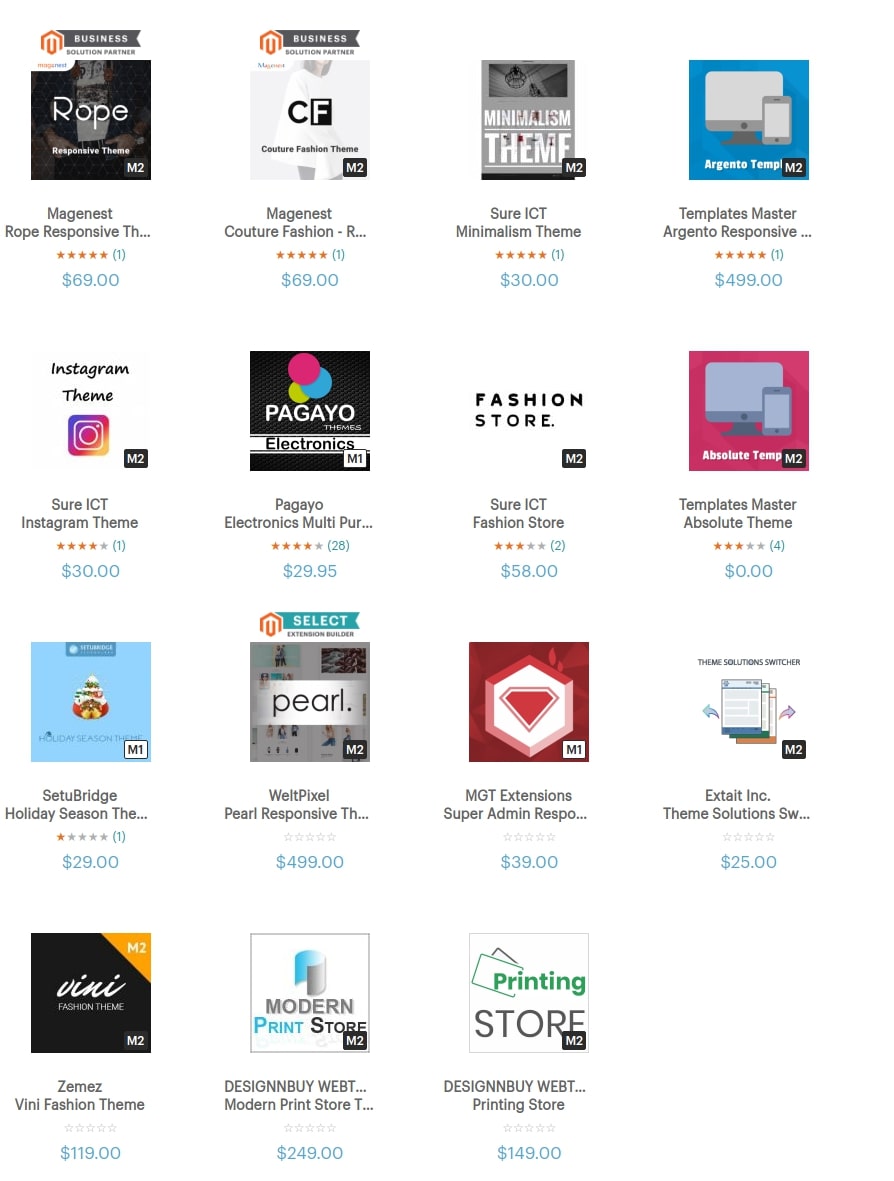 Build Your Own Theme-
This is a classic case of "You Get What You Pay For." All you need is a front-end developer team and a clear understanding of what you want from the theme. The price of a custom-built theme depends on the set of features you are looking for and the effort taken to turn your dream into a working Magento theme.
Extensions: ($50 – $500)
Extensions are standalone modules that extend the Magento platform's functionality. Some extensions are cost-free, while others might cost thousands of dollars.
A word of caution: Connect developers to check version compatibility and potential conflicts with existing extensions before finalizing and buying any extensions. There is always a risk that an extension can cause errors or it may slow down the loading speed of your website. Therefore, the expert advice is to limit to an absolute minimum the Magento extensions on the store.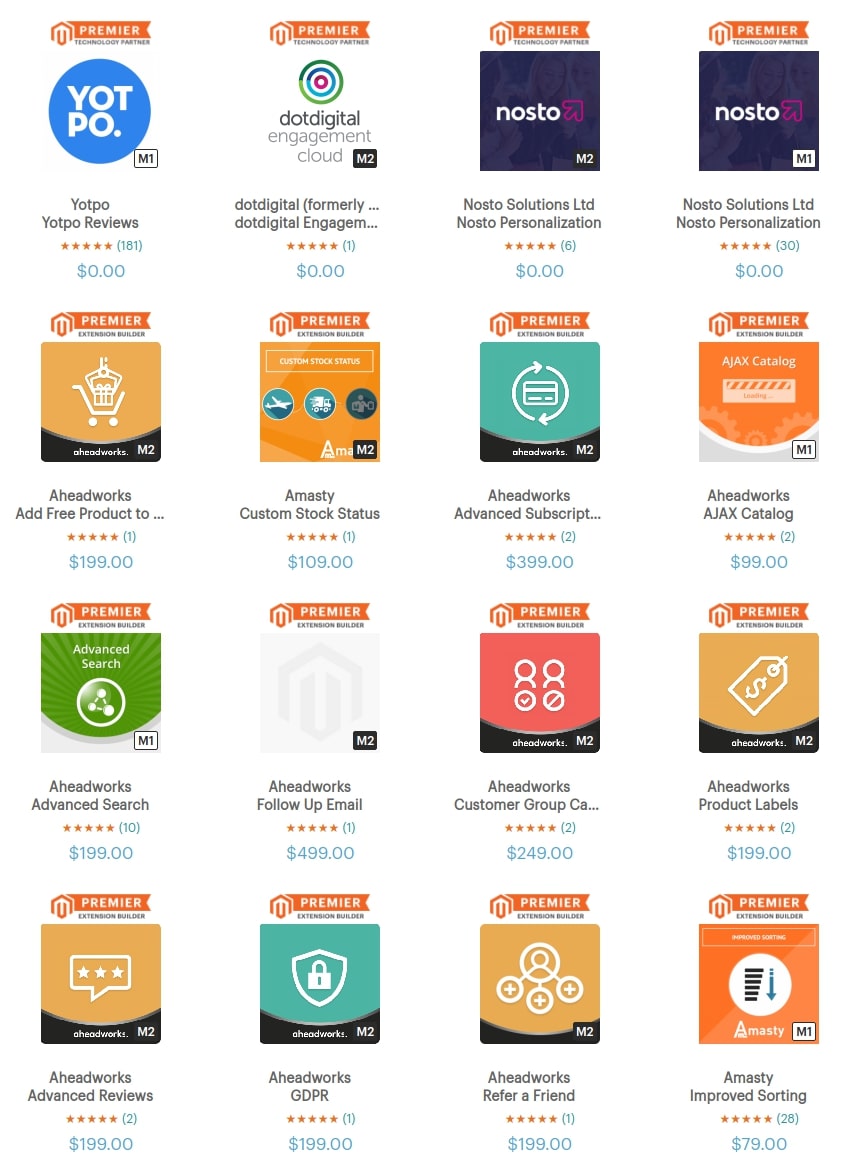 Magento extensions will cost you between $50 to $500, with the price varying from development agency to agency and the extensions feature set.
As with themes, you can choose from scratch to build the extensions. It needs, however, a design team with expert Magento knowledge and expertise to work with the heart of Magento. Custom-built Magento extensions are generally more expensive than custom-built themes.
Graphics and Brand Elements: ($10,000 – $18,000)
To differentiate them from the competition, online stores need a brand image. It includes a color scheme, logo, and associated visual elements (collectively referred to as the Product Collateral). Similarly, a store needs high-resolution product images and videos in this age of visual media to attract visitors and convince them to make a purchase. All of this includes a professional graphic artist's services, which usually charge $23 – $25 an hour.
Product Images-
Brand photographs are crucial in boosting an online store's traffic and sales. A high-quality picture provides the finer details and enhances the level of confidence that ultimately leads to a sale.
Product Videos-
Video is the leading eCommerce trend these days, and no store can ignore the value of a well-produced video. Product videos are very attractive and explain the product details in much descriptive way.
Domain: ($10 – $500)
The domain name for owners is the store's name. Therefore, you need to spend a lot of time choosing the store's name and finding a domain name that accurately reflects your preference. Make sure the name (and, therefore, the domain) is attractive, catchy, and easy to remember.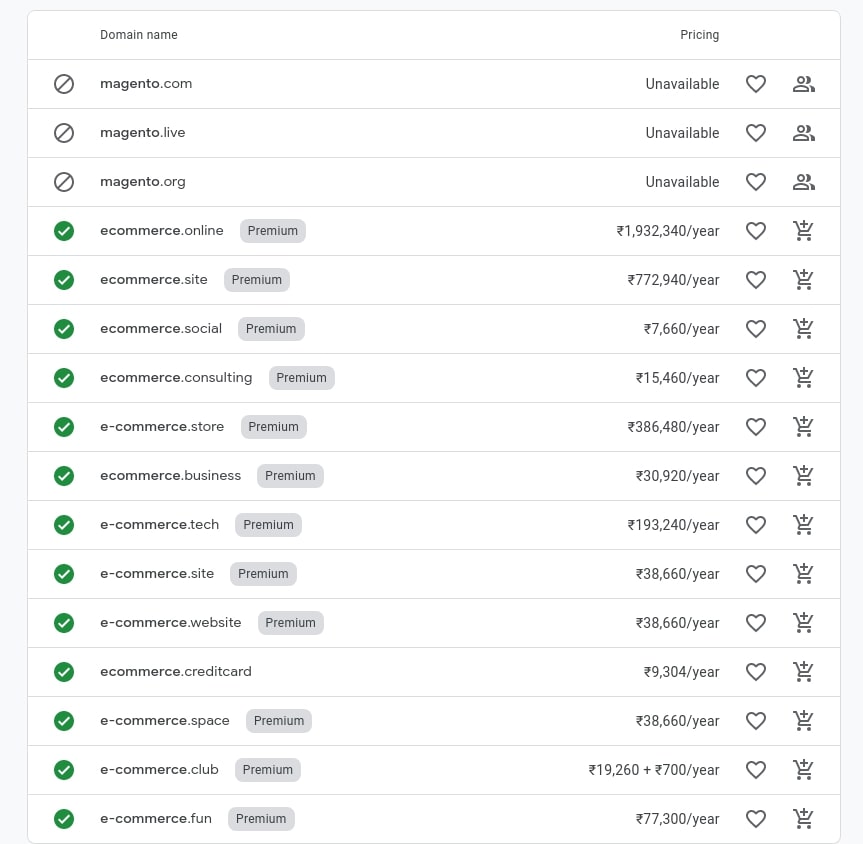 There are two ways you can procure a domain name: purchase a brand-new domain name or look for an Expired domain. Both options have their benefits and a direct impact on your online store's Magento pricing.
Brand New Domains:
In general, brand new domains cost you $10 – $15 a year.
Expired Domain:
The value of expired domains ranges from $20 to $500.
Magento Hosting: (Starts from $10)
At this point, I assume you've selected a Magento theme, the line-up extension, and your store's domain name. The store has also been fully developed and is ready to be live.
This brings us to the important and critical price factor of the entire pricing process of Adobe Commerce: choosing your store's hosting solution. At this point, whatever your decision is, it will directly impact your store's fate. Your primary focus as a store owner is to grow your business. This is a full-time job that leaves little time for challenges such as server administration and security. My recommendation is to go for a hosting solution managed by Magento that will take care of server management and security.
Another significant benefit of hosting is the on-demand scalability managed by Magento. You can scale up (increase) server resources whenever you see fit or when it is available. This is especially useful when eCommerce stores experience more than average traffic loads during the Holiday Sales season.
Also Read: Benefits of Magento Multichannel Marketplace Integration 
The next about Adobe Commerce Pricing you must know is SEO.
Search Engine Optimization: ($60,000 – $80,000/yr)
In today's time, eCommerce is a very competitive business, and Google is the battlefield where everything takes place. If your store is not in the top ten keyword results, the competition simply doesn't matter. This is, therefore, an important item in the pricing list for Magento eCommerce.
To join the Top Ten rankings of Google, you need to up your game, and the one thing that is going to help you is: Search Engine Optimization (SEO). To do this, you need to hire an agency or freelance SEO specialist with a proven track record of being ranked high in Google search results by Magento stores. The services usually cost around $44,000 per year.
SEO experts generally provide Magento with a host of related services, including:
Website Audit
Keyword Research
Competitor Analysis
Revise and Redo Product Pages
Page Speed Optimization
Google Analytics integration and reporting
A crucial key step that an enterprise business has to take is choosing the right eCommerce platform and solution. Contributing to your business growth and improving customer experience are the two major motives of an ideal eCommerce solution. At CedCommerce, we have a full-fledged team of experts that help enterprise retailers like you to analyze, plan, and successfully set your business online.
Click Here to learn how our powerful tool can reinvent your Enterprise operations and open up new revenue streams.
Magento Store Maintenance: ($80 – $125/hr)
Your Magento store would require fixes and routine maintenance to ensure smooth performance during the course of daily operation. This means that for scheduled and on-demand maintenance, you need to spend the budget.
Maintenance contributes to the profitability of the store and prevents potential problems from interrupting the operation of the store. Maintenance generally includes the use of updates and security patches. The price of these tasks depends on the job's reach, intensity, and skills.
Also Read: Adobe Commerce: Major Advantages and Disadvantages
So now the next in Adobe Commerce Pricing is the Support charge.
Support: ( $30,000 – $40,000/yr)
Regardless of the size, the store requires active help if things go wrong. Help operations typically overlap with maintenance, and the same provider provides both services.
The customer service you would have to provide consumers is an essential factor to consider. This is a multi-channel and multi-activity area. Typical customer support professionals from Magento would cost you around $40,000 a year.
Wrapping Up:
Magento's cost varies widely depending on whether you go for free or the paid route. It's excellent that Magento still offers a free version of its eCommerce platform, albeit somewhat limited. With the improvements to their Adobe Commerce pricing, as well as new Enterprise Cloud Edition offerings, Magento hopes that more retailers can update and invest in the paid options.
This was all about Adobe Commerce Pricing structure.
If missed upon a cost item or if you want to add it to the discussion, the comment section below is the place to go!