2022 eCommerce calendar: Best proven holidays for e-selling
Running short of time? Get PDF of the blog in your mail.

Play Now
2022 eCom calendar! If you're an eCommerce seller, then these three words just might intrigue you. As another New Year approaches and holidays come to an end, the race for 'best e-sellers of another year' begins!
2021 was full of surprises. Hence, it's natural to expect and prepare for almost yet another year! Fresh off vacations, both buyers & sellers might not be as active. With e-shopping/selling, during the coming months (January to June).
As of February 25, 2023, New and Improved version of Amazon by CedCommerce is now known as "CedCommerce Amazon Channel".

E-selling trends have been changing over the past few years. It is, supposedly, believed that the quarter is right after the holidays. It doesn't really bring in as compared, profits. Hence, this blog is a counter 'representation' of the aforementioned myth! Read and find out more about:
All the essential e-retail holidays lined up in 2022
'Surprise' for sellers: A CedCommerce's initiative
Quarterly e-retail performance in 2021
Pick any month of this year and turn it into your most profitable (e-retail sales) one!
Essential E-Retail Holidays Lined Up In 2022
Holiday seasons generally make the most sales over their respective years. So it's important to get back into the 'game' right after the year ends. There are plenty of days in each month that celebrate numerous holidays. Let's now, look at the 2022 eCom calendar and discuss some important holidays in it:
January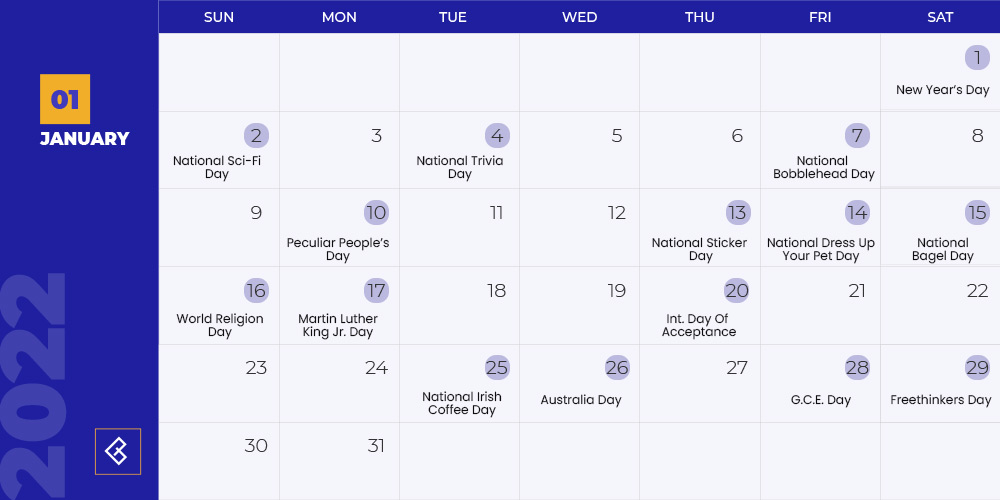 January 1: New Year's Day
Sellers can use New year's day as a retail opportunity. They can introduce 'new' product categories, offers or even upsell/cross-sell them.
January 2: National Sci-Fi Day
A day to celebrate science and related discoveries. Sci-Fi day can be used to target the science and creativity sector together, on grounds of mutuality.
January 13: National Sticker Day
Stick-ons, street art, and stationery stickers; these stickers are a few of the many that exist. Sellers can also make more profits with customization (of stickers).
January 14: National Dress Up Your Pet Day
There's no specific day to look good! Sellers can tap into various product genres like pet costumes and accessories. They can also sell other accessories for events like pet shows and competitions.
January 20: Int. Day Of Acceptance
A day to celebrate the differently-abled ones; acceptance day spreads awareness regarding their rights and is a social entrepreneurial initiative. Hence, Sellers can leverage various themed product categories (like customized crutches) to sell.

January 28: G.C.E. Day
Global community engagement day celebrates the welfare and prosperity of the in-groupers. Therefore, product genres like healthy food and eco-clothes could be two of the many, to be retailed on this day.
February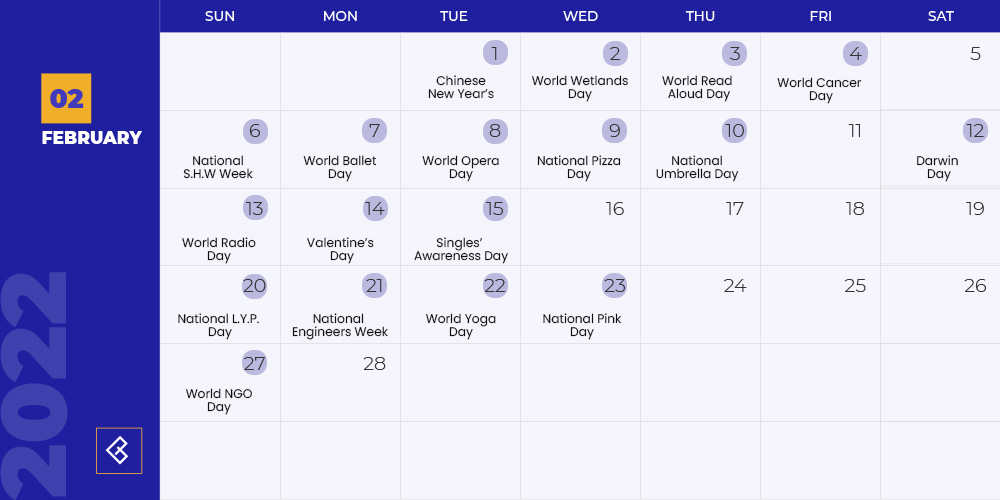 February 1: Chinese New Year's
Sellers on marketplaces like Amazon and Alibaba could sell themed products on this day. Items like decorations, resolution cards, fireworks, and many more.
February 14: Valentine's Day
A day to celebrate love and relationships; sell everything heart-shaped and red! Days prior to Valentine also creates room for products like toys and chocolates. (Teddy day on Feb.10 and Chocolate day on Feb.9th)
February 20: National L.Y.P. Day
Next on 2022 eCom calendar is National love your pet day which is celebrated widely. Items like treats, costumes, road trips, and many other activities are retailed. Hence, sellers can sell products for such occasions. (like tents, safety gears, pet accessories, and matching costumes)
February 22: World Yoga Day
On Yoga Day, products like Yoga mats, themed clothes, and other such-related products (like meditational ones and incense holders). They might make more sales.
March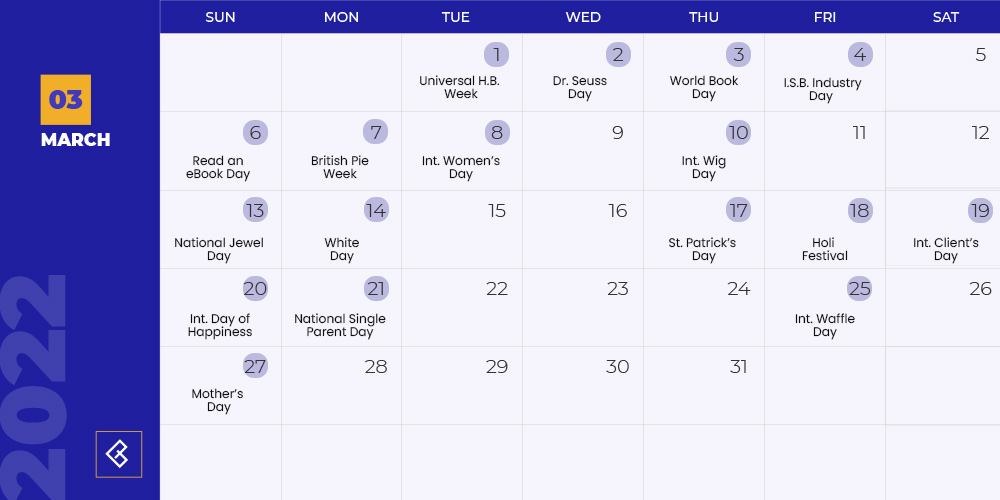 March 3: World Book Day
Sellers can leverage book-themed products in their stores. From books to clothes and reading accessories (like lamps, glasses/specs, and bookmarks). World book day celebrates the love for reading and writing.


March 8: Int. Women's Day
Yet another day to appreciate women. Sellers can introduce offers and discounts on all their products to honor women, globally. Hence, they can also sell gender-oriented items and services.
March 10: Int. Wig Day
In 2022 eCom calendar, International wig day is celebrated to show gratitude to all kinds of wigs. Sellers can retail multi-colored wigs, daily-wear wigs, and even medicated ones!
March 13-19: National Jewel Day
Jewelry as a present top the list of most-wanted gifts. Hence, sellers can sell customized name/letter rings, earrings, and neckpieces. They can also sell combos of jewel-themed items.
March 18: Holi Festival
As a festival of colors, Holi is celebrated globally and largely, in India. Therefore, from food items to themed clothes, masks, gloves, headbands, and colors, sellers can plan to sell such items on this day.
March 25: Int. Waffle Day
Next on the 2022 ecom calendar is international waffle day. It can be used to sell various types of edible/ non-edible waffles in form of toys, decorations, and even real-time event services (like organizing waffle parties for birthdays)
March 27: Mother's Day
Around $28 Billion dollars were spent on Mother's day in 2021. Bestsellers included DIY items, personalized cup/holders, beauty subscriptions, and many more.
April
April 1: April's Fool Day
A day full of jokes and pranks. April's fools day is a classic reminder to have 'fun' in life! Therefore, products like jelly toys, prank plushies, air horns, and many more could create huge demand in the market. Yet another great opportunity for the sellers!
April 2: Int. Children's Book Day
International children's book day can be celebrated by selling themed items for children. For instance, toys, cartoon books, and numbers/alphabet books.
April 7: National Beer Day
Beer as a product usually generates good revenue for the sellers. In 2021, most (revenue) was generated in China. Beer/brewing could be selected as a theme to sell products and promote services on this day.
April 10: National Siblings Day
Another retail day of 2022 eCom calendar. On siblings' day, sellers can actively manage many product categories. Like trip gears, customized clothes/toys, photo calendars, and costumes. Hence, another day to appreciate your siblings!
April 12: DeskFast Day
A day recently recognized, DeskFast basically is about eating breakfast on your office desk. that too officially. Office accessories, themed parties, gift baskets, and such items could generate revenue for the sellers.
April 15: National Anime Day
Anime day is a global cultural celebration of Art. Since anime has gained quite a popularity, especially with GenZ and Millennials. Hence, from costumes to play/toy gears, sellers can reset major profit margins with these products.
April 20: World Stationery Day
Sellers can deal with products like pens, paper, other accessories. Moreover, to introduce offers on the same. Therefore, such an approach might work better if it's all-themed!
April 29: Int. Dance Day
Yet another day to celebrate Art. International dance day gratifies every form of dance and related genres. Hence, sellers have numerous options (from types of costumes to types of dancing shoes) to retail in the market.
May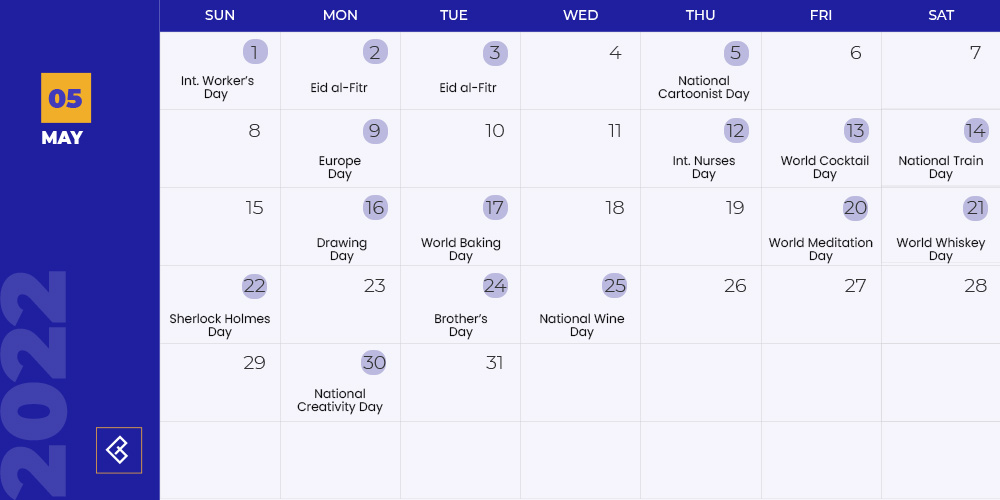 May 1: Int. Worker's Day
International worker's day is meant for all the workers around the world. They usually celebrate it with a day-off, trips, or just stay-in. Sellers can use this day to their advantage. Therefore, sell related items like tents, car polishes, and matching costumes for Disneyland.
May 2–3: Eid Al-Fitr
Eid Al-Fitr is a holiday largely celebrated by Muslims globally. This day marks the end to a month-long fasting period. Otherwise called 'Ramadan'. Sellers can sell products underlined in categories like food, clothes, vacation accessories, and more.
May 5: National Cartoonist Day
The cartoon and caricature market has always been doing good. And, also in terms of revenue generation. As a part of animation, cartoons have always attracted and supported engagement. Products can be themed and sold by sellers on this day
May 12: Int. Nurses Day
International nurses day is celebrated to honor nurses all around the world. This day gained special recognition during the ongoing pandemic condition. Few of the products like masks, accessories, clothes, name tags, or even free food services for nurses, could be retailed by sellers.
May 17: World Baking Day
On baking day, cupcakes, cookies, pastries, themed cakes, accessories, and clothes. They can be some of the product options for sellers to attract buyers.
May 20: World Meditation Day
A day to relax and have a serene time. Meditation day takes buyers towards a day off from work. Targeting casual shoppers, sellers can sell crystals, meditation mats, and accessories.
May 24: Brother's Day
A nice watch or a signed jersey by Kobe Bryant, the late famous basketball player, and more. Consequently, in the month of may, sellers can sell such products to bring in some profits.
June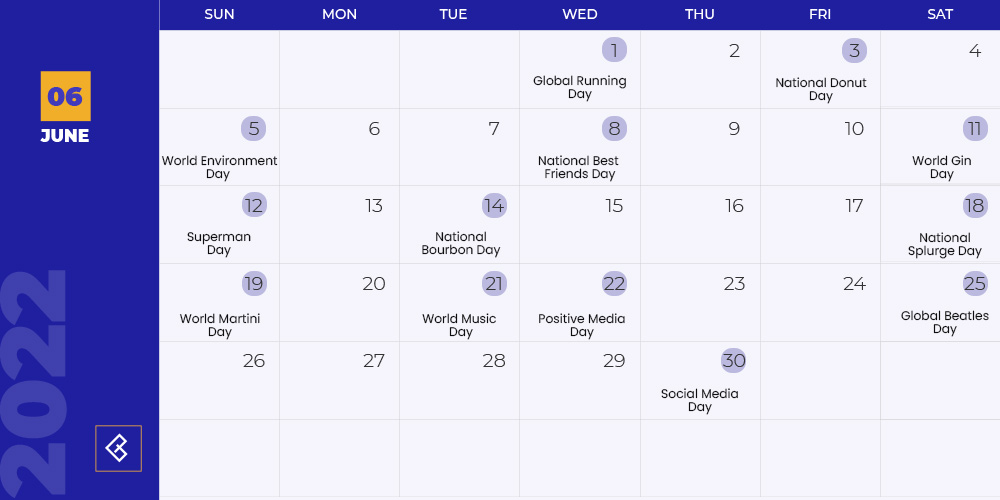 June 3: National Donut Day
Representing one of the most integral parts of the Dessert course. On donuts day, people associated with it, like famously in the U.S, police officers. They are often targeted as potential buyers by sellers.
June 5: World Environment Day
Gluten-free products, cruelty-free clothes, and eco-friendly accessories are quite popularly sold all over the world. Moreover, these types of products bring in enough traffic and leads. A thoughtful retail holiday in the above 2022 eCom calendar.
June 8: National Best Friends Day
Sellers can target different segments of audiences. And pitch them items like friendship bands, accessories, clothes to gift others.
June 18: National Splurge Day
The market for national Splurge day is growing gradually. This day is to celebrate oneself. Buyers treat themselves with almost no budgetary restrictions. An opportunity such as this can be used by the sellers to promote products. Moreover, to provide offers.
June 21: World Music Day
For the love of music around the globe. World music day unites all listeners together. And might bring in a chance to make selective sales. Therefore, selling products like concert apparel, famous celebrity accessories, and themed souvenirs.


'Integrate' problems into a 'one-stop' resolution:
Amazon by CedCommerce: A Shopify-Amazon Integration app
This Amazon integration was initiated by CedCommerce. As Shopify recently discontinued its integration app for Amazon sellers. During a season full of holidays, such a business step cost too much to the sellers!
Amazon by CedCommerce app distinguishes itself from the others on the grounds of its core features:
List new Amazon inventory with Shopify.
Link already existing Amazon inventory with Shopify.
Manage and handle all Amazon (operative and management) activities from the seller's Shopify store.
In near real-time, sync your Shopify product, price, stock, and many more.
Edit in bulk, with smart predefined templates, to avoid repetitive category mapping and other monotonous steps.
Connect more than two Amazon accounts within the same country, to handle overall operation from your Shopify store.
Quarterly e-retail performance in 2021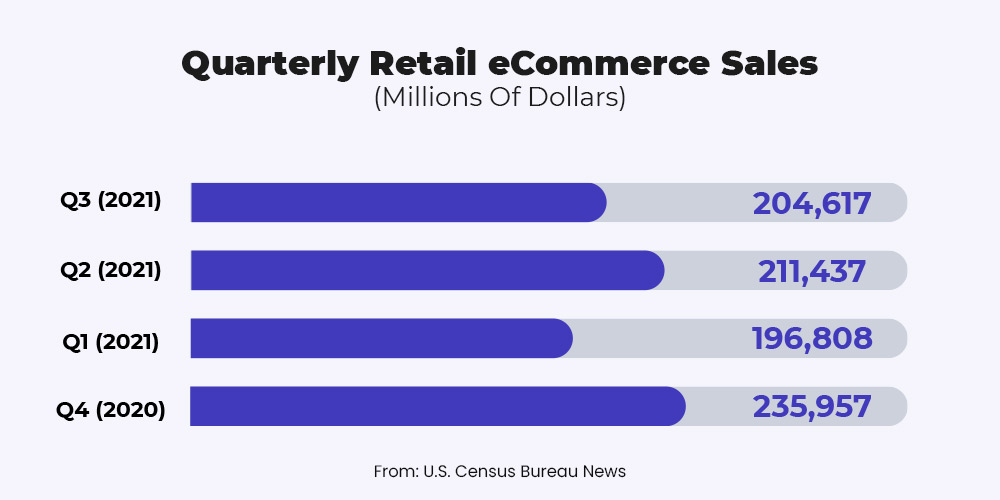 When sellers reached Q2 in 2021, there was an increase in retail sales. Similarly, it reflects potential (and continuous) consumer demands in the coming holiday season.
July
July 1: Canada Day
Next on the 2022 eCom calendar, comes Canada day to appreciate the country. Canadian-themed games, colored decorations (red and white of the country's flag), and traditional food items. They are some of the products that can be sold by sellers. To increase their monthly sales.
July 7: World Chocolate Day
A delicacy loved by many. chocolate is worth having a day named after it. Sellers can deal in multiple types of product categories. like chocolate-themed clothes, accessories, edible delicacies. And, even provide discounts for bakers as buyers.
July 17: World Emoji Day
Sellers can retail many categories on this day. Like, emoji-themed or shaped toys, decoratives, clothing, food items (meal preps). And, even furniture can be 1854000401033694
July 24: National Tequila Day
Sellers in the alcohol industry can provide offers and discounts on National tequila day to attract buyers. Other sections in retail can sell themed products like cutlery, mementos, fun message cards, and many more.
July 29: National Lipstick Day
With different trends changing every now and then within the beauty industry, lipsticks still dominate a major part of it! Beauty retailers can upsell their lipsticks with other items and related industries like fashion, could sell likewise themed products.
August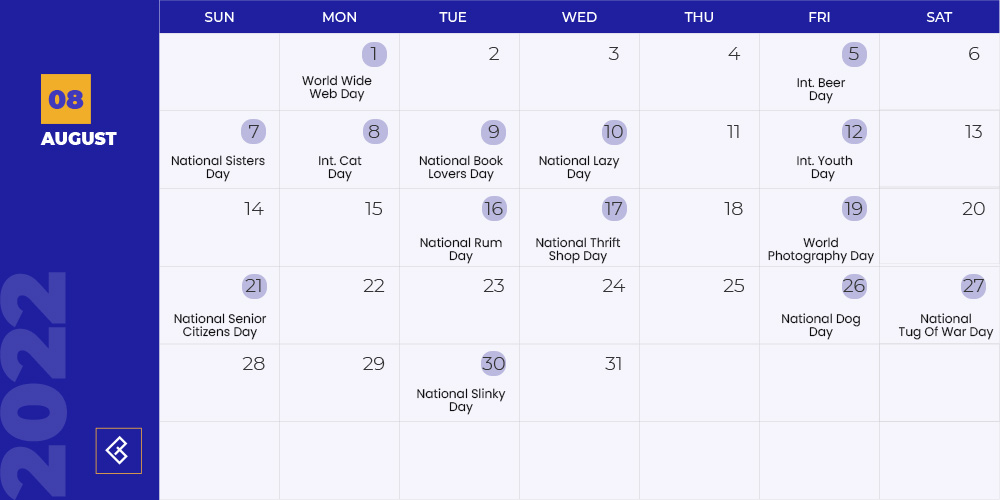 August 1: World Wide Web Day
A day to recognize eCom markets, worldwide web day can be celebrated by just selling online! Gratitude towards constant use of the internet for various purposes is reflected via social media posts, promotion offers, and discounts on products. Check it out in the above 2022 eCom calendar
August 12: Int. Youth Day
International youth day keeps the importance of the youth segment alive in the market. A major section of GenZ and Millenials shop the most online. Sellers can engage with audiences via a themed promotional strategy for their products.
August 17: National Thrift Shop Day
The word 'thrift' means 'discounted' when it comes to clothes, furniture or anything salable! Sellers have traditionally used physical stores to promote such products; with eCommerce, they are making equal (or more) profits.
August 19: World Photography Day
Cameras or camcorders, clothes, and beauty products; on World photography day, one would often see buyers appreciating Art or anything that's of 'value' to them. Therefore, on this day, sellers can put their products on market to gain the majority of engagement.
August 21: National Senior Citizens Day
During the month of May, national senior citizens day is recognized to appreciate the seniors of the society. Therefore, sellers can retail products like body warmers, massage chairs, or even services (online charities or themed sales) to honor the seniors.
September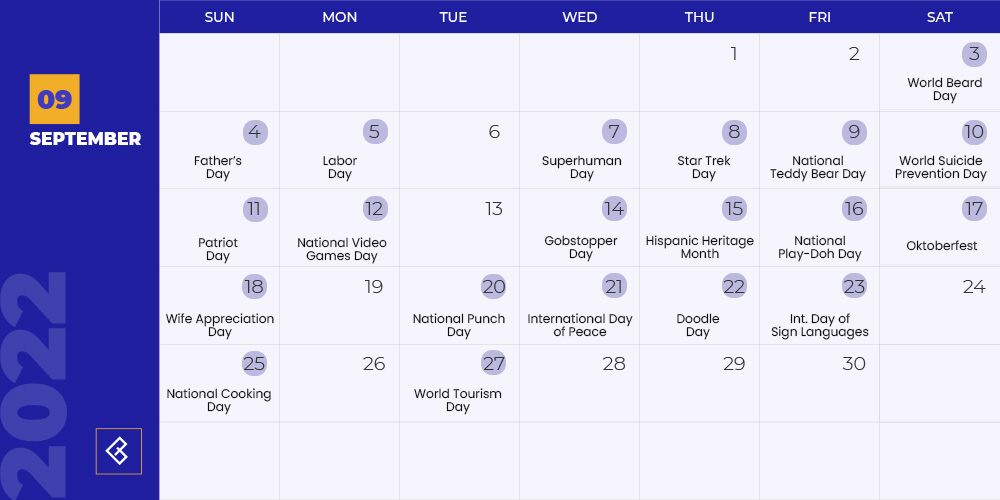 September 3: World Beard Day
World beard day is a fun day to celebrate 'facial hair' globally! Instagram influencers like @thegaybeard make art that exuberates creativity! Beard-care products themed accessories and many more could bag a huge sales profit on this day.
September 4: Father's Day
A father or father-like figures deserve more than a day to celebrate their existence! Sellers can focus on this moral idea and scale products like multipurpose wallets, neck pillows, body care items, fanny packs, portable projectors, sippers, gardening or other types of tools, clothes, and many more.
September 5: Labor Day
A national holiday in the US; labor day is an official 'rest-day' for workers. It's an important retail day and a major attraction for casual shoppers. (products retailed are BBQ equipment, stock clearance items (on deals), electronics, furniture, school supplies for 'back to school day' on September 1st, and many more)
September 14: Gobstopper Day
Chocolate isn't the only sweet delicacy to have its own day, Gobstopper day celebrates 'all things sweet' i.e. candies! These hard candies have a huge consumer base, especially in the US. Sellers can attract more buyers on this day with items like themed clothes, furniture, unique figurines, and 'Willy Wonka themed products.
September 15: Hispanic Heritage Month
A day for Hispanic and Latin culture, widely celebrated in the US, the 15th of this month would bring in a diverse set of audience. A great opportunity for sellers and artists to sell their products (like clothes, art, and furniture) and spread awareness about this day.
September 17: Oktoberfest
Oktoberfest is a day that's all about beer! it's a beer and folk festival in Germany. this celebration has a major global attraction. Followed by International beer day on August 5, many sellers scale beer-themed products like mugs, containers, apparel, accessories and make good sales.
September 22: Doodle Day
In 2022 eCom calendar, a day where you draw a curveball with a single line and call it a doodle! This day is an appreciation of all shapes, sizes, and related creative retail ecosystems to raise awareness and collect funds for epilepsy.
September 23: Int. Day Of Sign Languages
Sign language gets a message across visually. For sellers, it can be a day to sell products related to health and lifestyle, books of hand signs, or even promote various events and sponsor charities. Such an initiative could increase a brand's awareness and engagement.
September 25: National Cooking Day
Naturally, the cooking day is for all the food lovers, both cooks, and eaters! A creative opening for sellers; categories for items like utensils, themed furniture, recipes, resources, clothes, could be scaled by them.
September 27: World Tourism Day
The joy that comes from traveling is difficult to express in words; an 'outdoors' person will agree! To celebrate this joy and love for the outdoors and traveling, World tourism day was created. Sellers can engage with major global buyers through expanding their product categories into a themed one (like selling accessories, clothes, and flags of different countries)
October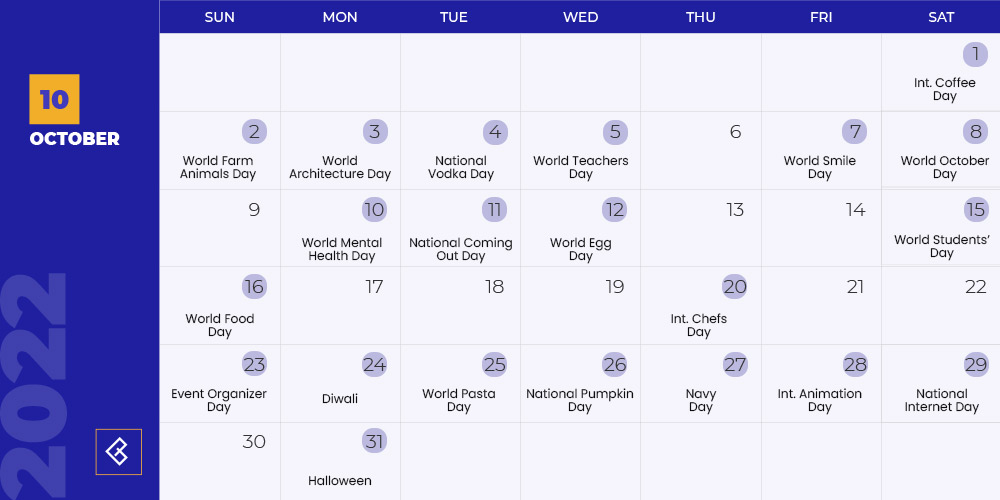 October 1: Int. Coffee Day
The international coffee day is hard to miss! A major 'energy' fuel for many, coffee is widely popular and a good product line for sellers to deal in. They can sell themed products (creative clothing or house decor), coffee beans, or complementary ones like cookies, too!
October 2: World Farm Animals Day
With World Architecture day (decorations like building structures to sell) and World Day of Bullying Prevention (clothes with positive affirmations or cards with the same to sell) on the same day, it's celebrated to appreciate the farm animals all over the world.
One of the most important sources of revenue, buyers with farm animals would be a 'definite' sect of audience towards engagement. Products like healthy fodder, themed and creative product variations in an e-store, or collaborating with a farm, might make reasonable seller profits.
October 5: World Teachers Day
Teacher's day is a big day for both teachers and their students. Between the duo, from gifts to educational or related creative offerings (like teaching accessories and books) are shared. Sellers can utilize this day to increase sales and brand awareness.
October 7: World Mental Health Day
The topic 'Mental health' has been a stigma in society and even now, is often denied of its acknowledgment. World mental health day spreads awareness and consideration. With World smile day falling on this day too, it creates innovative retail openings. For sellers, items like unique patterns on clothes, accessories, or promotional sponsorships could attract global buyers and more.
October 15: World Students' Day
Students' day joins teachers' day in the same month and generally engages with a common consumer base. Sellers can target students' parents too and use it as a promotional catalyst to induce brand growth. As for products, items like school accessories, clothes, and educational resources might make a retail cut on this day.
October 16: World Food Day
Under 2022 eCom calendar, eat and celebrate this World food day with delectable cuisines and massive sales profits! Scale products like beverages, various countries' signature dishes, recipes, food costumes, decorations, electronics, and more.
October 23: Event Organizer Day
A day to appreciate 'behind the scenes a lot! Events organizer day can be used as a sale opportunity. With store optimization (align selling categories with market trends) and brand development. To retail, products like Props, gratification cards, planners, espresso makers, and 5D decorations can be used.
November
November 1: World Vegan Day
Choosing a plant-based diet has done wonders to many, globally. Therefore, as sellers, the ones in the health and wellness industry with others might view this day with better sales potential. Sellers can list products like Dietary shakes, meal preps, CBD capsules, clothes, accessories, and others (plant-based and cruelty-free) in the market.
November 4: National Candy Day
A categorical extension of the 'Gobstopper day' in September, National candy day celebrates all types of candies! Gummies, licorice lollipops, and sours can be used as themes. This might increase store traffic and sales for products like clothes, furniture, unisex accessories, jewelry, makeup necessities, and more.
November 11: Singles' Day
Casual shoppers, last-minute buyers, and 'Single' (of a relationship) people. They splurge on items widely! Originally a Chinese holiday, singles' day attracts global discounts, offers, and promotions. Luxury items and pet accessories were one of the most sold product categories last year on this day.
November 19: Int. Men's Day
After May's Brother's day and September's Father's day, International men's day is to celebrate both and more roles of men in your lives. Sellers can sell products like men-care items, clothes, accessories, mattresses, cover sheets, and creative furniture on this day.
November 24: Thanksgiving Day
The countdown for major US holidays starts with Thanksgiving and ends on New year's eve. From themed body art to mobile accessories, sellers of all business and industry types can start their winter holiday season sales from Thanksgiving.
November 25-28: B.F.C.M+S.B.S
Black Friday (25th), small business Saturday (26th) and cyber Monday (28th) caters to a collective demand of shoppers for offers and discounts. Anticipating season-end sales, retailers can benefit from this power-packed trio of major revenue generation holidays. Different genre products can be leveraged extensively this season.
Read this blog to know best product niches to retail on BFCM
December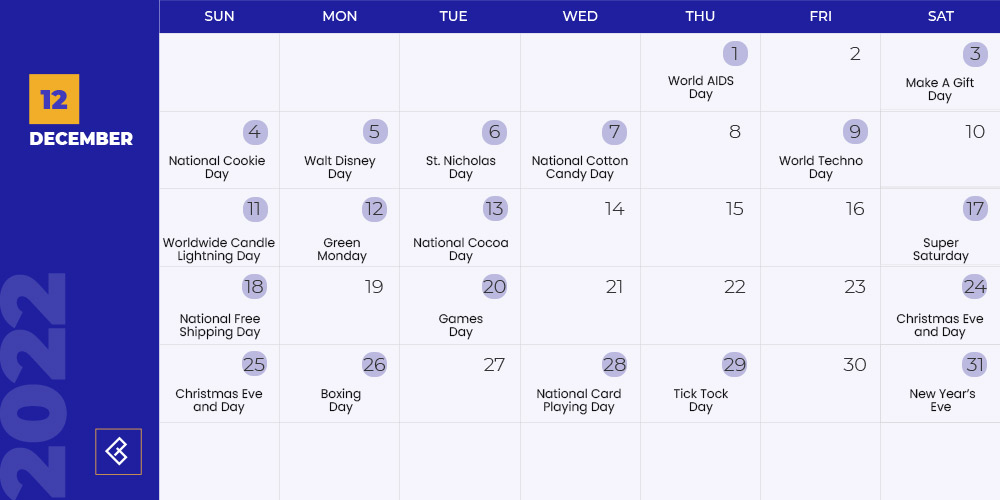 December 1: World AIDS Day
Spread awareness via selling and induce confidence among 'the positives via collaborations. Sellers can retail products like t-shirts, cards, red ribbons or pins (symbol for AIDS awareness), and more on this day.
December 5: Walt Disney Day
In sync with April's anime day retail, Walt Disney day is just another rendition of it! Themed costumes, makeup, accessories, furniture, doormats, and wind chimes. Optimizing your online store with the current theme might just add more value to your selling!
December 9: World Techno Day
A genre in music, techno has gradually gained a major following in the past few years. If you're a Shopify seller with musical instruments as a product category or one with clothing; both of these seller types can make sales on lines of correlation (customized and themed name or object t-shirts) and target various sects of buyers.
December 12: Green Monday
Green Monday combats against that last-minute shopping spree! Just 10 days after Christmas, buyers create a sudden demand for different products to avoid late shipping or out-of-stock conditions. To tackle such orders and requests, sellers can use multiple marketing tactics like putting 'limited-offer' on products before Christmas and creating an underlying FOMO among shoppers for more sales.
December 13: National Cocoa Day
The next retail holiday on the 2022 eCom calendar targets them. Both of the buyer segments into beverages and chocolates. The cocoa market is expected to grow annually by 5.48% (2022-2025). Sellers can follow the market trends to sell items like utensils and themed clothes. Also, accessories, sippers, or related items like cupholders, coasters, cocoa bean-shaped chocolates, and more.
December 17: Super Saturday
Super Saturday is yet another reminder (after green Monday) for shoppers to indulge in the holiday season shopping. Sellers can either introduce a new product category or even upsell/cross-sell the existing ones. For instance, customized t-shirts can be upsold, unlike regular ones.
December 18: National Free Shipping Day
Market research states that 66% of consumers expect free shipping on every purchase. A golden opportunity for sellers, especially the local ones. They can scale their different product categories with free shipping without any major capital or financial setback.
December 24–25: Christmas Eve and Day
Just the second-last stop of the holiday retail season. Christmas eve and day are full of variables like last-minute shoppers and fresh/late orders. It might keep the sellers busy. These two days also attract major casual and spontaneous shoppers. Those who prepare for the next year or just have some free time in hand!
Watch this educational webinar for an insight on Shopify-Amazon business, related strategies and more
December 31: New Year's Eve
As the year ends, shoppers around the world take some time off to enjoy. Hence, sellers might become partially dormant but maintain a retail series of scaling products. From year-end to stock-clearance discounts might attract active shoppers. With this, one can also introduce undisclosed promotions (or offers) for the next year to engage excitement in the buyers.
In conclusion…
If you've managed to reach the end of this blog, then it's official! You now know about almost all retail holidays, products to sell, and business strategies too.
Comment below your holidays that this calendar missed!
Check this app out and witness a major revolution in your Shopify-Amazon sales.
Let us know here about your retail plans for any of these holidays, we'll help you out!