What is HubSpot Onboarding and should you buy it or not?
Running short of time? Get PDF of the blog in your mail.

Play Now
What is HubSpot Onboarding and should you buy it or not?
What is the conclusive goal of any business? This is a common question for everyone running a business or website online. Although, the process of achieving their business goals may be different. Online sellers across the globe wonder how to get ahead of their competitors. Hence, they adopt various marketing techniques and reporting tools in order to get the advantage. If you ever thought about inbound marketing, you must have heard of the name "HubSpot". In fact, HubSpot is a leading inbound marketing platform that provides sound inbound marketing services to businesses across the globe.
Moreover, HubSpot Onboarding services offers a process that helps you to set up customizable marketing plans that will enhance overall business and will increase your revenue figures. HubSpot Onboarding is a highly advisable service, but it requires expertise to implement and run effectively. Therefore, the need for a HubSpot expert is always there to onboard your business with HubSpot.
What is the need for Onboarding Services?
HubSpot Onboarding services will help you re-tune your relationship with buyers. Additionally, the onboarding process is a nurturing process that can attract new customers and make them familiar with the products and services. In addition, onboarding services increase customer lifetime value, reduce bounce rate & churn rate. CedCommerce is a leading eCommerce solution provider to provide best in class integration and onboarding services of HubSpot. In addition to this, there are many advantages and perks of using HubSpot solutions by CedCommerce that we will discuss in the blog from time to time.
HubSpot Onboarding – The Secret Ingredient for a Successful Startup
With the increase in the number of startups, HubSpot plays an important role in lifting the startups and encouraging entrepreneurs to compete with the best. As a result, HubSpot can assist startups in lead generation, nurturing, data storage, syncing, and abandoned cart recovery. HubSpot offers special discounts and plans for startups, making it a suitable option to choose from.
Enhancing Customers Experience
HubSpot Onboarding services are needed to be tailored and customizable so that they are efficient and easy to use. Therefore, the solution provider should be aware of the customer needs and latest marketing trends to provide the most friendly and effective solution.
Here at CedCommerce, HubSpot certified experts help sellers at every step of configuring and setting HubSpot account to better the business. Since each customer sees success differently, and CedCommerce provides customer-centric solutions to cope up with any technological advancement.
Is HubSpot Onboarding worthy of investing?
Yes, definitely yes, HubSpot services are very lucrative when it comes to investment. To ensure the worth of HubSpot onboarding services, sellers should know where their hard-earned money is being utilized. A HubSpot Certified solution provider analyzes the best practices and implements them to give positive results to sellers. Therefore, it results in attracting and converting customers, leading to increased revenue and maximizing profit.
HubSpot Onboarding Stages
HubSpot certified experts make the task of proper implementation and configuration of HubSpot a piece of cake. The main aim of getting the HubSpot onboarding plan is to meet the business needs best. Consequently, the plan is designed according to the following:
Highest priority and processes
Complexity and size of the organization
For HubSpot products sellers already have or are willing to buy.
The current technology stack of sellers' stores and how to integrate it with the HubSpot
Following are some of the stages of HubSpot Onboarding services
Setup and Implementation – Our team of HubSpot specialists is deeply invested in the Service Hub, Marketing Hub, Sales Hub and will make your company run on HubSpot in a few days. The experts will assist and help in portal setup, tech stack discovery and its implementation, aligning of the sales process, and technical configuration.
HubSpot Integration – Leave the tension of how the data integration will take place and how it will work with existing sales processes and systems because you are in good hands. CedCommerce has every possible HubSpot certification that will ensure positive results for your business. The advantages of HubSpot integration are providing guidance and support, automated console, abandoned cart recovery, creation of workflows, and many more.
HubSpot Training – Once setting and configuring HubSpot is done, analysts and trainers offer advanced training and enlightening sessions for your team so that they can leverage HubSpot to its full potential. Proper training and experience sharing will help to increase revenue and adopt the best methods for inbound marketing.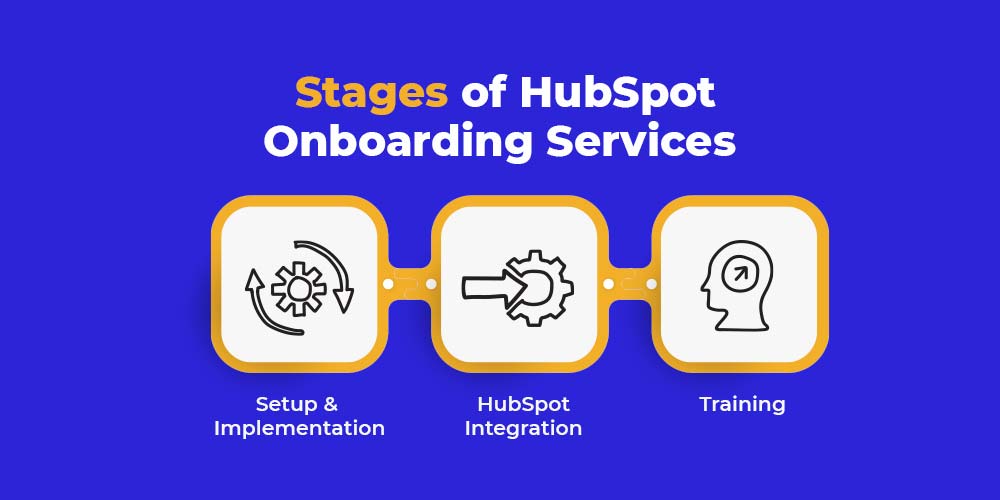 Who needs HubSpot Onboarding services?
HubSpot Onboarding services are not mandatory to implement with the purchase of the software. However, to simplify the functionalities of HubSpot tools and services, an onboarding service becomes necessary. In addition, if you are looking at any one of the criteria mentioned below, then you should purchase HubSpot Onboarding services without any doubts
Automate your lead nurturing process
Scale-up business
Abandoned cart recovery
Reduce manual effort with automated workflow
Sync your store data more effectively with HubSpot
Create useful and valuable insights
Ad campaign creation and its management
Increase revenue and sales figures
Lead generation, conversion, and retention
HubSpot Onboarding Checklist
Choosing the right and authenticated onboarding partner becomes very vital. Hence, the checklist is designed so that sellers can understand what are the prominent features and steps involved in Onboarding services. Below are the key components under the HubSpot Onboarding checklist.
Domain setup
Setting up account
Data integration
Data Synchronisation
Workflow automation
Dashboard creation and portal maintenance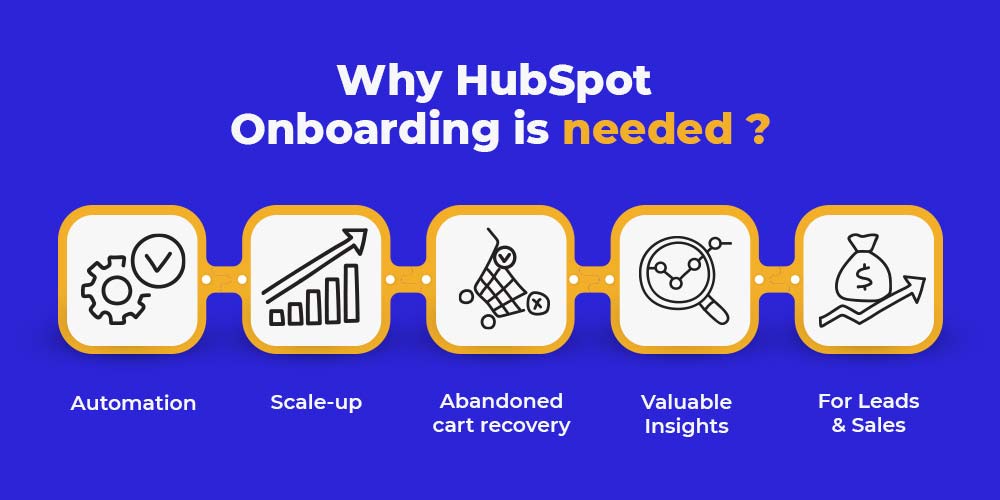 Why CedCommerce is the best option to choose for HubSpot Onboarding
Being a HubSpot Certified App developer, partner, a decade of experience, and a team of experts, CedCommerce has the upper hand over other service providers. We are deeply committed to providing customer-centric solutions and helping you to create a personalized strategy that fulfills business needs. So, if you dont want to compromise with quality and plan to take your business to new heights, you are in the right place. Still, have a question? Want to know more? Book a call with a HubSpot sales representative to make sure you have everything you need to succeed in HubSpot.