Shopee Expansion – An opportunity for merchants to sell globally!
Running short of time? Get PDF of the blog in your mail.

Play Now
You can now sell globally on Shopee with its latest expansion to new regions, including Brazil, Chile, Poland, Mexico, and Columbia. Consequently, Shopee expansion has opened enormous opportunities for the merchants to sell across these regions, thereby listing products to a broader audience base.
Shopee is a dominant eCommerce player in Southeast Asia. Launched in 2015, Shopee stands tall among all the other marketplaces in SEA. Having a massive presence in Southeast Asia, Shopee extends its reach to Poland, India, and Argentina as its next target. However, Shopee recorded gross merchandise value to approximately 11.9 billion US dollars in the fourth quarter of 2020. Additionally, on its 9.9 Super Shopping day, Shopee revealed that it sold 1.8 million items within a minute.
Shopee Expansion – New Territories!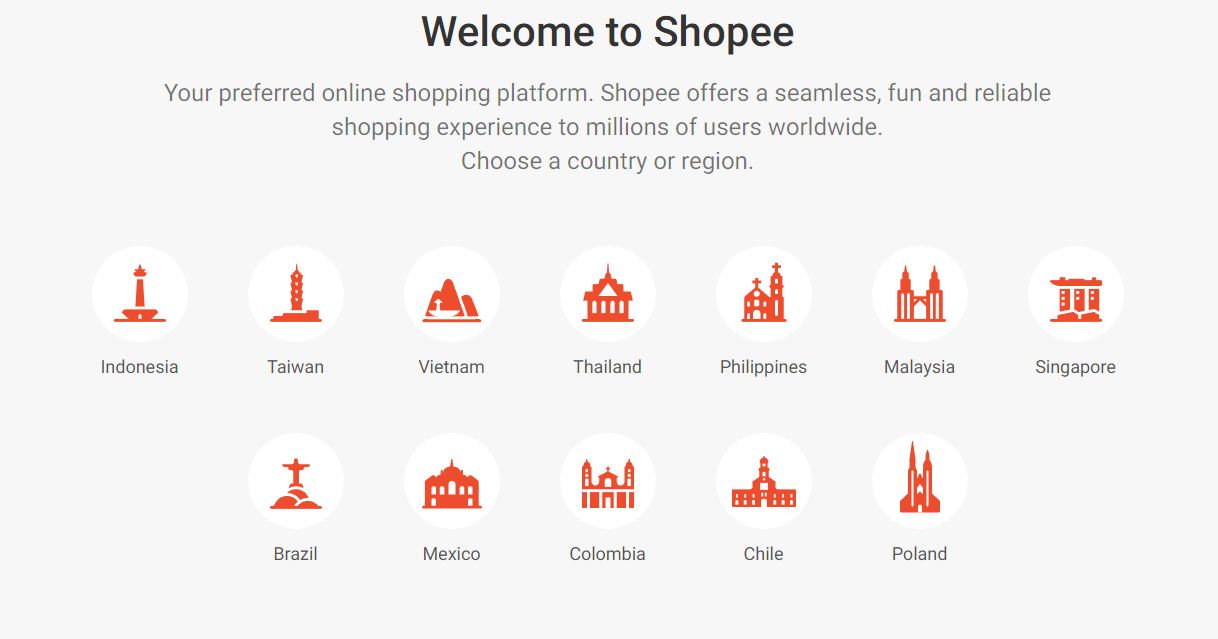 Source – Shopee
Shopee attempts to extend its reach to new regions. Furthermore, the SEA Ltd. announced that it would raise funds in new shares and use them for global expansion. Shopee is all set to take over eCommerce in these new territories.
Poland has the highest mobile broadband uptake in the European Union. Shopee being the mobile-centric marketplace, eyes on gaming eCommerce. Garena's free-fire has shown tremendous growth in different regions. It is the sixth-highest-ranked mobile game in Poland. However, Shopee.pl, will be offering commission-free trade for the first six months and no subscription fee from October 2021 to March 2022. It will also provide free delivery with no minimum order value after its launch in Poland to attract sellers.
In addition, the Southeast Asian group found success in India with its free fire game, the highest-grossing mobile game in the country. With its cautious move, Shopee is successfully expanding into Latin America, with eCommerce launching in Chile, Mexico, and Columbia in 2021.
Be the first one to mark your dominion in these regions by listing your products on Shopee. Connect your Shopee store with WooCommerce and enjoy seamless sales by managing the stores centrally.
How does Shopee Integration for WooCommerce fit into the picture?
CedCommerce's extension lets you connect your Shopee store to WooCommerce and facilitates the best management between the stores. As a result, the plugin helps in the automated synchronization of inventories and stocks. The outstanding features of the plugin include-
Profile-based product upload- Upload the products based on different profiles in which they are mapped.
Product Category Mapping- It facilitates you to map your WooCommerce store product categories with the Shopee marketplace.
Centralized Order Management- Manage orders centrally by bringing all your Shopee orders into the WooCommerce store and receive orders updates directly from Shopee to WooCommerce.
Automated Synchronization- Auto synchronize your orders, product listing, inventory, and pricing at regular intervals between Shopee marketplace and WooCommerce store.
Synchronization based on SKU- Products will be automatically synced if the SKU on Shopee and WooCommerce are the same.
Bulk Upload- With this feature, you can quickly upload hundreds of products in just a few clicks.
Regular and Real-time Sync of Product data- Keep track of your products in real-time to keep your stores up-to-date and also avoid overselling.
In-built product importer- It allows you to quickly bring all your Shopee products to your WooCommerce store flawlessly.
Thus expand your business with Shopee by listing your products on its new territories, including Mexico, Brazil, Chile, Poland, and Columbus. Therefore, connect your Shopee stores to WooCommerce and expand globally!