How to Sell Seamlessly on AliExpress – A definitive Beginner's Guide
Running short of time? Get PDF of the blog in your mail.

Play Now
AliExpress is open to buyers worldwide and provides the broadest possible array of products. Therefore it is a big marketplace for sellers with millions of active customers. More customers mean more opportunities and more challenges. You have to be on edge in many aspects to outcompete other sellers. Here you find the solution to every query, and you need not be a tech geek to sell on AliExpress in a hassle-free manner.
This guide has every bit of updated information from product listing, optimized product page, handling order delay, rules for hassle-free selling, and more to increase sales on AliExpress.
Moreover, you will find it useful to increase sales on ALiExpress with less hard work and more smart work
How to start selling on AliExpress?
The first and foremost thing for How to sell on AliExpress(once done with registration) is putting your products on the marketplace. To list your product, you must fulfill the below requirements
Requirements for Product Listing
Product Image: Undoubtedly, the most convincing part of the product. Keep your images sharp, detailed, and preferably white background. Hence your image appears trustworthy and neat.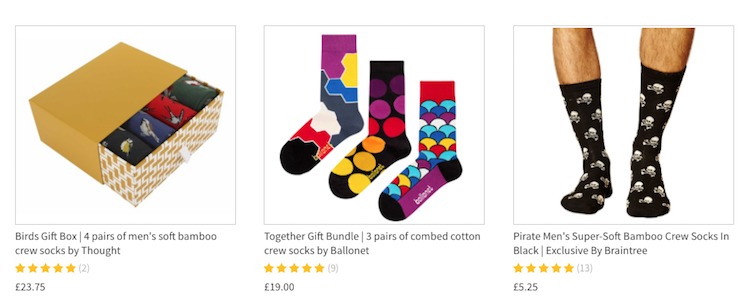 Image Credit: BigCommerce                  
Using an image that shows the product in its intended environment is more convincing than the product's only type of image. If you sell the product under the luggage category, then provide a minimum of 2 images and 3 if the product falls under the footwear category.
The important points to remember before listing your products
If your business category requires branding, then fill the trademark name with full accuracy. Choose none if your product category does not require a trademark.
AliExpress audits your trademark qualification application. Upon account failure twice within 30 days means you won't be able to submit another application in the next 90 days.
If you are an existing seller who wants to add the new trademark, then upload and submit the product list as per the brand you want to add.
When you re-apply for the trademark qualification application, then the product list is required to be resubmitted. It is essential to ensure the brand, product name, and other factors are the same.
In which countries and what products can I sell?
You can select a geographic location to sell your products. AliExpress supports 18 languages, and the website auto adapts to the buyer's country and language. In Europe, AliExpress is available in Germany, Austria, Italy, Belgium, Spain, Finland, France, Russia, Cyprus, Estonia, Greece, Ireland, Latvia, Lithuania, Luxembourg, Malta, Netherlands, Portugal, Slovenia, and Slovakia.
You can sell products that fall under below category

Which Products need Special Authorisation to sell on AliExpress
Beauty & Health, Hair extensions & wigs, jewelry & accessories, and watches are permitted to for sale after special permission.
How to Optimise Product Page and Boost Conversion Rate
Higher conversion rate is the collective result of several techniques applied on our product page Product Title: AliExpress auto translates titles into regional language, but it is not user-friendly. You should keep your title crisp (3 -5 words) and put keywords in it. Hence, your product ranks higher upon the buyer query.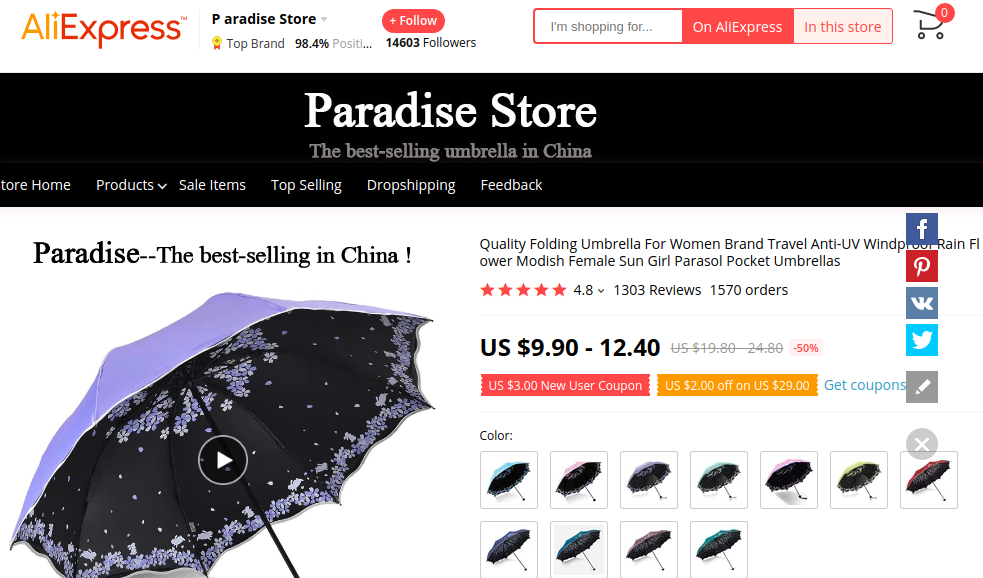 Image credit: AliExpress
Include the differentiating feature (color, fabric, and more) in the product title if you are offering multiple similar type products. This way, the buyer can quickly identify the difference between products.
After changing the title when you import products from AliExpress to the store, the permalink gets updated with the product title as well. It is necessary to ensure the link has also changed. Simply delete old permalink to generate the new permalink.
Product Description: It is Another important area to improve your conversion rate. Follow the below points for user-friendly product descriptions.
The description content should have a balance between benefits and features. It should not feel you are merely advertising your product.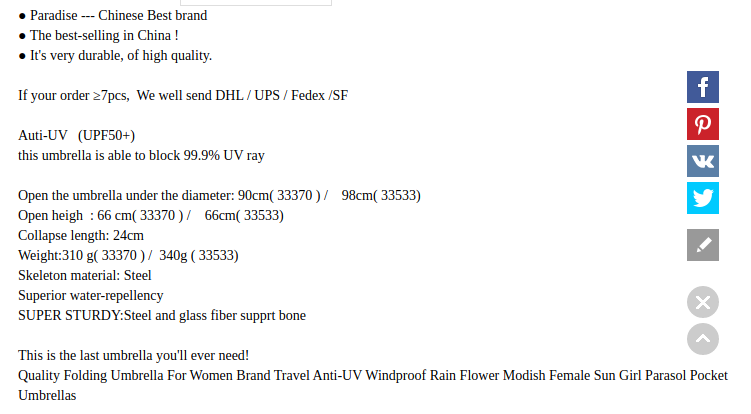 Keep the font readable. The lesser time it takes to convey your product purpose means easier; it is to convince.
Short sentences without complicated vocabulary avoid the hassle of a buyer to look into the dictionary.
Add a size chart with the metric system to help the buyer find out which size is best.
Avoid images with watermarks.
Customer Reviews: Add customer reviews on the product page. Give preference to those reviews with real photos of the product in use.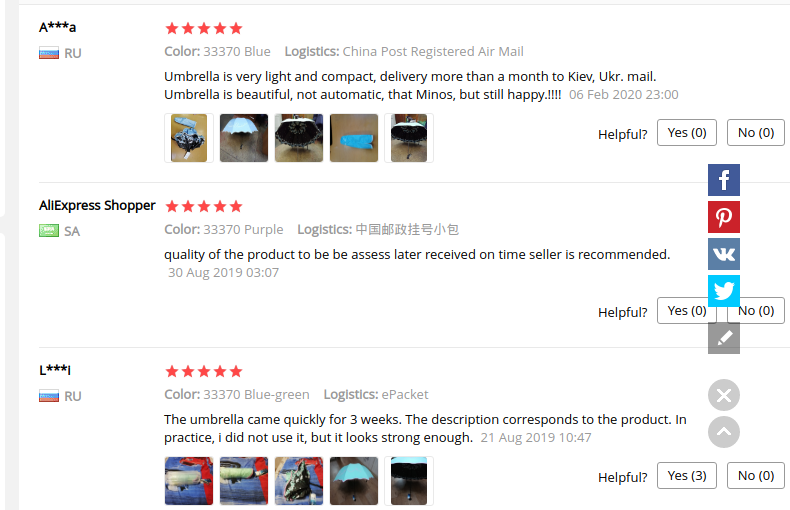 Image credit: AliExpress 
The Hassle-Free Shopping Experience Always Rewarding !!
What are the AliExpress Top Selling Items?
The trick to finding the top-selling items is not a complicated process. Above all, it is easier than other platforms.
Enter your focus keyword on AliExpress.com and select the below options
Free shipping
4 stars & up
Price – keep it in the range under which you plan to sell your product. If you are, newbie better keep it minimum (not very high)
Sort by – choose the order to sort the products based on the number of items sold. Moreover, it makes AliExpress selling easy.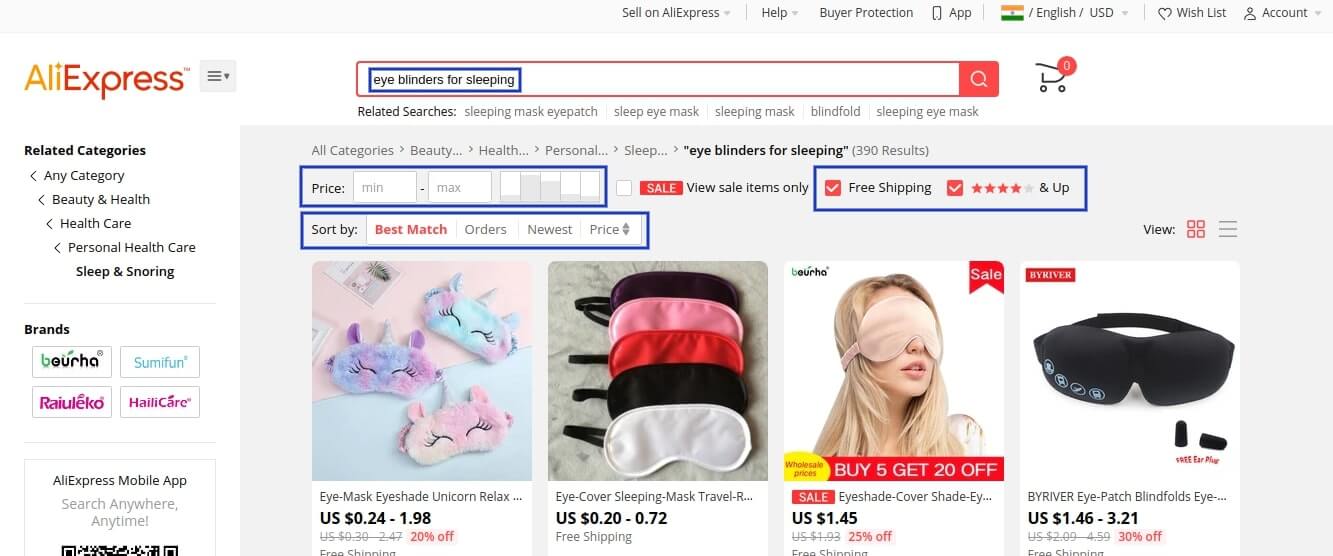 Image credit: AliExpress.com
Now, you have narrowed down your search to AliExpress top-selling products in its niche.
Leverage AliExpress Top Selling Items for your Store
Look into important parameters of these products and implement it in your product listing strategy
Product Description – Write a detailed description covering every aspect (size, color, material, dimension, weight, and more) and benefit of your product.
Customer Reviews – It is recommended to import all (positive) reviews on your product page. It gives buyers more confidence in buying your product.
Product Rating – This is an important parameter to find out how much previous buyers appreciated the product. Hence, it becomes easy to forecast future demand for the product.
Therefore, You can make your store display appealing and premium quality products to stand out from competitors.
If I Sell Unauthorized Product – What happens Next?
Aliexpress never entertains selling unauthorized products. If you are infringing on any third party intellectual property, you will no longer be authorized to sell further on AliExpress.
The penalty could be in the form of product removal and poor ranking of the store.
Product Title Infringement
If you add world-renowned brand names to your title (without authorization, which is impossible), then you might face a penalty.
Audio and Visuals
If you plan to sell audio and visuals without permission from AliExpress, then you might not be able to sell. AliExpress seriously monitors such activities to safeguard the copyright content.
Selling any original software system installation and other software despite being the original is also considered under unauthorized products.
AliExpress is unconditionally committed to the protection of the merchant's intellectual property.
How to Handle Buyer Complaints?
Order Getting Delayed – Don't Stress Do this instead!
Inform your customer about the delay and tell you about the refund or replacement, whichever is the best option. Before doing this, try to work with the courier service and get it resolved to avoid refund or replacement.
If Order Reach the Customer in the Damaged form
Unfortunately, when the product reaches the customer in a compromised state. Ask for product images and accordingly issue the refund. You should rethink product packaging to ensure this doesn't repeat.
Pricing Policy and payment processing on AliExpress?
VAT of the corresponding country must include every product price.
You get the payment only upon confirmation of the product received by the buyer. Payment takes 5 to 7 working days to credit.
Payment is deposited first in your AliPay account. You can transfer it into your bank account, and each withdrawal costs you €1 (commission). Verisign SSL safeguards the payment process (It means the identity of the website is verified and data transfer between web browser & web server done in an encrypted manner).
How to Handle Hundreds of Order during Peak Hours/Festive Season?
Selling on AliExpress means processing huge number of orders every day. If you rely on manual method then you end up fixing the manual errors. Moreover, manual error percentage is high if processing too many orders. Therefore, opting for AliExpress Dropshipping integration compatible with AliExpress Official APIs.
This means order processing is automated using the APIs and empower seller with the below
Automatic order syncing between your store and AliExpress,
Auto-fetch order from store and creation on AliExpress buyer panel.
Order tracking updates from AliExpress to your store.
Auto order creation upon the shipping provider is assigned.
Above all, the above process will be highly secure and reliable.
How to Ship Products to Buyer?
You can create a shipping method, courier company, and cost using the shipping template. The creation of different templates for shipping costs and free shipping ease your shipping process.
Don't forget to explain the refund and return policy in a user-friendly manner.
ePacket delivery option by AliExpress ensure the product reaches the customer in 7-14 business days. It is currently the most reliable and fastest shipping mode for international shipping, offering tracking details.
Here are a few requirements for opting ePacket delivery method
The maximum weight of the entire package should be under 2kg (4.4 lbs). If you are shipping to Israel, then the limit extends to 3 kg (6.6 lbs).
The dimension of the package (length, width, height) should be under 90 cm. The maximum limit for the rolled-up package's longest side is 90 cm, and the sum of twice the diameter should not exceed 104 cm.
Why ePacket Shipping Method?
It is undoubtedly the fastest delivery option for international shipping. Opting for ePackets, you can enable customers with end-to-end tracking at no additional cost. Above all, you can significantly enhance the customer experience with ePacket.

How to find the Right Niche for Products on AliExpress?
Choosing the right niche is critical for a high conversion rate. Among hundreds of product categories on AliExpress, you should go with the most profitable ones.
Method #1: Facebook: Search your primary keyword and choose the 'Groups' section. It shows all the groups with your primary keyword in the group name. If you find more than 20 groups with around 40000-50000 active members, It is a sign of a highly promising niche.
Groups with less than 10000 group members won't be productive. Else it takes too much effort and time to sell the products.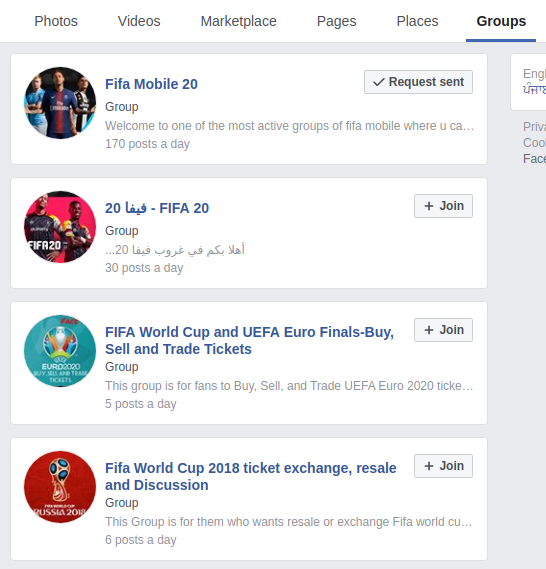 Image credit: Facebook
Method #2: Amazon: Enter your primary keyword in Amazon search box and apply below filters
Customer reviews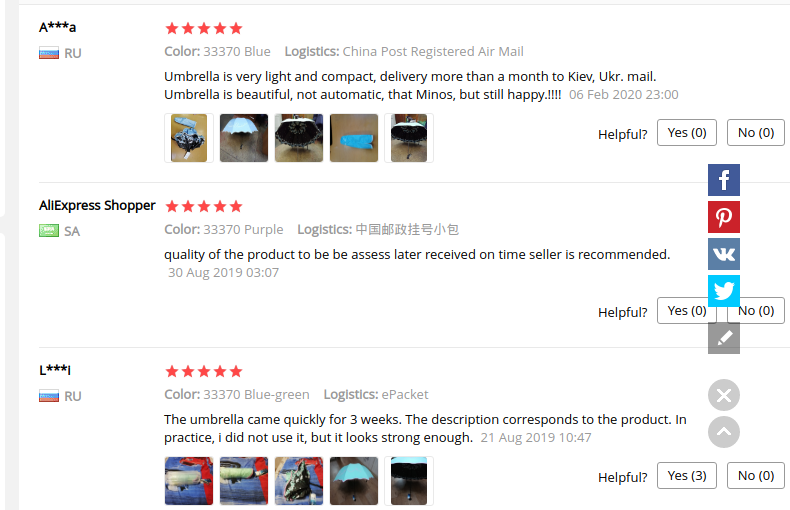 Image credit: Amazon
Featured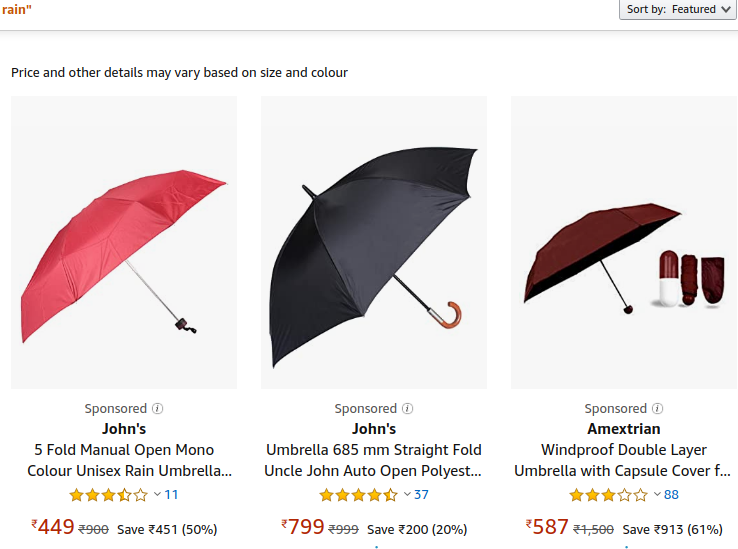 Image credit: Amazon
Now the top-selling product appears in front of you. Repeat it with variations of primary keywords. Analyze the niche of these products and the niche to which maximum products belong is the most trending niche right now.
Above all, analyze product aesthetics, title, and description. It helps you decode the trick behind writing excellent product page content.
Method #3: Pinterest: It is famous for advertising products, but it can also be used to search trending products in the following manner.
Sign up and make it a business account.
Navigate to setting in the upper right corner and choose a preferred language and country In the search box type your keyword and click on 'Buyable Pins'
Note down products saved by more users. Find most of the products categorized under which niche, and that is the best niche with maximum buyers interested in it.
Additionally, analyzing these product titles and image styles helps you find out what makes them popular among buyers. Moreover, this data inspires you to optimize products in a customer-friendly way.
Image credit: AliExpress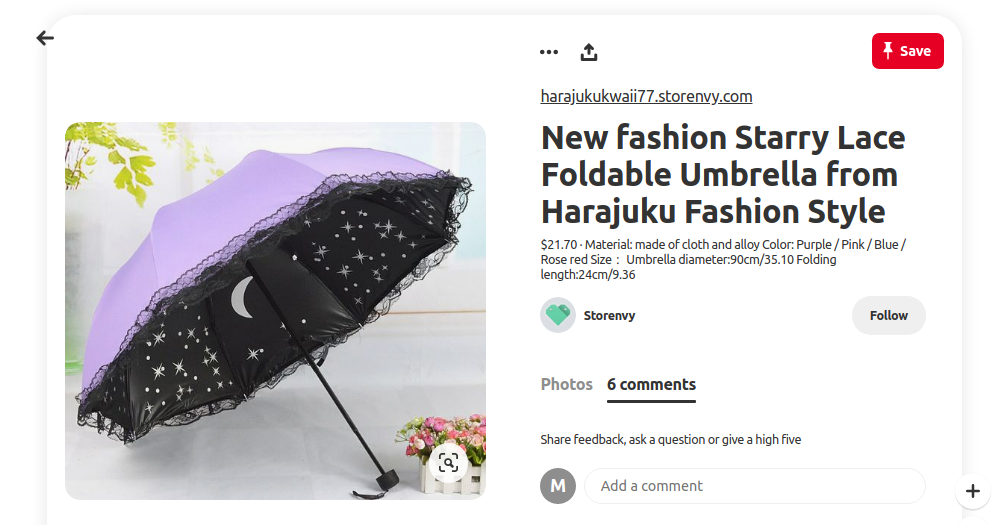 Image credit: Pintrest
Here are the Evergreen Niches to Sell on AliExpress
Does the thought that the top-selling product today on ALiExpress might not fetch you high sales after a few months? Well, we have curated a list of evergreen niches. Therefore, if you sell products under these niches, your sales graph goes upwards.
Which niche to avoid on AliExpress?
How to sell on AliExpress is incomplete unless you are aware of certain products that should be avoided entirely, or it is better to consider long term impact before selling them. It is as important as AliExpress top-selling items.
It includes below,
Heavy and bulky products.
Products that go through rigorous verification before selling.
Prone to damage during transportation.
The product that could land you into legal issues during customs.
Anatomy of a Perfect (buyer friendly) Product Page on AliExpress?
6 photographs of products with 1000*1000 pixels.
Similar product suggestions.
Customer reviews.
Chatbot capable of answering common queries or customer support links.
FAQs about the product.
Link redirecting to returns and exchange policy page.
The total quantity of product left in stock.
Descriptive alt text (long-tail keyword) for images means an improved ranking.
Product issued from which country.
Good to know Points before Selling on AliExpress

Summing it Up – Best Practice To Find Out AliExpress Top Selling Products
The growth of online merchants on AliExpress is overwhelming, but the journey to be the top seller on AliExpress is easy if you stick to the smart approach, as discussed above. Moreover, it is a comprehensive guide to ensure you are ready to sell on AliExpress (upto your full potential). Hence, you outrank your competitors.
Becoming a top seller on AliExpress is relatively easy. It doesn't limit the number of products you can sell. You are free to reset your return policy and create your marketing offers. Above all, any query you want to get resolved right now?
Ping us now and learn more!