Evolution of Omnichannel Retail Strategies in Sports Brands: A Nike and Adidas case study.
Running short of time? Get PDF of the blog in your mail.

Play Now
When the world is facing uncertainty, even the most promising industries, like sporting goods, are not recession-proof. Even though 2021 seemed promising, McKinsey & Company's recent data states 'people prefer buying from cheaper brands and restricted buying from big names' raises many challenges.
So, how do sports brands ensure their growth despite the global economic disarray? It's simple, develop a strategy to increase the brand's popularity and improve customer satisfaction rate.
And how do they do that? Three words, Omnichannel Retail Strategy.
Successful e-commerce businesses now consider omnichannel retail a necessity, especially after the COVID-19 pandemic caused an increase in online shopping. Statista's research shows that almost half of the e-commerce decision-makers in Europe and North America regarded omnichannel strategies as highly significant in 2021.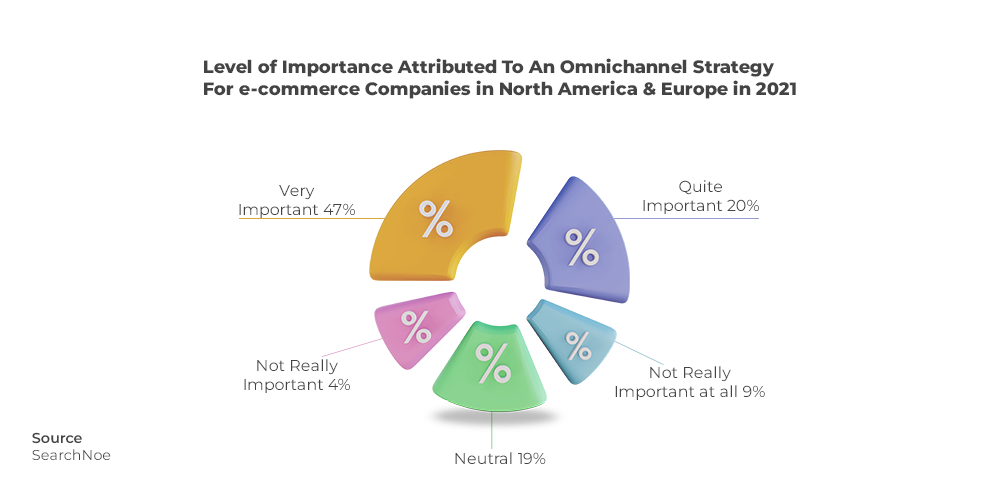 To understand it better, we have dissected the omnichannel retail success strategies followed by some of the biggest brands in the sports industry.
Nike's Omnichannel Strategy.
From the D2C to retailing business model, Nike is a giant. Let's have a look at its commerce channels to get a deeper understanding of the omnichannel ecosystem: 
A. Direct to the customer:
– Nike brick-and-mortar stores (and Air Jordan, Converse, and Hurley stores):
The company operates brick-and-mortar stores across the globe, including Nike, Air Jordan, Converse, and Hurley stores. Nike's flagship stores are located in major cities such as New York, London, Shanghai, and Tokyo. These stores offer a wide range of products, including limited edition and exclusive releases.
– Nike factory retail outlets:
Nike factory retail outlets are physical stores that sell Nike products at discounted prices. These stores are typically located in outlet malls or shopping centers. And it offers a wide range of Nike products, including shoes, apparel, and accessories.
– Nike's direct-to-consumer e-commerce store (including their sub-brands):
This online platform lets customers purchase Nike products without leaving their homes. It includes Nike's sub-brands and offers a wide range of products, including shoes, clothing, accessories, and equipment. The website features a user-friendly interface that allows customers to browse products by category, brand, or sport easily. Nike's direct-to-consumer e-commerce store also offers free shipping and returns. It provides various payment options, such as credit cards, PayPal, and Apple Pay, for shoppers to place their orders. Additionally, customers can sign up for Nike's membership program. It provides exclusive access to limited-edition products, personalized recommendations, and other benefits.
– NIKEiD e-commerce store (specifically for mass-customized shoes):
NIKEiD is Nike's direct-to-consumer e-commerce store that offers personalized shoes for customers. The online platform enables customers to customize their shoes by selecting the color, material, and design options to suit their preferences. NIKEiD allows customers to personalize their shoes to an unprecedented degree, with a wide range of options for the shoe's upper, midsole, and outsole. It is a popular destination for customers looking for shoes that reflect their styles and preferences. Nike's mass customization platform has gained popularity among sneaker enthusiasts and casual buyers, offering a unique and personalized shopping experience.
B. Retailers.
– Wholesale brick-and-mortar retailer partnerships (e.g., Foot Locker):
The company has established a vast network of wholesale brick-and-mortar retail partnerships with various retailers, including Foot Locker, Dick's Sporting Goods, and Finish Line. These retail partnerships allow Nike to expand its reach and make its products more widely available to customers. By working with these retailers, Nike can leverage their established distribution channels and customer base, focusing on designing and manufacturing its products.
– Nike retailer boutique partnerships (e.g., Atmos, Kith, etc.)
In addition to its wholesale partnerships with brick-and-mortar retailers, Nike also has partnerships with several high-end retailer boutiques such as Atmos, Kith, and Concepts. These partnerships typically involve a limited and exclusive product line, sold only at these boutiques or through their websites. It helps Nike tap into these boutique retailers' expertise and creativity, which can lead to unique and innovative product designs. Overall, these partnerships with boutique retailers serve as a way for Nike to differentiate its products and reach a more niche audience.
– E-commerce retailer partnerships (e.g., Zappos, Amazon):
The partnerships with Zappos and Amazon provide Nike with additional online distribution channels. This in turn, allows Nike to leverage the existing customer base of these large e-commerce retailers to drive sales and increase brand awareness.
– Social eCommerce (e.g., Instagram):
With social eCommerce, Nike has been using shoppable posts on Instagram. Shoppable posts allow businesses to tag products in their posts, which can be used to see the product information and make a purchase.
C. Partnership with European and Chinese e-commerce platforms:
NikePlus has the biggest influence on direct-to-consumer stores. Having partnered with one of the biggest European fashion platforms, Zalando, Nike promotes the digital version of NikePlus. Nike directly sells its e-commerce inventory to Zalando customers, bypassing any intermediaries. It incorporates its products into the Zalando catalog, making it convenient for customers to shop in the Zalando Fashion Store. Nike then ships the orders directly to customers while adhering to Zalando's delivery standards.
Nike has a similar arrangement with T Mall in China. Additionally, as the company has expanded its platforms, its most disputed decision recently has been to collaborate with Amazon and directly sell its products through the e-commerce giant.
D. 'Just go digital' strategy with NikePlus:
Nike launched NikePlus (Nike+) in 2006 in partnership with Apple. This collaboration allowed Nike running shoes to sync with an iPod and track jogging distance, time, and calories burned. The information would later sync with the NikePlus website.
It gradually transformed into an ecosystem where runners could socialize. Nike enhanced NikePlus in 2016 to create a customized app for various kinds of consumers.
An e-commerce retention strategy and loyalty program, which links everything together, are at the core of most omnichannel examples. This tactic and this program can convert one-time buyers into sought-after, devoted, repeat clients. Nike now follows a more expanded program called NikePlus, and it is defined as follows:
"Everything you want from Nike, all in one place. Products and events reserved for you, expert advice from the world's greatest athletes, and your own personal Nike shop."
Above all, the NikePlus app connects users to other Nike app constellation, including the Nike+ Run Club, Nike+ Training Club, and Nike+ SNKRS apps.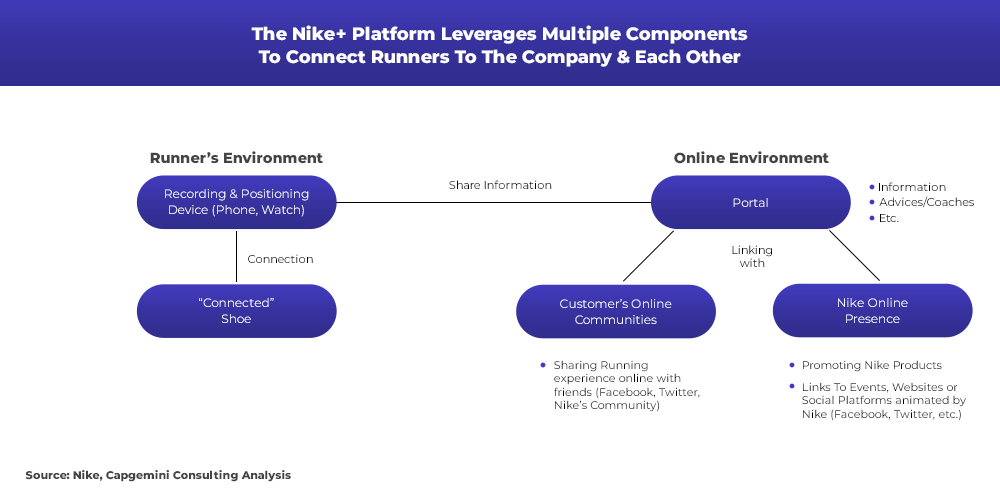 Adidas's Omnichannel Strategy:
In 2016, Adidas adopted a disruptive approach by launching the Adidas Glitch app, which allowed users to create personalized Glitch football boots and collect them in-store. To design the shoes, users had to acquire an invite code by searching for the hashtag #Glitch16 and purchasing a starter pack, unlocking more invite codes to share. Further, the app provided additional features such as a sizing guide, video demos, and personal fitting sessions, creating an ideal blend of m-commerce and omnichannel strategy.
This tactic was groundbreaking at the time, combining the convenience of mobile shopping with flexible delivery options for an exclusive product. Adidas has continued to push boundaries by experimenting with Metaverse Marketing to reach Gen Z consumers on gaming platforms such as Discord. The brand's use of micro-communities and NFT tokens within the virtual world demonstrates its ability to engage with younger audiences and remain relevant in the ever-evolving retail landscape.
Omnichannel retail strategy: The future of sustainable business.
It may seem absurd to compare oneself to a company worth nearly a hundred billion dollars for some people. However, for others, it may be an obvious choice to aim for, just like the founder of Nike, who began by selling sneakers out of his car.
From Nike to Adidas, omnichannel strategy has helped brands thrive and develop. They've empowered brands by transforming, recalibrating, and innovating their business as per the consumer's need. And this is exactly what you can do with your business.
Selecting the right Omnichannel software will help you oversee all operations across multiple channels from a single location. McKinsey reports claim that developing an omnichannel retail strategy is the only way for a company to address rising complexity, provide an excellent customer experience, and manage operations costs. As a marketer and entrepreneur, the scope of your vision is the only limiting factor.
Looking for an expert to consult? Email us or drop your query in the comment section.