Here is your WordCamp Europe 2022's Encyclopedia. Claim your spot now!
Running short of time? Get PDF of the blog in your mail.

Play Now
WordCamp is one of the most loved global conferences among WordPress enthusiasts to keep up with the latest updates, discuss new ideas & celebrate the accomplishments made so far by the community in the world. The WP community includes bloggers, designers, developers, authors, marketers, and entrepreneurs who meet yearly to discuss new ideas. And on a similar note, you must have already heard people talking a great deal about this year's WordCamp, which is just around the corner. To pass on all the recent news about it and much more, this article will cover everything you need to know about WordCamps in general and, in particular, WordCamp Europe 2022.
So let's dive in.
What, ACTUALLY, are WordCamps?
A community-organized worldwide event covering everything related to WordPress- from effective use of WP to introducing new themes, developing brand new plugins, and much more. Packed with events designed for users of each stage, one can attend the conference to learn, present insights – or do both.
In a video on WordPress.tv, Robert Wilde, a cloud technology engineer & past speaker at WordCamp Sydney and WordCamp Sunshine Coast in 2016, said, "I keep challenging myself." I've attended two WordCamps and spoken at both. So I like to give and receive at the same time…to learn more from others while also giving back as much as I can."
This year's WordCamps are scheduled in Spain, Portugal, Poland, the Netherlands, and the United States, and many other locations will be announced later.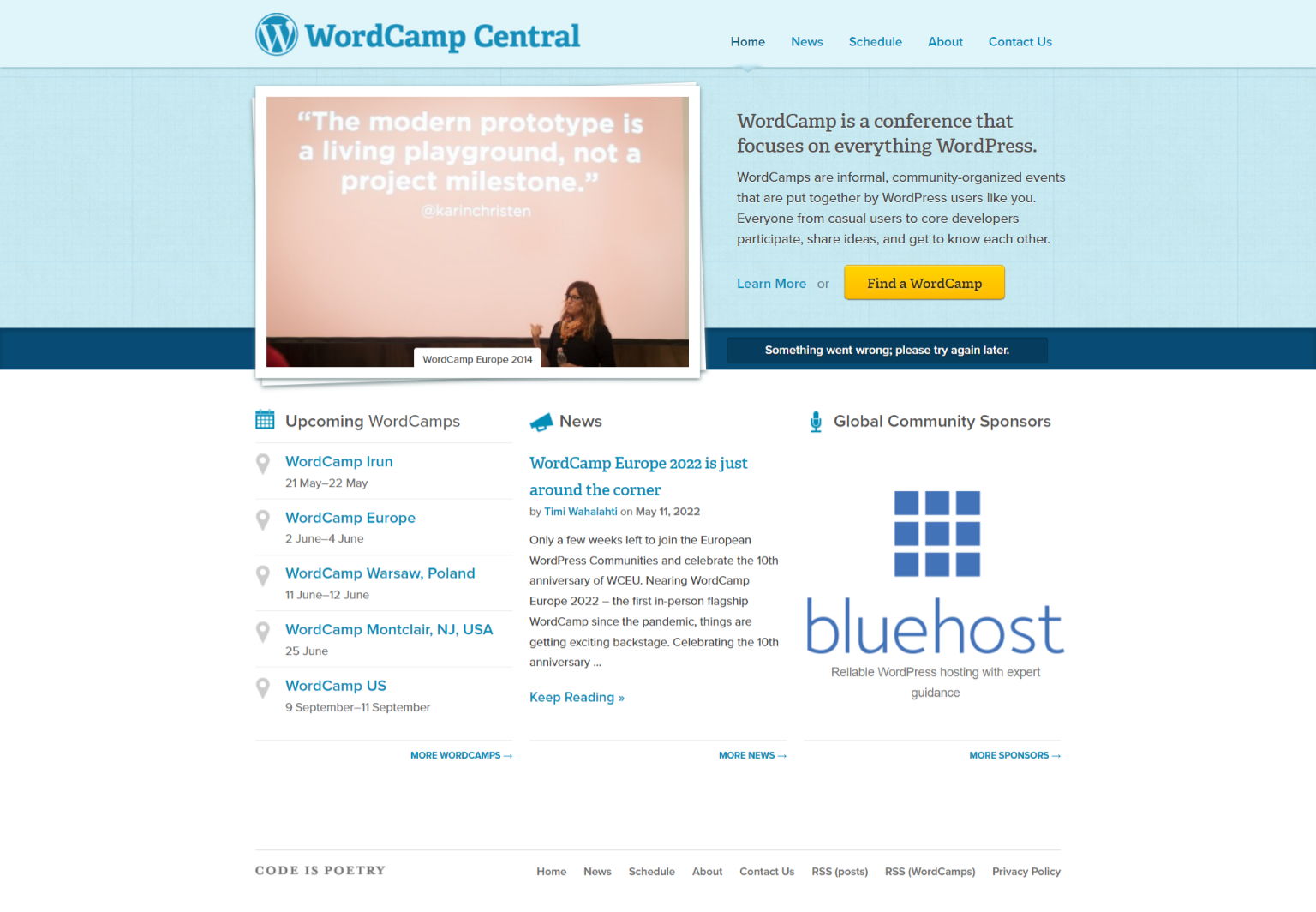 While each WordCamp is different, you can expect presentations, panel discussions, workshops, networking events, social events, perks, and possibly job boards over one or more days. Each event is intended to help you learn more about WordPress, network with other WordPress users, and discover new ways to use or develop the platform.
#WCEU2022 a.k.a WordCamp Europe 2022:
Due to covid, the last two years saw the online session of WordCamp.
This year Porto will finally host the long-awaited in-person WordCamp Europe in the Super Bock Arena in Porto, Portugal, in just a few weeks.
This edition will commemorate the 10th anniversary of WCEU and the return of in-person WordCamps. This year's speakers and workshop hosts will focus on 'WordPress' and 'The Future of WordPress,' while you can grab a coffee and discuss other WordPress topics at one of the tables in WP Cafe. Educate yourself, grab countless opportunities & build a network with hands-on sessions & workshops though-out the event.
Events for all! WCEU 2022 Schedule Breakdown:
Kicking off the event with contributor's day, the event is divided into 3 days, covering nearly anything & everything related to & surrounding WordPress.
A special day dedicated to WordPress contributors before the original event is called 'Contributor's Day.' Collaborate with new and returning contributors, meet new people, and learn about the various ways you can participate in the project. Hence, Contributor Day is open to all!
Schedule for: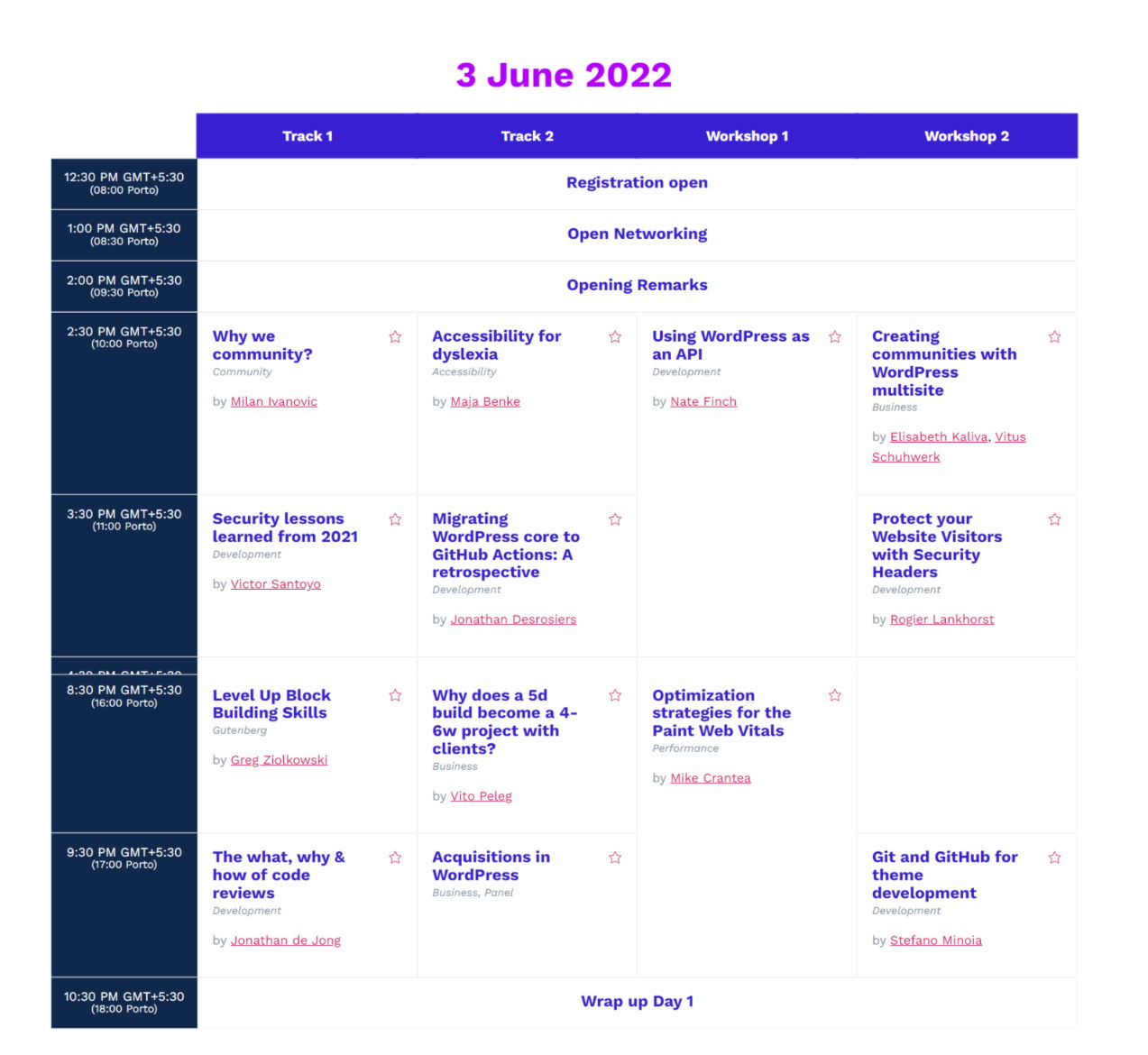 Schedule for: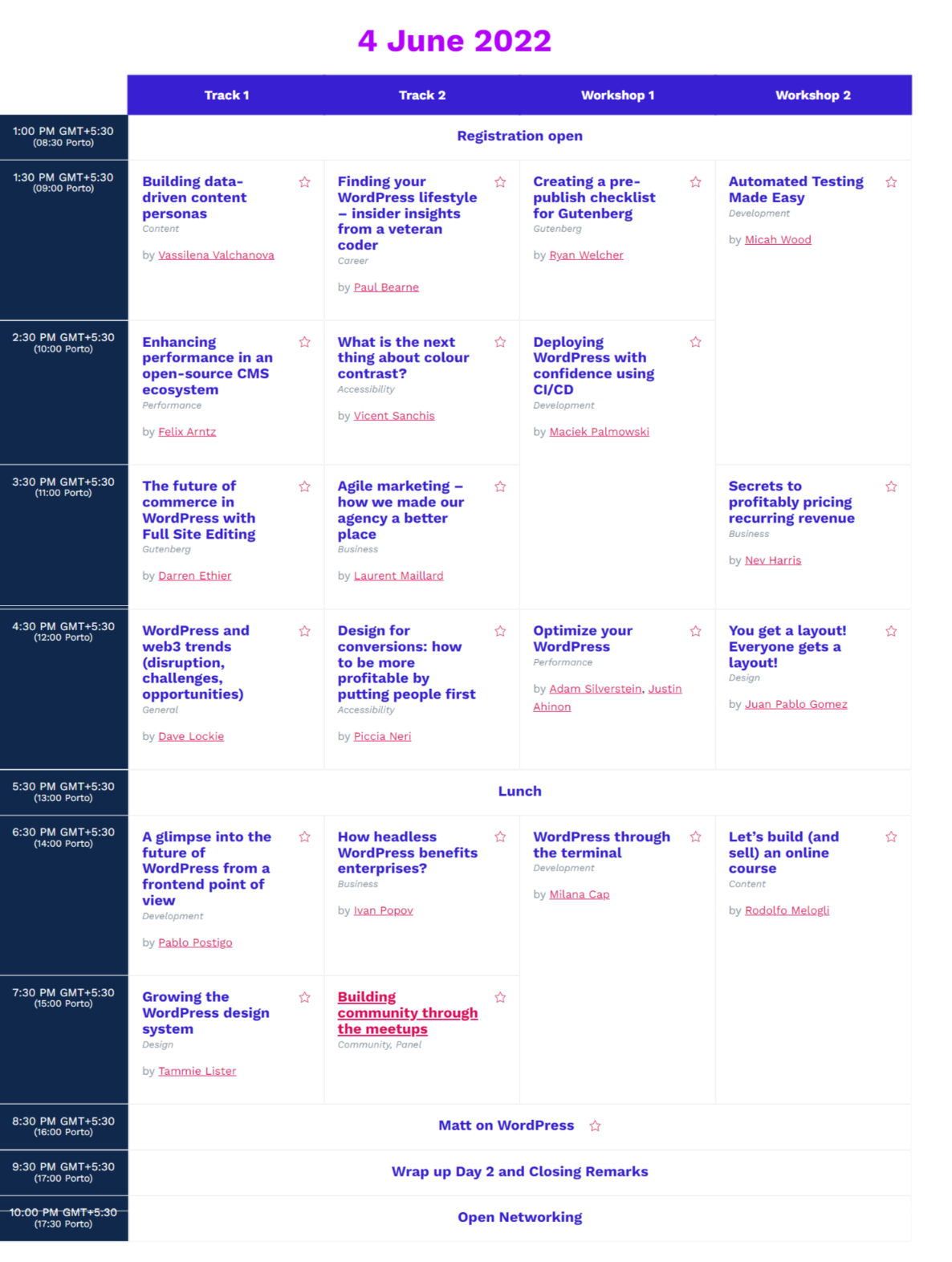 Presentations:
While WordCamp sessions can take many forms, presentations are the most common. There are 60-minute lecture-style presentations and 10- to 15-minute "lightning" presentations.
Additionally, there will be lightning talks on the Gutenberg editor at WordCamp Europe 2022. Five speakers will speak for about 10 minutes about various aspects of the Gutenberg editor, including creating interactive custom blocks, extending the editor with the WP-DXP plugin, creating block themes, and more.

WC Workshops:
Workshops are another popular format for WordCamp sessions. The WCEU 2022 schedule is divided into presentations and workshops. Attendees can thus choose between two presentations or two workshops for every one-hour time slot.
Workshops at WordCamps can last between 60 and 90 minutes and cover various topics. The majority will be interactive, so attendees will not only learn about a topic but will also complete a task. For example, you could learn about the files used in a block theme and create your own simple but fully functional theme.
Panel Discussion:
Panel discussions bring together multiple speakers to discuss a common theme or topic. Often, speakers discuss their viewpoints in the presence of a moderator. WCEU 2019, the panel discussion about user onboarding and retention for site builders saw three speakers and one moderator. Watch the recorded clip on wordpress.tv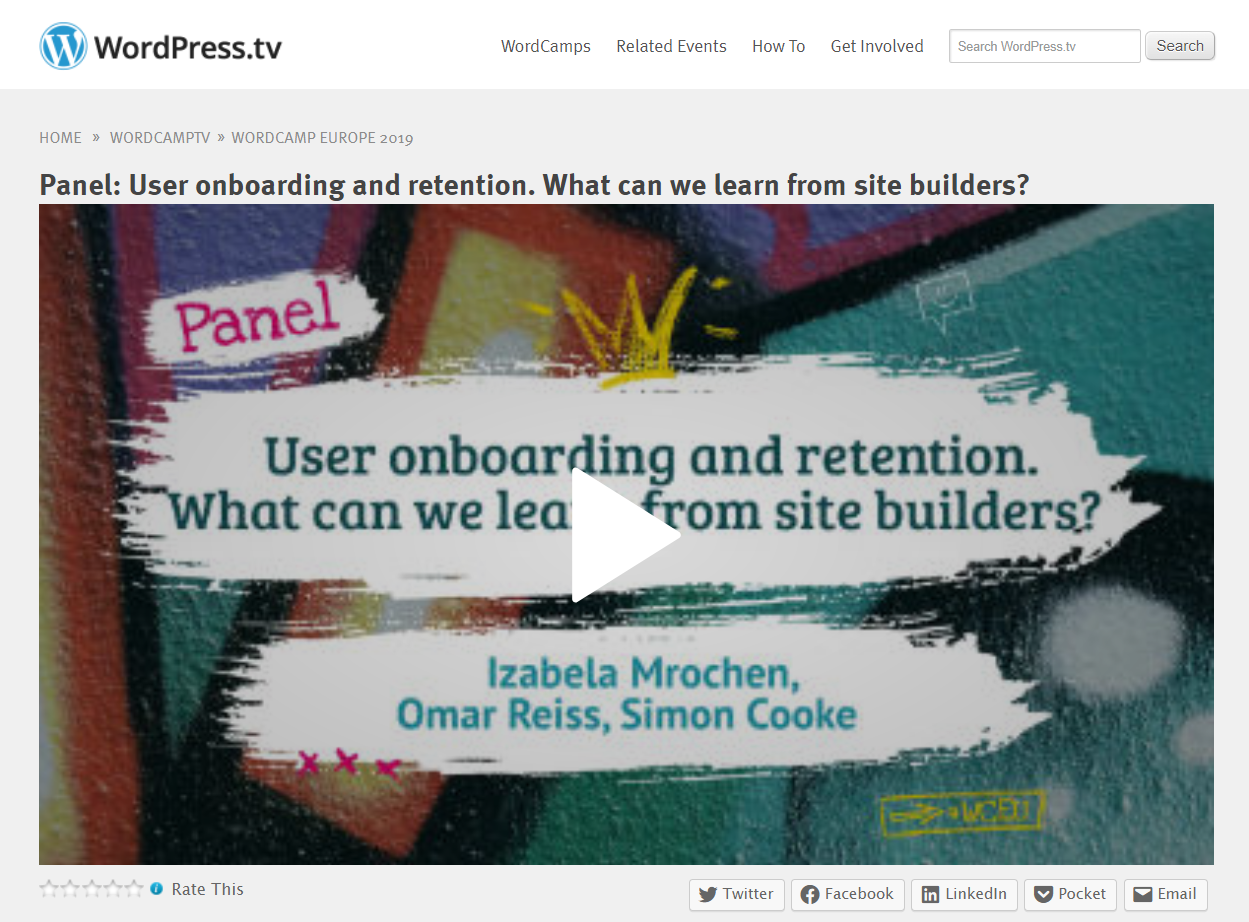 WordPress.tv
WordPress.tv is an excellent resource for WordPress users of all levels. It contains hundreds of short videos covering various topics, from basic site building questions to very specific questions about using WordPress features and addons.
One significant advantage of this storage is its dedicated section for footage from WordCamps. So don't be concerned if you can't attend every presentation or workshop at all!
This year's track 1 & track 2 events will be live-streamed on YouTube & later, & after that, the recorded session will be made available on wordpress.tv.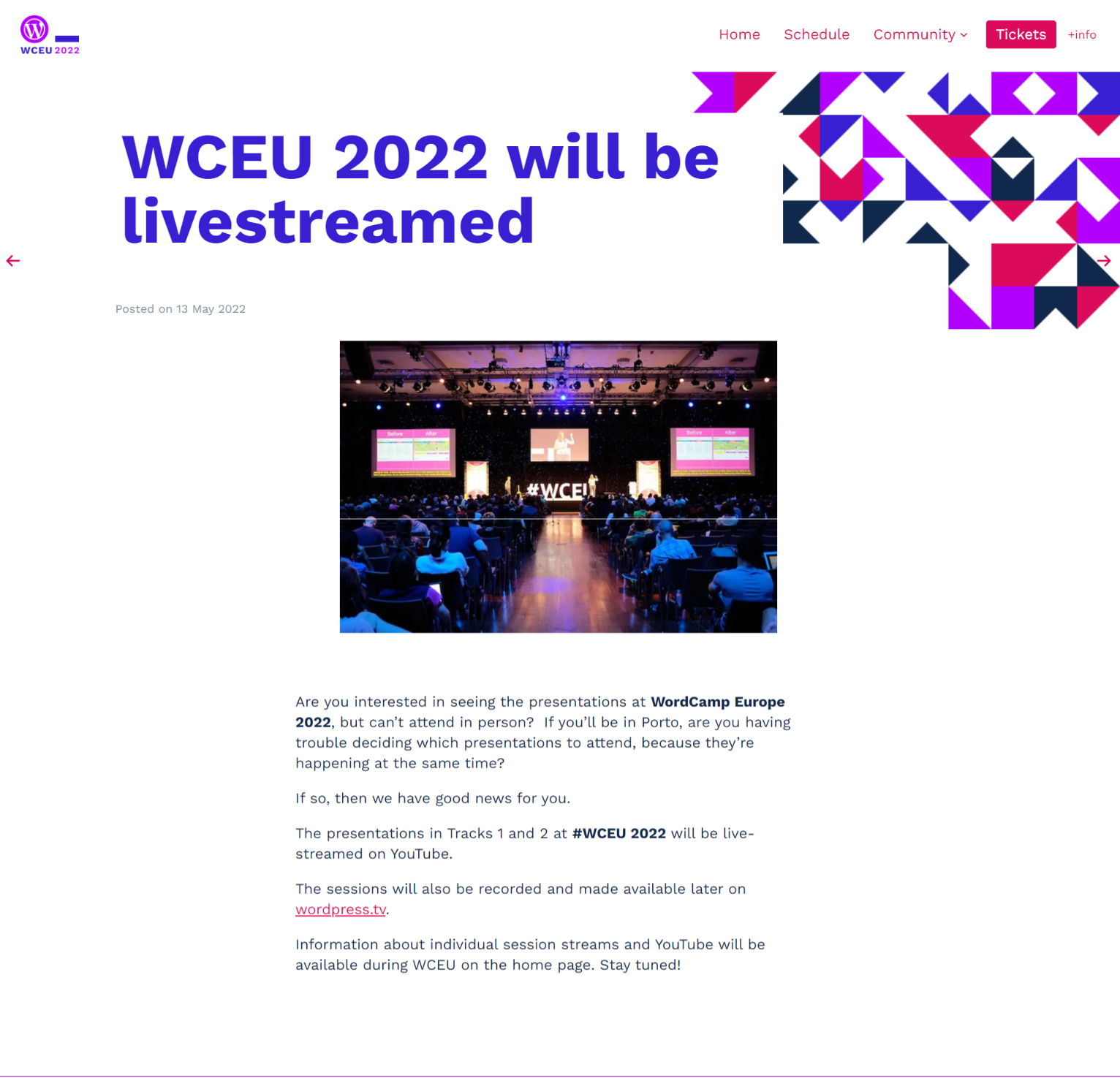 Agenda & speakers:
Covering leading influencers from the different niches of the WP community, this year's event will focus on the community's achievements on day 1 with 'All About WordPress NOW.' Shifting from present to future, day 2 will be centered around 'All About the Future of WordPress.'
WordCamp Europe 2022 is primarily concerned with the future of WordPress. Sessions on the agenda include the following:
Accessibility
The Gutenberg Editor
Blocks
Block patterns
Block themes
WordPress security
Image alt text
Paint Web Vitals
Community building
Headless WordPress
WordPress developers
Full Site Editing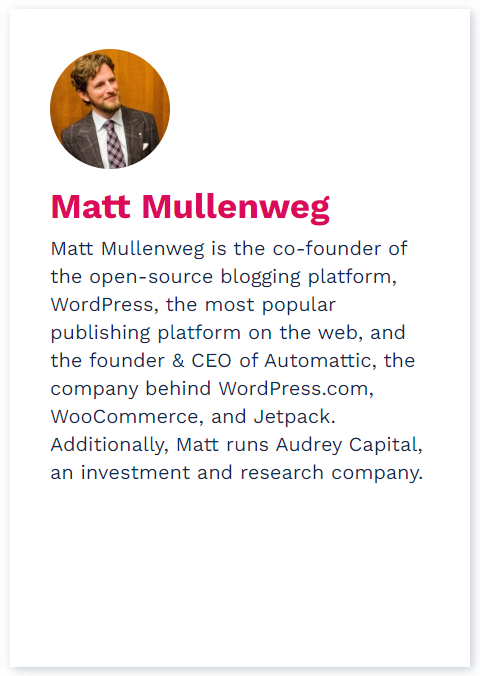 From security lessons to headless WordPress for enterprises, hit the link to know more about the speakers and their genre.
Revisiting the WordCamp India 2021 with CedCommerce:
WordCamp India 2021 took place online over three weekends from January 30 to February 14, 2021. The country's first WC, after nearly a decade, was sponsored by eminent firms like CedCommerce along with Google, WooCommerce, Yoast, GoDaddy Pro, and many more.
With 26+ dedicated organizers, 16+ sponsors, 10+ workshop hosts, and 18+ speakers, nearly 1400 WordPress and WooCommerce enthusiasts, from developers, designers, and marketers, attended the event.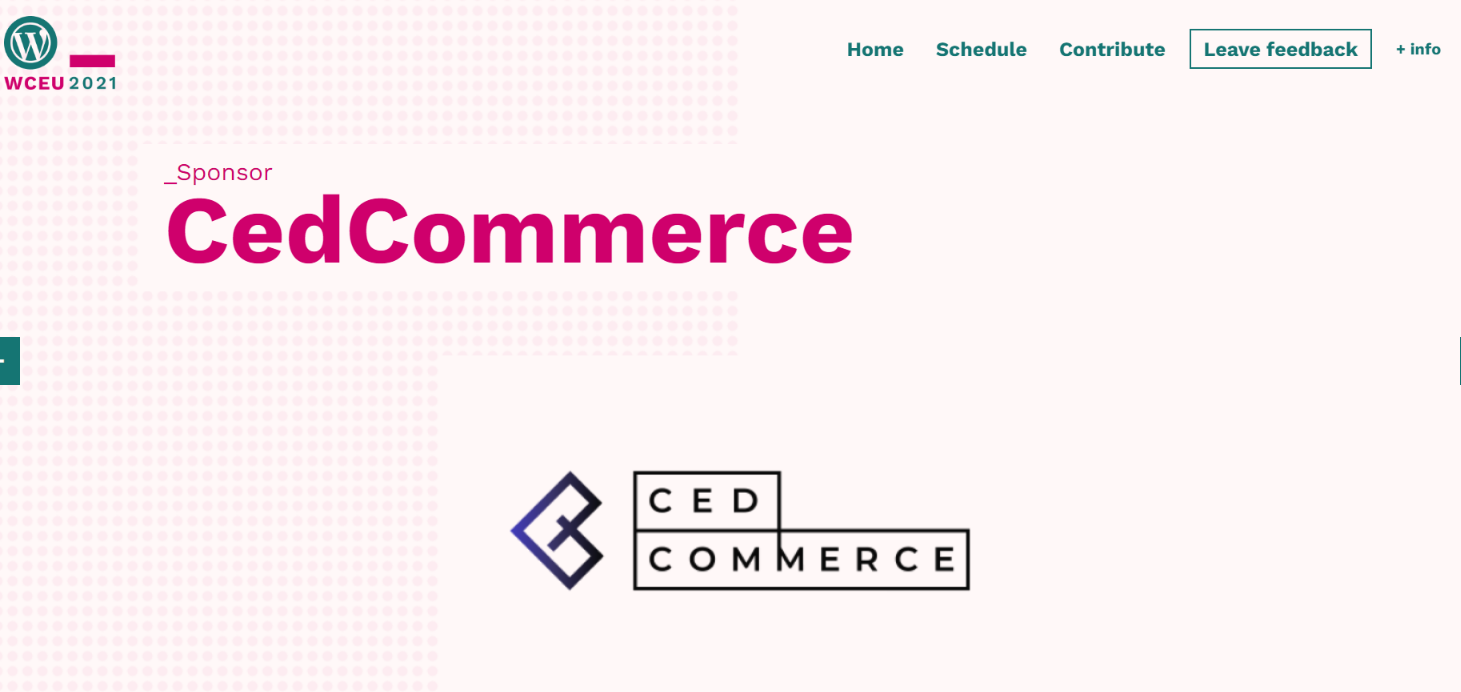 CedCommerce as a proud "Gold Sponsors Of WordCamp India" has several sessions, demos & activities – from Multichannel strategies to open discussion sessions; read all about it here.
Final thoughts:
Whether you want to learn more about WordPress, present something you've learned, or connect with other users who love WordPress, WordCamp is a great opportunity you shouldn't miss. Visit the official page to stay updated & locate the event near you.
Check out our social media handles to stay in tune with WCEU2022:
Facebook: https://www.facebook.com/CedCommerce/