Ecommerce in North America and the need for Multi Vendor Marketplaces[ inc. infographic]
Running short of time? Get PDF of the blog in your mail.

Play Now
Just the enormous size of the North American market and the variation in demography makes it an overwhelming task for businesses and brands to make sense of the customer psyche of this region. The United States of America, Canada, Mexico, and Greenland are often collectively addressed as the North American Region. In recent years the popularity of the multi vendor marketplaces in this North American region is growing rapidly.
With the United States of America being the largest global economy, a population of more than 300 million it is undoubtedly one of the most attractive markets to be tapped within this North American region.
Get Upto 25% OFF On all All Marketplace Solutions and Magento Extensions. Hurry Now!
As the internet penetration keeps on increasing there is a shopping device in almost every hand. Because of this penetration, global online marketplaces are spreading their wings and local marketplaces are also rising rapidly. Time and location do not obstruct any more in this spread. These marketplaces enabled brands from around the world to reach their target audience. It now moves way beyond the conventional ways being followed for ages now. The huge online product assortment is an absolute delight for shoppers because of these marketplaces.
Thus, innovative advancements in mobiles, voice search enabled shopping options, chatbots provided ample amount of growth in the U.S. and Canada region. This region growth is enough to maintain North America's lead over other areas.
Some share-worthy stats by Statista are definitely worth a read about this region's lead:
Total Revenue in the "eCommerce" market amounted to around $65 million US $656,521 million in 2021.
Revenue is expected grow at a CAGR of 4.89% between 2021 and 2025.  This rate will result in a market volume of around US$794,785 million by 2025.
The market's largest segment is the Fashion segment with a market share of US$203,537 million in the year 2021.
User penetration is at 69.4% in 2021 and is expected to touch 77.6% by the year 2025.
The average revenue per user (ARPU) currently amounts to US$1,885.98.
Among this region, Canadian ecommerce earlier experienced a slow start but gradually began pacing up and in no time it was booming. Today, the Canadian eCommerce market stands next to that of the US. A research by Internation Trade Administration stated some interesting information about the e-commerce picture in Canada
The number of social media users in Canada grown up to 33.7 million in 2021. Facebook accounts for the largest number of users with 57.52% visits.
Laptops and desktops are being used at a much higher rate when completing online purchases.
The annual online market could also grow to $40.3 billion by 2025. 
Fashion, followed by Electronics and Media segments were leading the most in 2021.
The shift from brick and mortar to online shopping ecommerce platforms
Ecommerce is taking over the world and North American region is no exception. Till a few years back this industry was surging specifically in times of holidays as opposed to today. In the present day its sales are largely taking over the brick and mortar sales but the reverse is not true often.
For an instance, Deloitte conducted a survey asking U.S consumers how they plan to spend over shopping during the holidays. It found that, on average, 73% of customers will spend more in 2021 than last year.
Thus, online shopping is becoming a more likeable option for consumers. The Presence of multiple sellers and rapidly growing product assortment are being the key reasons for this penetration. The reason to shop online also is primarily convenience for the customers. Then comes the added advantage of having multiple product variants in online stores.  

The rise of Multi Vendor Ecommerce Marketplaces platforms
The rise and popularity of multi seller marketplaces or more commonly referred to as multi vendor marketplaces was inevitable. The customer since long was craving for an improved shopping experience. Multi vendor ecommerce marketplace platform packages cover all the features for his improved experiences. Multiple sellers, multiple product assortment, several modes of payment are such features these packages contain. And it was only obvious that the shopper grabbed the opportunity with both hands.
Multi seller Marketplaces was not only beneficial for the customer but equally benefitting for the vendor as well. He is now able to showcase his items to a larger audience and is able to sell products better. Dedicated seller profile helps him make clear sense of his performance as compared to multiple sellers selling on the ecommerce marketplaces platform.
A vendor is now able to manage his products with much ease, generate invoices, ship the products with the service provider of his choice and ensure effective last mile delivery. Dedicated vendor profiles on multi vendor marketplaces are allowing the vendors to sell like never before and also evaluate their performance regularly.
What is the need for Multi Vendor marketplaces?
Prior to understanding the need for multi vendor ecommerce marketplaces, it is important to make sense of the concept in itself. A multi vendor marketplace is one that allows multiple sellers to showcase a wide variety of products from different brands on a common platform. The marketplace owner or admin sets a commission rate according to which the sellers are charged for successful orders. The vendors can easily list their products on such ecommerce marketplace platforms and start selling.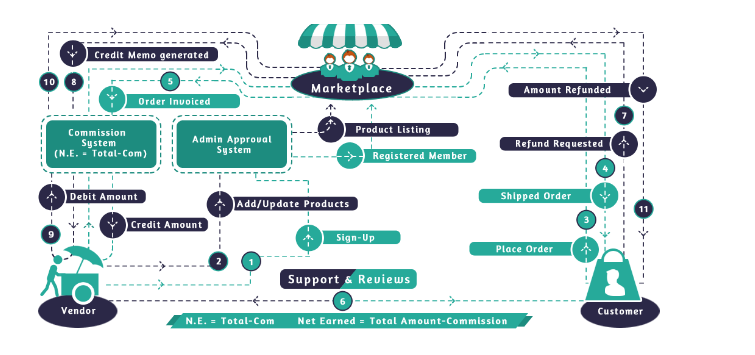 Fig: The process flow in a multi vendor marketplace
Nowadays there is a marketplace fulfills almost every material need. Varying in concepts and the type of products being sold, e-commerce stores having multiple vendors are ready to cater to all customer needs. Foodstore marketplaces, booking marketplaces, grocery stores, classifieds, you name it and there would be a marketplace based on that concept.
For the sellers this concept of a marketplace is largely beneficial in terms that it provides a low-risk method of venturing into a new market and gaining business-critical insights.
What are the benefits of ecommerce marketplaces?
The multi vendor ecommerce marketplaces possess benefits for both buyers and sellers. 
Customer's Benefits:
1. Multi vendor marketplaces provide a platform for the customers to find a wide variety of products from different brands in one place.
2.In order to improve sales, sellers offer competitive pricing for their products which again works in the favour of customers. This way the customers can rest assured of finding the best offers for the product of their choice.
3. Marketplaces allows buyers to give reviews and ratings to sellers. Thus, it enables them to make informed decisions and also compare products for better purchase.
Seller's Benefits:
1. Smaller vendors catering to a local market can with the help of multi vendor marketplaces showcase their products to a larger audience.
2. Helps in price and quality standardization between vendors' products.
Final Thoughts
Multi vendor marktplaces are a way to go for sellers and customers alike because of their promising potential of year-on-year growth. These online businesses provide a convenient way for customer-vendor engagement. Social proof for vendors' products in the form of customer testimonials plays a crucial part for these marketplaces.
Thus, multi vendor marketplaces have in-store all the features for every stakeholder, be it customers, sellers or the admin. Only then will it be able to deliver a more than a satisfactory shopping experience.
CedCommerceoffers the required technical solutions tailor-made for building one such platform.CedCommerce's Magento 2 Marketplace extensions and add-ons are readymade affordable solutions for building a website like Amazon. These extensions come with a bevvy of features to aid the development of a rich multi vendor marketplace. A marketplace equipped with these features is ought to have the best functionality.
For building your own multi vendor marketplace and to see what our clients have to say about us you can contact CedCommerce experts. You can also visit: CedCommerce


You may also like:
Website like Flipkart: Build an ecommerce website like Flipkart, Amazon, eBay & Sell more