Ecommerce in Southeast Asia and the need for multi vendor marketplace
Running short of time? Get PDF of the blog in your mail.

Play Now
Ecommerce growth in south-east asian region was remarkably significant in the year 2021. Digital retail in this region grew by 85% year-on-year in 2021.  The South east asian region comprises of Singapore, Thailand, Vietnam, Indonesia, Myanmar, Philippines, Malaysia and Sri Lanka.In recent years the popularity of the multi vendor marketplaces in South East Asian region has grown rapidly. 
South East Asian region is undoubtedly the most exciting compared to others in terms of digital commerce dynamics. This region particularly has been a launching pad of sorts for many innovative trends that are a major part of social commerce. Over the years Shopee rose to be the most popular marketplace among the ecommerce industry of the South East Asian region. According to Statista, Shopee had the highest traffic with around 281 million visits in 2020. The major giant was followed by Lazada, and FTP shop.com.vn. 
Get Upto 45% OFF On B2C Advance Marketplace Extension. Hurry Now!
Internet penetration has not failed to show its impact in this part of the world either. With a smart device in each hand, people are largely shifting to the web for shopping within the comfort of their homes. Considering that over half of south-east Asia's population accesses the internet the surge in online shopping patterns doesn't come as a surprise.
Giving more power to WooCommerce Sellers, CedCommerce enables retailers to outreach their products in the SEA market.
WooCommerce Shopee Integration is now live on Official WooCommerce Marketplace
The markets have also learned to keep pace with the ever-changing demands and the speed of life. Continuous self-evaluation for being the best in the market, being open to quickly adapting to the changing trends and requirements and incorporating the same in products is crucial. Regular evaluation is required of the way sales are made, the marketing platforms leveraged and decisions be made depending on the prevalent methods. The rapidly evolving customer tastes should be kept track of as well for an all serving transformation and establishment in case of new ventures.
Conversion rate is the deciding metric for any ecommerce venture's growth. It reflects the results of marketing efforts made by the company and the popularity of the product. Let's see the growth patterns of a few major markets in Southeast Asia. The below figure demonstrates the ecommerce sales in select countries of Southeast Asia in the year 2021.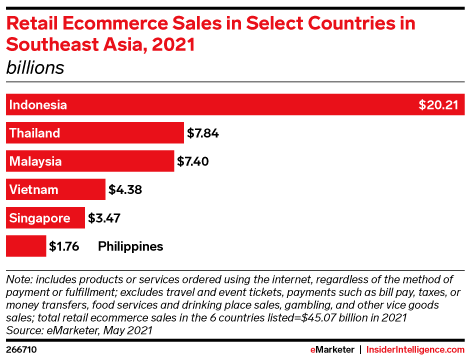 Source: eMarketer
The shift from brick and mortar to online shopping ecommerce platforms
Ecommerce has grown on people and the south east asian region is no exception to the rule. Online shopping till a few years back happened majorly in the event of holidays unlike in the present day where offline purchases have taken a backseat.
The fact that ecommerce marketplaces hold a wide assortment of products across multiple categories that too from different sellers makes it a preferred option by shoppers. The primary reason to shop online is the immense convenience offered to the customers and then comes the added perk of having multiple product variants in online stores.
Growth of Multi vendor ecommerce marketplaces
The growth and popularity of multi seller marketplaces or more commonly referred to as multi vendor marketplace has been incredible. The shopper since ages was craving for an enhanced shopping experience. Multiple sellers, several modes of payment, multiple product assortment all came in a package named 'ecommerce marketplace platform'. It was only obvious that the shopper would grab the opportunity with both hands.
A multi vendor marketplace like Lazada was not only profitable for the customer but equally benefitting for the seller as well. He is now able to present and sell his items to a larger audience than he would have access to otherwise and is able to sell products better. Dedicated seller profile helps him make better evaluation of his performance as compared to multiple sellers selling on the ecommerce platform.
A vendor is now able to manage his product inventory with much ease, create invoices, ship the products with the service provider of his preference and ensure efficient last mile delivery. Dedicated vendor profiles on multi-vendor marketplaces are enabling the vendors to sell like never before and also assess their achievements regularly.

Why do we need multi vendor marketplace?
Even before understanding the need for multi vendor ecommerce marketplaces it is crucial to make sense of the idea in itself. A multi vendor marketplace is one that facilitates multiple sellers to showcase a wide variety of products from different brands on a single platform. The marketplace owner or admin fixes a commission rate according to which the vendors are charged for successful orders. The sellers can easily list their products on these ecommerce marketplace platforms and start selling.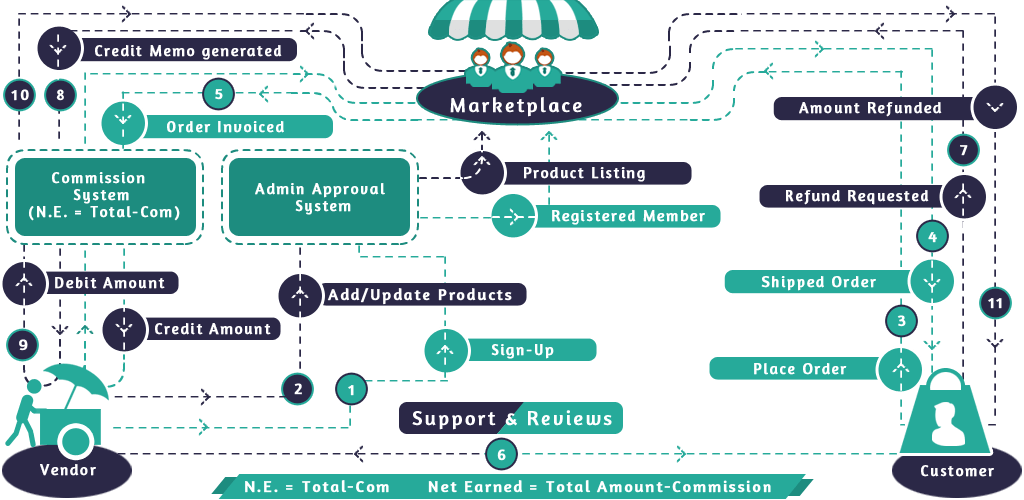 In the present scenario, there is a marketplace available for almost every material requirement. Differing in ideas and the type of items being sold, multi-vendor marketplaces are ready to cater to all customer needs. Foodstore marketplaces, booking marketplaces, grocery stores, classifieds, you name it and there would be a marketplace based on that idea.
For the sellers, this concept of a marketplace is hugely profitable in the sense that it provides a low-risk method of tapping into a new market and gaining business critical inputs.
Advantages of ecommerce marketplaces:
Customer's Benefits:
1. Multi vendor marketplaces provide a platform for the shoppers to find a wide variety of products from different brands and sellers in one place.
2. In order to improve sales, sellers offer competitive pricing for their products which again works in the favour of customers. This way the customers can rest assured of laying hands on the best offers for the product of their choice.
3. The reviews and ratings on the marketplaces along with the presence of multiple sellers facilitate the buyers in making an informed decision and also compare products for better purchase.
Seller's Benefits:
1. Smaller vendors catering to a local market can with the help of multi-seller marketplaces present their products to a larger audience.
2. Helps in price and quality standardization between vendors' products.
Final Thoughts:
Given the promising ecommerce potential and an almost certain year on year growth in the sector, multi-vendor marketplace is the obvious choice for sellers and customers alike. Ecommerce marketplaces tend to provide a very convenient way for customer-vendor engagement. Social proof for vendors' products in the form of customer reviews is a very crucial part of these marketplaces.
Considering all that multi vendor ecommerce marketplaces have in store for the stakeholders, be it the customers, sellers or the admin they ought to be packed with numerous quality features. Only then will it be able to deliver a more than satisfactory shopping experience.
CedCommerce offers the required technical solutions tailor-made for building a platform similar to the popular marketplaces of the south east asian region like Lazada, Cdiscount etc. CedCommerce's Magento 2 Marketplace extensionsand add-ons are readymade affordable solutions for building a website like Amazon. These extensions come with a bevy of features to aid the development of a rich multi vendor marketplace. A marketplace equipped with these features is ought to have the best functionality.
For Building your own multi vendor marketplace and to see what our clients have to say about us please visit: CedCommerce


Read More:
Ecommerce in North America and the need for Multi Vendor Marketplaces