Ecommerce in Australia & New Zealand and the need for multi vendor marketplaces
Running short of time? Get PDF of the blog in your mail.

Play Now
Ecommerce in Australia and New Zealand
Holding in itself over 23 million people, Australia harbours a great market potential. In fact, the entire Asia Pacific region has been witness to the boom in online shopping in the past decade thanks to the rising popularity of multi-vendor marketplace and other ecommerce stores.
The cities of Melbourne, Brisbane and Sydney are the largest cities contributing a huge share in the total e-commerce in Australia.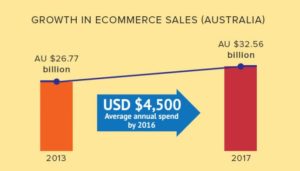 Owing to its GDP per capita Australia stands 12th in the ranking for World's Richest Countries according to World Bank. Ecommerce in Australia is expected to increase to USD 18.7 billion by the year 2020, at the projected growth rate of 9.87% per year. The Digital Shopper Penetration is currently at 62.58% and expected to reach 69% by 2020. The average revenue per user is USD 1,067.
Get Upto 45% OFF On B2C Advance Marketplace Extension. Hurry Now!

A study by Roy Moron states that 4 people out of 10 buy products from ecommerce stores at least once every month. A lot of preference has been attached to online shopping in the Australian region which is only bound to increase with every passing year.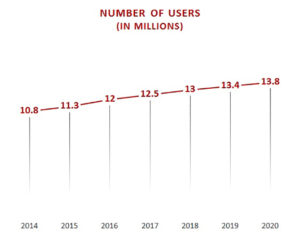 Some interesting facts by statista are definitely worth looking into:
Revenue in the ecommerce market comes around US$12,060m in 2018.
Revenue is expected to show a growth rate (CAGR 2018-2022) of 8.9% every year, resulting in a market volume of US$16,969m in 2018.
The market's largest segment is fashion with a market volume of US$ 3853 in 2018.
User Penetration is 72.2% in 2018 and is expected to hit 74.7% by 2022.
The average revenue per user (ARPU) currently amounts to US$675.45.
As of January 2018, 60% of the population has purchased online.
74% people had searched online for a product or service in New Zealand.
Home to around 4.69 million people New Zealand's 50% population uses ecommerce. Ecommerce retail sales reached $3.42 billion in the year 2016. With close to 3 million active social media users there is no advocating for the use of the internet in the population of New Zealand as well.

The transition from offline avenues to online shopping platforms
Ecommerce is taking over the world and the North American region is no exception. In the present day online sales are largely taking over brick and mortar sales but the reverse is not true often. Till a few years back, the online shopping surge was seen specifically in times of holidays as opposed to today.
Deloitte conducted a survey where it asked U.S consumers how they planned to spend over shopping during the holidays and learned that, on average, 51% of a customer's shopping budget will contribute towards online purchases.
In the United States, approximately 10% of sales are made on online ecommerce marketplaces, and the online market experienced a growth of 24% over a year, according to Slice, a U.S. market analysis company. Demonstrating the encouraging online shopping patterns of the population. The count in Canada is smaller at 7 percent, with an 18-per-cent growth over the span of a year, according to NPD Group, a market analysis company.
The reason to shop online is primarily the convenience for the customers and then comes the added advantage of having multiple product variants in online stores. The rapidly growing product assortment of ecommerce marketplaces and the presence of multiple sellers for the same items make online shopping an even more likable option.      
The popularity of Multi Vendor marketplace platforms
The rising popularity of multi vendor marketplace platforms or usually referred to as multi vendor marketplaces were expected. Customers have always wanted continuously evolving experiences in shopping. Numerous, multiple product assortments, and several modes of payment all came packaged in a solution named an ecommerce marketplace platform. The shoppers grabbed the opportunity earnestly.
A multi vendor marketplace was not only beneficial for the customer but immensely profitable for the vendors as well. They are now showcasing their items to a larger audience and are able to achieve improved sales figures. Dedicated seller profiles for individual vendors help them form a clear understanding of their performance.
A vendor is now able to manage his products with great ease, is able to generate invoices, ship the products with the service provider of his preference and ensure effective last-mile delivery. Dedicated vendor profiles on multi-vendor marketplaces are allowing the vendors to sell like never before and also analyze their performance regularly.
The need for ecommerce multi vendor marketplace platforms in the region
Before finding the answers to the need for multi vendor marketplace platforms it is important to make sense of the idea itself. A multi vendor marketplace is one that gives a platform to multiple sellers to showcase numerous product variants from different brands on it. The marketplace owner or admin fixes a commission rate which the vendors are required to pay once they succeed with an order. The sellers can easily list their products on such ecommerce marketplace platforms and begin to sell without delay.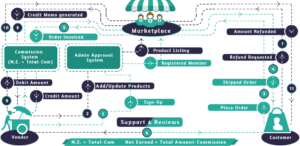 Nowadays there is a marketplace available for almost every material need. Varying in concepts and the type of products being sold, multi vendor marketplace platforms are ready to cater to all customer needs. Foodstore marketplaces, classifieds, booking marketplaces, grocery stores, you name it and there would be a marketplace based on that concept.
For vendors, a multi vendor marketplace is a highly advantageous concept in the sense that it provides a low-risk method of venturing into a new market and also helps gain business-critical insights.
Benefits of starting an ecommerce marketplace
Benefits of Consumers
Multi vendor marketplaces provide an online shopping platform for the customers where they browse through an enormous product range from different brands in one place.

In order to hike sales, sellers offer competitive pricing for their products on multi vendor marketplace platforms which again works in the favor of customers. This way the customers can rest assured of finding the best offers for the products they wish to purchase.

The reviews and ratings on the marketplaces along with the presence of multiple sellers enable the buyers to make an informed decision and also to compare products for better deals.
Benefits of Sellers
Smaller vendors catering to the demands of a local market can with the help of multi vendor marketplaces display their products to a larger audience. These marketplaces provide lots of exposure to sellers.

Helps in setting standards for price and quality between vendors' products.
Summing up
Given the encouraging ecommerce potential and an almost inevitable yearly growth in the sector, multi vendor marketplace is the way to go for sellers and consumers alike. Social proof for vendors' products displayed on the marketplace in the form of customer testimonials is a highlight of these marketplaces. Ecommerce marketplaces tend to provide a convenient way for customer-vendor engagement.
Provided all that multi-vendor marketplaces have in store for the stakeholders, be it the customers, sellers or the admin they ought to be packed with numerous quality features. Only then will it be able to extend forward an exemplary shopping experience.
CedCommerce offers the necessary technical solutions specifically made for building one such platform. These extensions come with a multitude of features to aid in the development of a rich multi vendor ecommerce marketplace. CedCommerce's Magento 2 Marketplace extensions and add-ons are ready-made and reasonably priced solutions for building a website like Amazon. A marketplace armed with these features is undoubtedly going to possess the best in class features.
For building your own multi-vendor marketplace platform and to see what our satisfied customers have to say about us do visit: CedCommerce.