CedCommerce Takes Center Stage as Buy with Prime Partner
Running short of time? Get PDF of the blog in your mail.

Play Now
We're thrilled to announce that CedCommerce, a long-standing Buy with Prime Partner, has been featured under the Agency Spotlight by Amazon. This means big things for Direct-to-Consumer (DTC) brands looking to implement 'Buy with Prime' and scale their businesses. As an agency partner of Buy with Prime, our mission is to improve the buying journey for customers. We've made it easier than ever for merchants to integrate a familiar and trusted purchase option on their websites.
Why Buy with Prime?
If you're a merchant looking to increase sales and reach a broader customer base, implementing Buy with Prime is an obvious choice. As one of the longest-standing Buy with Prime agencies, CedCommerce can enable you with access to this revolutionary fulfillment service with ease.
What does Buy with Prime mean for your business? For starters, your products will be eligible for Prime shipping, meaning 200 million plus Prime members can get free delivery in as fast as two days.
Talk about exposure!
Implementing Buy with Prime also gives you access to marketing solutions like Social Ads app by CedCommerce, which help you easily run and optimize ad campaigns on Meta platforms, including Facebook and Instagram, to promote your products to Prime members.
By offering Prime shopping benefits, you'll tap into Amazon's loyal customer base and see your conversion rates and lifetime value soar. In fact, after implementing Buy with Prime merchants see an average increase in conversion rate of 25%! The seamless checkout experience will have customers coming back again and again. Plus, with transparent delivery estimates, your customers will always know exactly when their items will arrive.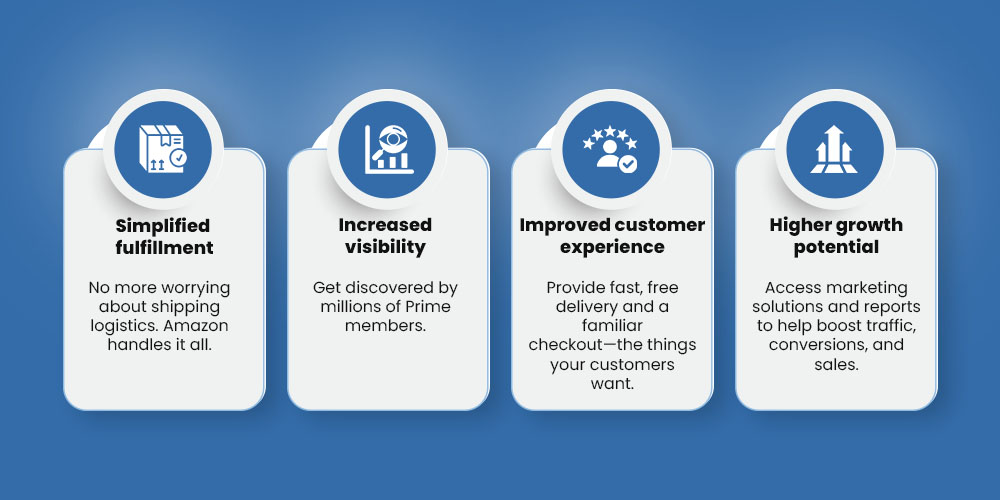 If streamlining your DTC business, reaching new customers, and boosting revenue sounds appealing, Buy with Prime is for you. As an official partner, CedCommerce is ready to help you start offering Prime shopping benefits right away.
How Can CedCommerce Help?
As a Buy with Prime partner, CedCommerce offers a data-driven approach to optimize your e-commerce site and enhance the performance of Buy with Prime. Our dedicated team provides assistance in key areas:
Buy with Prime Integration: We help you seamlessly implement and customize the Buy with Prime button on your product pages, ensuring higher visibility on your store hence, improved conversion rates.
User Interface and UX design: Our experts optimize the Buy with Prime design according to your website, enhancing the user experience and driving greater engagement and sales.
Reviews Optimization: We import and optimize reviews from Amazon to your DTC site for your active Buy with Prime products. Consequently, leveraging social proof to build trust and increase conversions.
Dedicated Collections Page: Based on data analysis, we create a collections page exclusively for Buy with Prime eligible products. Therefore, making it easier for shoppers to find and purchase these high-demand items.
Banners and FAQ Optimization: Our team assists you in setting up, organizing, and optimizing Buy with Prime banners, badges and FAQs. Therefore, ensuring effective communication and addressing shoppers' queries.
Scale Your 'Buy with Prime' Shop Sales with Social Commerce
CedCommerce's app, Social Ads for Buy with Prime, revolutionizes your marketing efforts by leveraging Facebook and Instagram to drive targeted traffic and boost conversions. Here's how our app helps you succeed:
Dynamic Ads with Buy with Prime: The app automatically creates ads on Facebook and Instagram. Thus, showcasing the Buy with Prime badge and relevant products, capturing shoppers' interest and increasing click-through rates.
Targeted Audience Marketing: With billions of active users on Facebook and Instagram, you can reach your desired audience. By targeting their interests and behavior, ensuring your ads are seen by the right people at the right time.
Retargeting for Increased Conversions: Reconnect with potential customers who have previously visited your website. Consequently, by using retargeting strategies to remind them of the Buy with Prime products they were interested in. This increases the likelihood of conversion.
Accurate and Up-to-Date Product Information: The automatic synchronization between your Buy with Prime catalog and the Facebook catalog manager ensures that your ads are displayed accurately. And provide up-to-date product information in near real-time, eliminating the risk of displaying outdated or incorrect information.
Data-Driven Insights: The app allows you to track Buy with Prime conversions and seamlessly sync order data with Meta. This provides you with valuable insights into the effectiveness of your campaigns. Therefore, enabling you to make data-driven decisions and optimize your marketing strategies for better results.
By leveraging the power of Social Ads for Buy with Prime, you can take your marketing efforts to new heights. Additionally, driving targeted traffic and maximizing conversions. With dynamic ads, targeted audience marketing, retargeting capabilities, accurate product information, and data-driven insights, our app empowers you to achieve e-commerce success.
CedCommerce: Empowering Sellers since 2012
As an eCommerce solutions provider with over a decade of experience, CedCommerce knows what it takes to succeed online. For the past 11 years, we've offered customizable eCommerce solutions to more than 50,000 merchants worldwide.
We focus on understanding our clients' unique needs and challenges. We work to deliver tailored solutions so you can achieve your eCommerce goals without a hassle. Our devotion to the sellers is clear from the rave reviews we've received on platforms.
Raving Reviews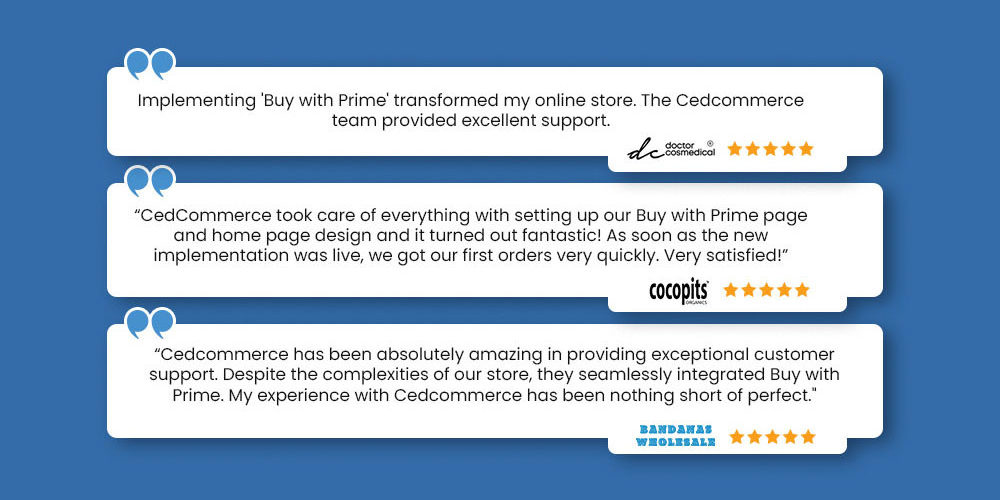 These client testimonials highlight our technical prowess in implementing Buy with Prime. Our custom coding, API integration, data synchronization, and optimization strategies ensure a straightforward integration process. Thus, enabling Buy with Prime to seamlessly enhance the e-commerce websites of our clients.
With CedCommerce as your partner, you gain access to Buy with Prime helping in simplified fulfillment, increased visibility, improved customer experience, and higher growth potential. Contact us now to get started.