CedCommerce Launches HubSpot Onboarding Services: Ensuring Efficient Business Growth
Running short of time? Get PDF of the blog in your mail.

Play Now
"Success usually comes to those who are too busy to be looking for it." With this note, CedCommerce is delighted to announce the range of new HubSpot Onboarding services for businesses of all sizes and domains.
CedCommerce is now into the Onboarding services, with the increase in customer demand and changing business structure, it has become necessary to adopt the changes in the best possible ways. At CedCommerce, we are dedicated to providing the best onboarding services and certified integration apps for businesses to grow beyond. Moreover, the experienced team tests various apps and services before making them live and offers maximum customer satisfaction.
Furthermore, being a Certified Partner with HubSpot, CedCommerce knows the in and out of HubSpot services and products. HubSpot provides the inbound marketing tools that are gradually becoming the need of businesses across the globe.
Industries in which HubSpot Onboarding services are useful
From small to an extensive domain and with low capital to large capital industries also, HubSpot is beneficial for startups as well as established companies. The industries that can utilize HubSpot for better results are
E-commerce
I.T industry
Lifestyle
Financial institute
Automobile
Food and Drink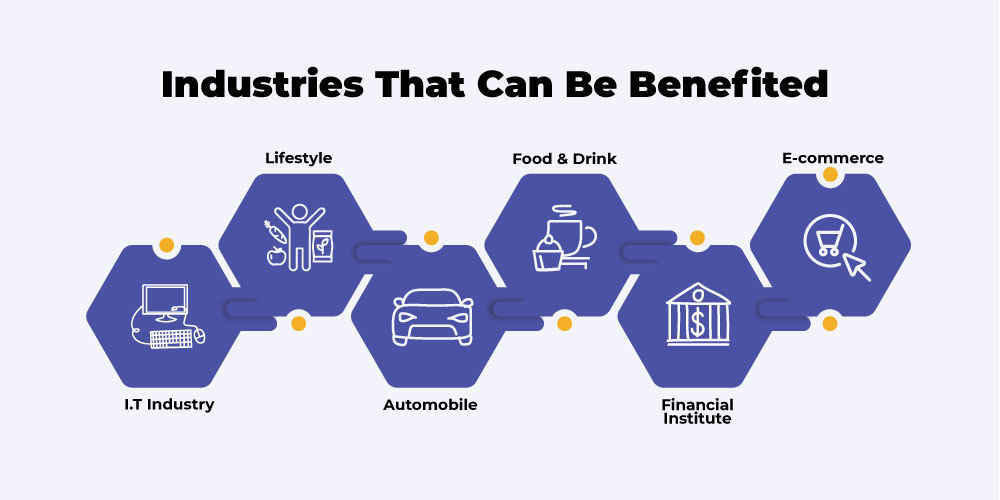 Benefits Of CedCommerce's HubSpot Onboarding Services
HubSpot Onboarding services provide the necessary tools for HubSpot subscriptions to assist your business needs. Therefore, from installing various tools to guiding sellers about HubSpot products and services, Onboarding services play a crucial part to help your business grow. The HubSpot Onboarding services makes the business and process line smooth by providing features like
Email Marketing
Create personalized and streamlined marketing emails without waiting for designers. In addition to this, send commercial messages to groups of people and target customers according to predefined criteria. This process will help increase cross-sales, up-sale, and increase overall sales and revenue figures.
Landing Pages
HubSpot onboarding services will take care of the complete process of the Landing page. Starting from designing to optimizing to attract more leads and customers. Furthermore, you get a personalized and professional-looking landing page that meets your business needs.
Data Management
Store data in the best systematic way possible to track progress and report generation. Data syncing between the marketplace and HubSpot will be done in just a few clicks. In addition, get rid of duplicate, irrelevant, and redundant data through HubSpot tools.
Manage & Generate Leads
Achieve lead generation to the fullest potential and nurture them according to your business. In addition, HubSpot Onboarding will find the potential leads and help the sellers convert them into paying customers.
Customer Segmentation
Get your leads segmented according to their interest. Furthermore, differentiate between the most valuable leads and less interested leads and devise your marketing strategies accordingly. This will help build personas to better understand your visitors and customers.
One-Stop Platform
The creators in HubSpot constantly improve their tools based on the latest reports and customer demands. Furthermore, with an expert and trained team, CedCommerce will provide you with the most efficient HubSpot Onboarding services at the most reasonable rates.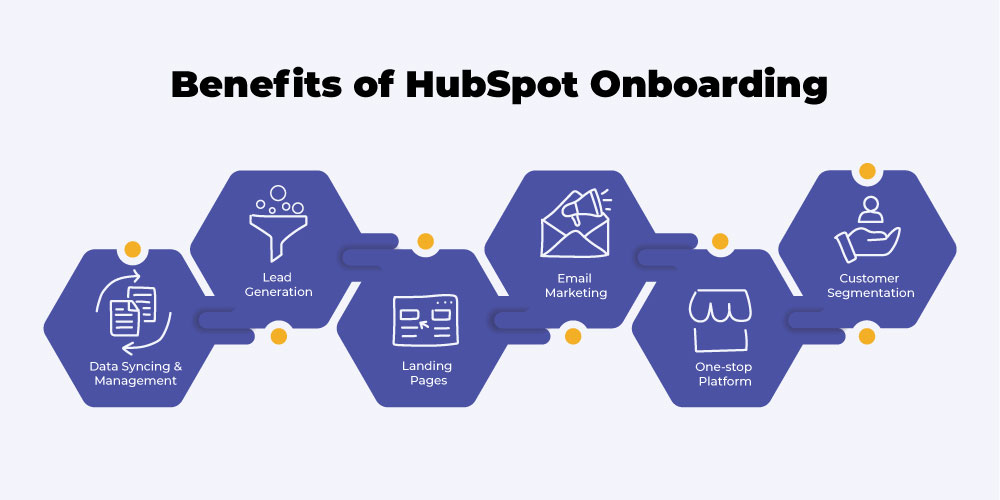 Factors that Makes HubSpot Onboarding Services by CedCommerce Unique
CedCommerce has been a preferred partner and prominent HubSpot solution provider for years. This gives them an upper edge over other solution providers.
HubSpot Onboarding services are available for all eCommerce platforms such as Magento, BigCommerce, Shopify, and Prestashop.
Easy setup and complete guidance for sellers to use HubSpot tools for their business benefits
Connectivity with the dedicated manager and support staff 24*7 through different platforms such as Skype, Emails, Live Chat, or a call.
Experience the industry's most affordable and sophisticated HubSpot Onboarding services.
Finally, Partnership between HubSpot & CedCommerce is enough to prove the authenticity of the services.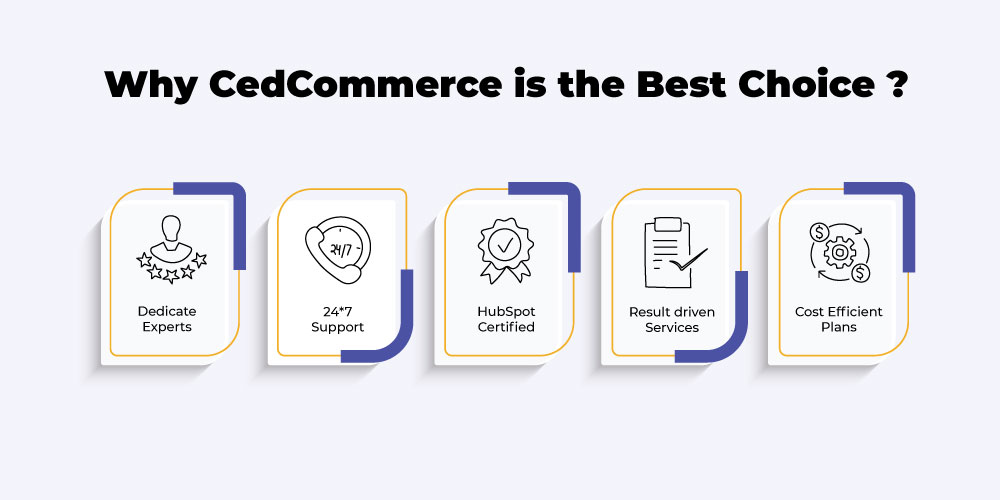 Additionally, HubSpot is the biggest name in the Inbound industry, and hence they choose their preferred partner after doing research and authenticity of the company. CedCommerce is a preferred partner and a trustworthy companion with HubSpot for providing various integration solutions and onboarding services. Consequently, with years of experience and a HubSpot trained team, they are dedicated to providing best-in-class services to the customers.
About CedCommerce
With the expertise in providing HubSpot Onboarding and integration services, Cedcommerce has been a tasting success for years and is a known face in the eCommerce solution industry. The founder Mr. Abhishek Jaiswal and Mr. Himanshu Rauthan conceptualized the organization. Thus, with solid fundamentals, CedCommerce, is climbing the corporate ladder while creating many success stories. Thus, CedCommerce covers many aspects of the IT industry involving open-source and Saas-based development, e-commerce solutions, SEO, themes, website development, and design.