Biggest Magento Integration Discount of the year – 20% off on bundle Integration + 3 free Extensions
Running short of time? Get PDF of the blog in your mail.

Play Now
Prepare yourself with a list of the Magneto Integrations you've always wanted but couldn't afford because today we bring you the Best Magento Integration Discount of the Year – An offer of a lifetime.
We are only a few days away from Festive Season 2022. This time of the year is full of joy, happiness, and celebrations. But there are other aspects of Year End that excite and delight people, and that are – Offers and Discounts. It is an opportunity to buy things you love at a low price. Living up to its reputation, CED has come up with the most unique Magneto Integration Discount offer.
Biggest Magento Integration Discount of the year – Get up to 20% off on Magento Integrations on bundle products this festive season 
Yes, you heard it right.
And that's not it.
There's more.
CedCommerce is also offering 3 Magento Integrations totally Free of cost – Cdiscount, OnBuy, and Fruugo.
You must be wondering why this Magento Integration Discount offer is too good to be true. Well, it is.
So the offer goes like this.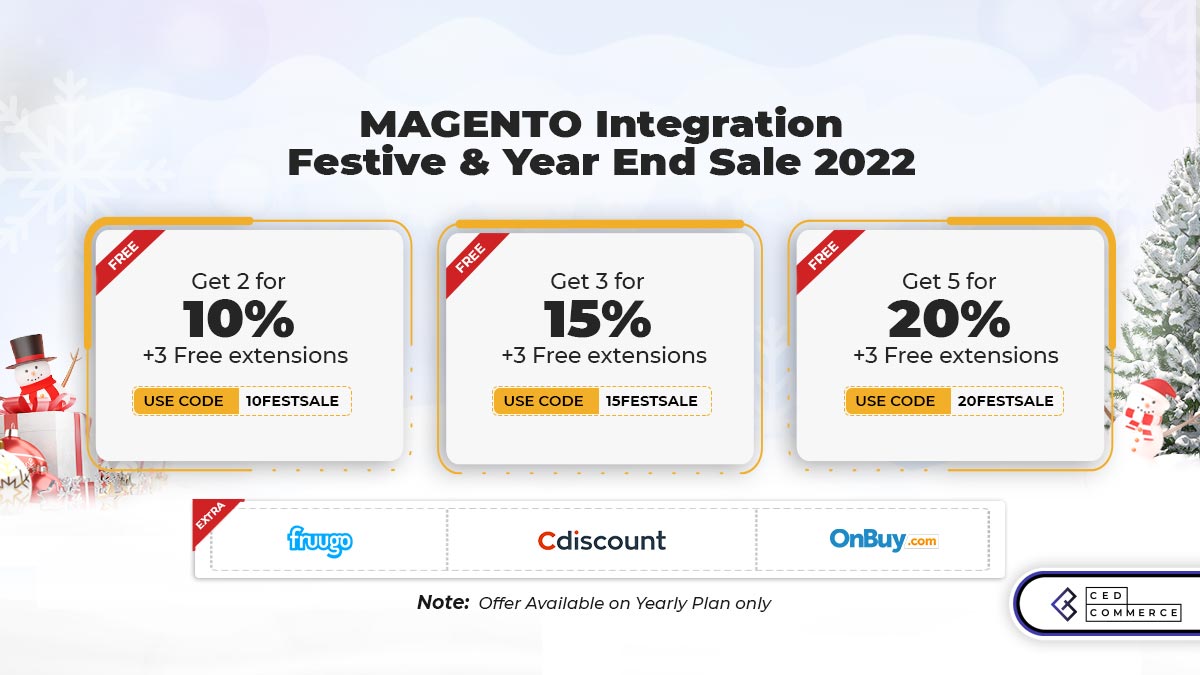 Buy 2 extensions – Get 10% off + (Any or All 3 of the free extension) –
Use Code : 10FESTSALE
Buy 3 extensions – Get 15% off + (Any or All 3 of the free extension) –
Use Code : 15FESTSALE
Buy 5 extensions – Get 20% off + (Any or All 3 of the free extension) –
Use Code : 20FESTSALE
We do have some pre-made bundles based on regions like the US region, EU region, SEA region, and AU region. But you are all free to create your own bundle by picking the marketplaces of your choice.
As of now, CED has over 80+ marketplaces on which Magento Integration is available. And the offer is available on all these Integrations on a yearly plan.
Visit this page to check all the available extensions – Magento Integration List
For example, a seller in the US can pick Amazon, eBay, and Etsy extensions at a massive discount of 20%. And can add 3 more extensions Cdiscount, Fruugo, and OnBuy to the same invoice without adding a single buck.
Lets me demonstrate the offer in detail:
Suppose you chose 5 extensions each costing $500 and you added 3 free extensions (which are marked for around $300-$500 each ~$1000 for all 3) that mean the total cost would have been $2500 + $1000 = $3500
With this offer, you are getting all 8 extensions at just $2000.
Have you ever witnessed a Magento Integration Discount like this before?
Exciting as this offer may seem, this is a limited-time offer and will end soon.
We are not only selling but will go all the way. This offer comes with end-to-end services including Onboarding and Product listing in the free extension as well.
Note: This offer is applicable on extensions with yearly plans only. Not on a one-time purchase.
How to Claim this Magento Integration Discount?
Step 1: Go to CedCommerce Website and from there to the Magento Integrations Page.
Step 2: Add your desired Magento 2 Extensions to the Shopping cart
Step 3: Apply Coupon Code at the checkout – ADIOS22FEST
OR
You can just get in touch with the Integration Support Team who will guide you through the process of creating a bundle and applying the coupon code. Connect on the following channels:
So What are you waiting for?
Hurry Up!
Take advantage of this incredible offer and receive the best Magento Integration Discount of the year before the deal expires.