4 Ways CedCommerce Helps You Increase Conversion Rates on Amazon
Running short of time? Get PDF of the blog in your mail.

Play Now
Increasing the conversion rate on Amazon is a holistic approach to keeping your business on top of your competitors. There are several strategies for it, and you need to figure out which will work best for your business. Let's understand what conversion rate is, what a reasonable conversion rate on Amazon looks like, why the conversion rates on Amazon are so high or so low at times, and what are the best ways to increase conversion rate and sessions on Amazon.
Also, you will read about how CedCommerce, a trust-worthy integration partner of Amazon, has helped several brands with its frictionless and profitable services.
What is Amazon Conversion Rate?
The conversion rate is calculated as
Conversion Rate = No. of orders/ no. of clicks/sessions
Let's understand it in a better way. If you find a total of 500 views or sessions on your listings and your total number of orders happens to be 250 in a month, your conversion rate is 50%.
Is this conversion rate good enough? Or, instead, what is a reasonable conversion rate when it comes to Amazon?
What is a good Conversion rate on Amazon?
There is no limit to it. The more you can bring customers to your products and get that buy button hit, the better it is. However, to bring forth an estimate, a number between 10-12% of conversion rate is good enough on Amazon if you are a non-prime seller, whereas, for prime sellers, the conversion rates are as steep as 70% and above.
However, based on how good a job sellers have done to increase sales on Amazon, sellers might feel the discrepancies between why Amazon has a high or low conversion rate when the reality is straightforward. The more you optimize your listings, price, images, A+ content, and ads, the more you increase your visibility in research results, thereby enhancing your conversions.
Why is the Conversion Rate on Amazon so HIGH?
Or low? As stated above, many of you who have been selling on Amazon for years might have different opinions about your experience with sales on Amazon. There are some basics that make an impact on what you call a high or low conversion rate on Amazon. Look them below:
Product Listing
Your listings are the soul of your business. From keywords that describe your products to descriptions and images that set you apart from your competitors, you do a great job of bringing your customers to you. Any compromise with your listings results in low conversions, meaning people view the product but are unwilling to buy it because you might not include what they were looking for!
Price
Price is another reason somebody will decide to stay or move on from you. The more competitive a price is, the better it is! This surely doesn't mean that it has to be way lower. This might communicate a low quality to your customers. The way is just to be COMPETITIVE.
Reviews
People's opinions and experiences matter greatly when you compete with a marketplace giant like Amazon. After all, customers believe customers! If any of your orders or customers have given bad reviews on Amazon, try sorting it as soon as possible, as you would surely not want to lose sales because of bad reviews.
Amazon Ads
Bidding on the right keywords is crucial to target customers or making your product appear for the correct search queries. Good research and analyzing the keywords usually searched by your target audience can help your business go a long way on Amazon or any online marketplace, for that matter!
Let's now see some unique factors capitalizing on which you can slowly but surely see a remarkable increase in your conversion rate on Amazon.
5 ways you increase your conversion rate on Amazon in 2023
You just have to focus on a certain integral part of your listings and make it as engaging as possible for your target customers, and you are good to make hot sales this 2023.
Let's see how:
Optimizing Your Listings
Yes, your listings come first every time. When searching on Amazon, your product must include and appear for the right keywords used for it. This means that you must ensure that you use the right keywords in the title and description of your products.
Next, come the core details and images of the product. Look at the image below and analyze how elaborate the details and images are! Your description should answer all the possible queries of the customers, and that's what this product by Brand Bourge does!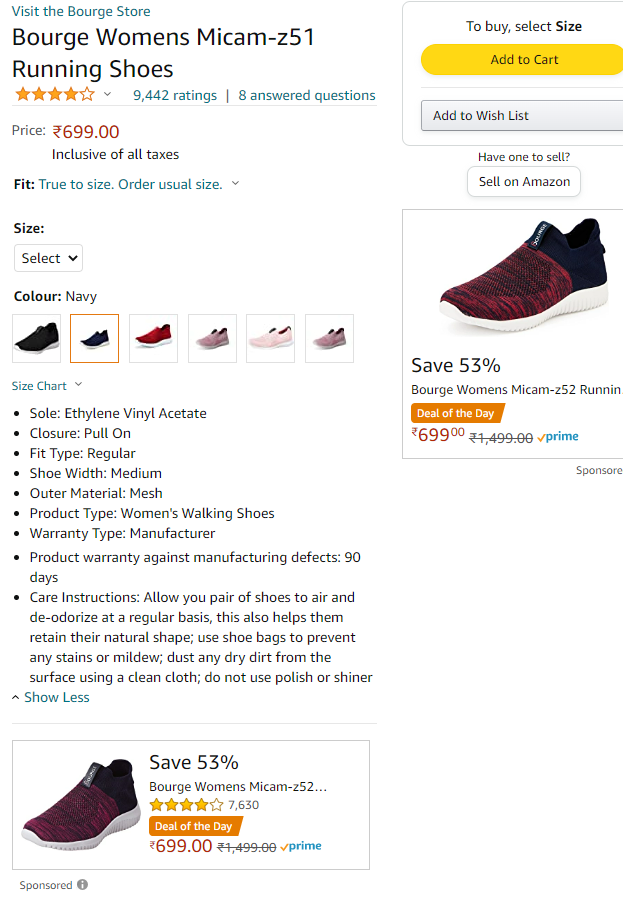 Capitalizing on A+ Content
If you are a professional seller enrolled in amazon's Brand Registry Program, you must not wait to make your product copy exciting and engaging. Look at the example below; how beautifully they created an exciting ad copy!
The ad copy makes it different from other listings and tends to hook the customers more. These extra efforts give businesses more sales than others.
Good Reviews mean Hot Sales
Customers believe customers! This means that your customers are not just bringing you sales but are also bringing newer customers to you! Your reviews speak about the quality of your products, services, and experiences your previous customers had with you!
Learning from established brands like Bourge can be of great practical lessons for new businesses and retailers just starting up with online selling on Amazon. Look at the review of the same product below:

Also, by using their eligibility to A+ Content, the brand has beautifully presented their top best reviews through graphics.
Run Amazon Ads
Amazon helps retailers by allowing them to capitalize on ads through various ad services like Amazon Sponsored Products, Headline Search Ads, Product Display Ads, etc. On these ads, you invest in keywords and product descriptions for which Amazon ranks your products on the search bar and incur costs on every click. Lets' see each of them one by one.
Amazon Sponsored Ads
Sponsored ads are cost-per-click ads that allow retailers to promote individual listings on Amazon. One can create a campaign in just a few minutes, start advertising on Amazon, and get placed on top of others.
Headline Search Ads
Headline Search ads are similar to sponsored ads, but their display realm makes them different and more exciting. What it means is unlike sponsored ads, the headline search ads show three products along with the logo and brand content as SERP. It makes the voice and image of the brand more visible and comprehensible to the audience.
Product Display Ads
Product display ads show results based on customer purchase history and shopping behavior. They appear on the home page, search page, product detail pages, and third-party websites and apps.
Getting Professional Help
Getting professional help for profit-driven marketing services for your business is a wise choice. When you are a retailer, doing everything independently is not feasible. An expert service provider can help you with strategy building, running and managing ads, optimizing your listings, and helping you with expert suggestions for creating A+ Content, etc.
Looking for one? CedCommerce has helped many sellers across the globe to start their businesses on Amazon with CedCommerce's frictionless integration and marketing services.
Need professional help? CedCommerce is just a call away!
CedCommerce leads the eCommerce integration world with its massive grasp on online marketplaces and platforms. Helping thousands of retailers worldwide in simplifying their Amazon sales journey, CedCommerce is now also known for its first-class marketing services.
We provide services ranging from
Product Listing Optimization
Amazon Sponsored Ads Management
A+ Content/EBC Management
Store designing and Set-up
Product Listing Optimization
The service includes keyword research, brand analysis, competitor research, improving listing quality, optimizing product descriptions and backend terms, and so much more. The central idea is to make the listing more relevant, easy to rank, and attractive enough for the prospects to convert into customers.
Amazon Sponsored Ads Management
The team of experts shall look into ACos maintenance, audience targeting, Campaign strategy building, Bissing strategy analysis, Sales Funnel strategy, Location and Demographic analysis, and many more. While selling on Amazon, while you take care of what products you want to appear in SERP, CedCommerce is there to make good enough for sales and better conversions.
A+ Content/EBC Management
Highly optimized content helps you get higher visibility, which makes CedCommerce enthusiastic about helping retailers achieve A+ content with a perfect layout, giggly quality images, and a creative layout complementing the brand themes.
Store Creation
People will stay on your website if it delivers more than what they have expected out of it. With an appealing page layout, easy navigation, banner and image designing, header, content creation, and a dedicated designer, CedCommerce promises to make your store more appealing than ever!
Last Words
If you want a profit-driven conversion strategy, our team of experts is just a call away to help you start your business from scratch or gives wings to your established brands. Let us know about your query and thoughts in the comment section below.