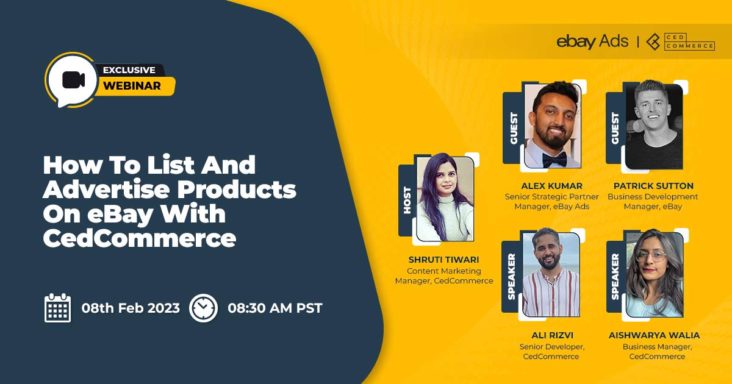 Learn how to set up and advertise your products on eBay with CedCommerce.
Are you an eBay seller looking for an easy way to list and advertise products on the platform? Look no further; CedCommerce, in partnership with eBay Ads, is excited to be hosting the most exclusive webinar on educating and helping you list and market your products in no time.
Join us for this free, live webinar to hear from our renowned guests, Mr. Alex and Mr. Patrick from eBay, as they share insights into the opportunities associated with selling on eBay, driving sales with Promoted Listings, and more. We will also discuss how the Integration for eBay app bridges the selling gaps and helps you to set up and manage multiple eBay accounts from a single, central dashboard.
EXCLUSIVE: eBay recently announced the sunsetting of its eBay Sales Channel app on the 31st of December. A significant portion of the talk will be devoted to how CedCommerce helps you migrate your eBay listings from the eBay Sales Channel app for free without deleting existing listings. Finally, we will discuss how CedCommerce is helping sellers build their brand on eBay with eBay ads and other growth opportunities on eBay.
Our experts will walk you through some tips and tricks to maximize your eBay business.
A sneak peek at what you will learn
How to sell on eBay
Common mistakes to avoid when selling on eBay
How to set up and manage your eBay store with CedCommerce
Tips and strategies for driving sales and building your brand on eBay with eBay Ads and  

CEDcommerce

.
How to migrate your eBay listings from the eBay sales channel app for free
Live Q&A
Whether you're new to multichannel selling or a seasoned pro, you'll walk away from this webinar with the knowledge to deploy tactics and make your multichannel sales efforts more effective.
We invite you to join us for this informative webinar to learn how to maximize your eBay selling potential.
Register now to reserve your spot for free!
Learn From the Experts
Guests
Host
Speakers
Ali Rizvi –Senior Developer, CedCommerce
Aishwarya Walia –Business Manager, CedCommerce
Save the DATE & TIME
Date: 8th February 2023
Time: 8:30 AM PST| 10:30 AM CST
Real-quick insightful articles to help you know us better