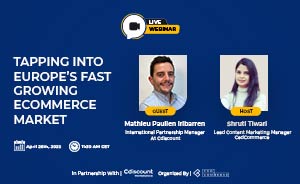 Multichannel eCommerce selling is a profitable and smarter way to build, Sustain and Grow an online business into a brand.
To enable merchants to expand their eCommerce multichannel businesses successfully in the European region, CedCommerce is bringing an insightful webinar in collaboration with its strategic partner, Cdiscount Marketplace, a leading marketplace in Europe.
Cdiscount Marketplace is home to 10.2 million active customers and 15,000 active merchants across 70 countries. This thoughtful webinar between Cdiscount Marketplace and CedCommerce aims at providing tips to potential online merchants for achieving the desired ROI through automated multichannel selling functionalities, expanded potential audience, improved brand awareness, and strategically built customer segmentation.
The webinar will help merchants selling on Magneto, WooCommerce, and Opencart to launch, Build, Scale, and Optimize their multichannel selling operation from a centralized interactive Dashboard and automated inventory and order synchronization by CedCommerce solution. This session intends to answer some of the major questions and resolve the cross-border selling challenges of online merchants.
A quick walk-through of the webinar:
✅ Detailed walk-through of the European eCommerce sphere and the behavior of its native shoppers – buying preferences, average spending, and much more. 💯
✅ Creating new customer touchpoints and revenue streams 💸
✅ A sneak peek into opportunities and best practices for merchants on the Cdiscount marketplace.
✅ Insights about top-selling categories and current European consumer trends.
✅ Executing a holistic brand experience across Cdiscount Marketplace from discovery to purchase to fulfillment
✅ Actionable tips for leveraging proper pricing and fulfillment services extended to potential merchants by Cdiscount Marketplace. 
✅How to syndicate and manage your listings from your site on Cdiscount Marketplace through CedCommerce multichannel integration solutions.
Our Expert Speakers for the webinar:
Perks of joining the webinar:
LIVE Q&A session with our expert panelists
3 months FREE Onboarding services for merchants registering on the Cdiscount marketplace through webinar
Join us on
Date: Tuesday, 26th April 2022
Time: 11:30 am CET // 3 pm IST
Your availability means everything to us! Fill the form and secure your spot NOW! You never know what can turn your small business into a brand.
A few insightful reads to scale up your multichannel game: 
CedCommerce partners with Cdiscount Marketplace to facilitate automated multichannel selling operations to new merchants for free
Sell on Cdiscount marketplace and win a chance to standout in France