Top 11 Comparison Shopping Engines to Fuel Up your eCommerce Sales
Running short of time? Get PDF of the blog in your mail.

Play Now
Google Shopping, Bing, Nextag, Shopzilla, Pronto, etc. etc. We understand it gets burdensome to opt for the best Comparison Shopping Engine among the ocean of so many. The benefit of Comparison shopping Engines is that they enhance the outreach of your products on an augmented level.
Google Shopping Actions US is open for Merchants in India and Canada: Start selling cross-border to customers in the US, from either India or Canada without any fuss, right away.
Are you still making plans to uplift your eCommerce sales?
Once late is late forever! Perhaps that's the reason you are still making plans to make the most out of your life and needless to mention your eCommerce store. Ok! Let us come this way when was the last time you came across an idea to boost your eCommerce store sales? Did you successfully turn it up the way you thought it to be?
The answer is quite obvious.
Well, the beauty of the Internet lies in the fact that it has eased the process of making money online. With so many tactics to fuel your eCommerce store sales.
Why wait for patrons to come to your eCommerce store?
In such a speedy lifestyle losing a single lead would cost you dollars. However, to deprive you of such mishaps we bring the TOP Comparison Shopping Engines at your service.
Comparison Shopping Engines are the current trending part of eCommerce. Aiding you to drive zillions of traffic to your eCommerce store along with enhanced exposure, increased sales, and brand awareness Comparison Shopping Engines leave no stone unturned in exemplifying your ROI.   
A research from consumer Futures portray over half (52%) of patrons use Comparison shopping Engines (CSEs) for online shopping and about 80% of the mob find it useful for comparing better prices of the goods.  
A glimpse at Comparison Shopping Engines
Comparison Shopping Engines cumulate product information and prices from a range of merchants and exhibits the results on a single webpage.
Hence, facilitating them with a quick and easy comparison of products descriptions, shipping options, and prices.
This detailed information assist the patrons to make a thorough purchase decision. Thus, assuring you of the fact that the customer would not leave the cart without checkout.
Looking for the perfect mantra to succeed instantly may take you steps farther from your customers. However, the charm of Comparison Shopping Engines lies in the fact that you give the possibility to showcase your products to the apt audience (who are on the verge of making a purchase) at the perfect time. Thus, strengthening your love for Comparison Shopping engines.
When we talk about Comparison Shopping engines it would be unfair to state the fact that CedCommerce brings a number of renowned Shopping channels to your table. You can always turn up your product listings with the choice of your CSE that would reap better results along with enhanced ROIs.
Get started with Google Shopping and Grab your 7 days FREE trial- Today!
Furthermore, as per the facts from SEJ. CSEs consumers demonstrates that targeting the audience is economically feasible:
A total of 65% of visitors on CSEs spend 15+ minutes studying products and prices prior to making a purchase;
CSEs visitors are said to shop twice as often (in other words conversion is two times as high);
As calculated the average conversion rate of traffic from CSEs is 2.56%;
$ 3.7 is the average ROI on every dollar.
Let's take a closer look at each Comparison Shopping Engines one by one. In order to make the best of every dollar spent:
Google shopping Engines (a.k.a. Google Product Listing Ads, Google PLAs) are the major traffic driving source for price comparison websites.
Said to account for more than 115 billion searches every month-Google Shopping Engine is one of the top performer comparison shopping engines in the race.

Image Source: SimilarWeb
Moreover, Google Shopping engines consistently generate abundant clicks and sales utilizing these two platforms- Google Merchant Center and Google's AdWords respectively.
Product Feed Enumerations:
Google's product feed is accepted as the industry standard. Hence, Google employs its own product feed standard. You can review Google Shopping Engine specs details here.
Below is a gleam of Google Shopping:

Another beneficiary thing for the online merchants is that it supports txt and XML files with support for archiving. With Google Shopping Engine one can manage multiple access levels and enables managing multiple accounts centrally.
Furthermore, with CedCommerce's Shopping Feed one can leverage the double product upload feature- manually or via FTP.
PRO TIP
Google Product Listing Ads:
Restrain using watermarked images

Avoid writing uppercase product titles

Inhibit using "free shipping" in your product descriptions
Bing Shopping
Bing.com is said to acquire 1.37 billion unique global visitors till date. Having been launched in the year 2015, one can easily access it in all the handy gadgets viz. PC, mobile, and gadgets.

Image Source: SimilarWeb
Just like every other Comparison Shopping Engines, Bing Shopping offers a comparison-shopping platform along with product listings appearing on the Bing search results pages.
Bing shopping on the other hand also provides a complete comparison of products information, prices and reviews of consumers as patrons hunt for specific products.
In order to get started with Bing Shopping, one needs to sign up for the Microsoft Advertising adCenter account (here).  

The fact that Bing Shopping has received great feedback on providing patrons with friendly results. Merchants must adhere that the product feeds won't be accepted during high-traffic shopping seasons.  
One may get a better insight of the data feed here.
PRO TIP
If you're submitting to Shopping.com, your results are also displayed and highlighted in Bing Search & Shopping pages

Rich Caption allows products to be displayed in organic search results

Bing is very likely introducing Paid Product Ads in the upcoming months.
Facebook Ads
Amused? Well, Yes! CedCommerce now enables you to exhibit your products globally with the Facebook Ads.
Needless to state the massive number of audience driven by Facebook. It accounts for more than 2.19 billion monthly active users.  

Image Source: SimilarWeb
You can leverage the product feeds via the double feed upload method i.e. FTP or manually.  
Moreover, the Facebook's Comparison Shopping Website comes with the inbuilt feature to eradicate your everyday issues.
Didn't you wish Auto Syncing of your products? Well, How about utilising the Bulk Upload Product feature?
Leverage several such features and do not miss the opportunity to diversify your eCommerce sales like ever before.
Instantly acknowledge the approval/disapproval of your product feeds. Moreover, get rid of finding the products for long tedious hours and discover all your search queries in seconds via the "Advanced Search Options". Get the FaceBook Ads.
Nextag
Nextag is renowned for assisting patrons to discover great deals on goods, real estate, travel tickets, event tickets, and coupons. With 455.94 k visitors per month, Nextag accounts to draw hoards of visitors on sellers website.  

Image Source: SimilarWeb
Moreover, with Nextag you can leverage three traffic-driving programs as follows:
-Display Rank,
-Marketing Message,
-Merchant Logo.  
Well, the additional perk with signing up on Nextag is that its requirements are currently less strict as compared to other shopping engines. So one can efficaciously list items like adult accessories, prescription drugs etc..  
Moving ahead with Nextag, we know that credibility matters a lot. However, in the world of such tough competitions, you need to be a step ahead of your fellow rivals.
The fact that Nextag Shopping Engine enables you to receive reviews from customers boosts your visitor's conviction and encourages them to shop from your website.
The Rate Of Investment (ROI) Optimizer assists you easily track sales and conversion rates on the Nextag website.
Moreover, the Nextag Shopping Engine enables you to create intricate shipping rules using the advanced interface.
PRO TIP
Nextag uses bid ranking program to display products. Thus, setting maximum CPC (Cost Per Click) bids on your topmost selling products may get you the highest rank possible and beat the competition.
Shopping.com

Shopping.com is said to draw over 1.05 million visitors per month. It is a part of the eBay commerce network and drives over 8 million online visitors every month.

Image Source: SimilarWeb
Shopping.com brings you the opportunity to advertise your niches using targeted ad placements on Shopping.com and its partner websites such as Bing and TheFind.
Shopping.com demands a minimum monthly budget of $100 to get started and offers a free ROI Tracker and Survey Tool.
The next profitable part with Nextag Shopping Engine is that it enables you to have a watch on your competitors' top bids.
The shopping.com team provides you free ROI tracker to measure the performance of your bids along with its conversions.
Having been owned by eBay, Shopping.com got partnered with Bing Shopping and Google Shopping. Hence, enabling you to widen your products outreach to a larger audience.     
Shopping.com is also above-the-fold for its Value-Based-Program (VBP). The program is aimed to secure merchants with high-quality traffic on Shopping.com.  
PRO TIP
Shopping.com works on a value-based pricing model, wherein the bids are adjusted based on the quality of traffic. In order to get listed in the shopping.com "Sponsored listings" section. One needs to sign up with Google AdWords.
Shopzilla

Shopzilla recently partnered with Google Shopping, which implies that your product listings would be shown on Google Shopping along with Shopzilla.
With 1.15 million visitors per month, Shopzilla remains to be one of the TOP Comparison Shopping Engines.

Image Source: SimilarWeb
Rather famous for assisting shoppers to find unique merchants and sales. Being on Shopzilla enables your product feeds to get featured in Bizrate and Beso.com. Bizrate being a reputable and merchant rating company helps you in driving huge traffic to your website.
Shopzilla aids you with the facility of bidding at three levels respectively:
-Category,
-Sub-Category,
-Product Level.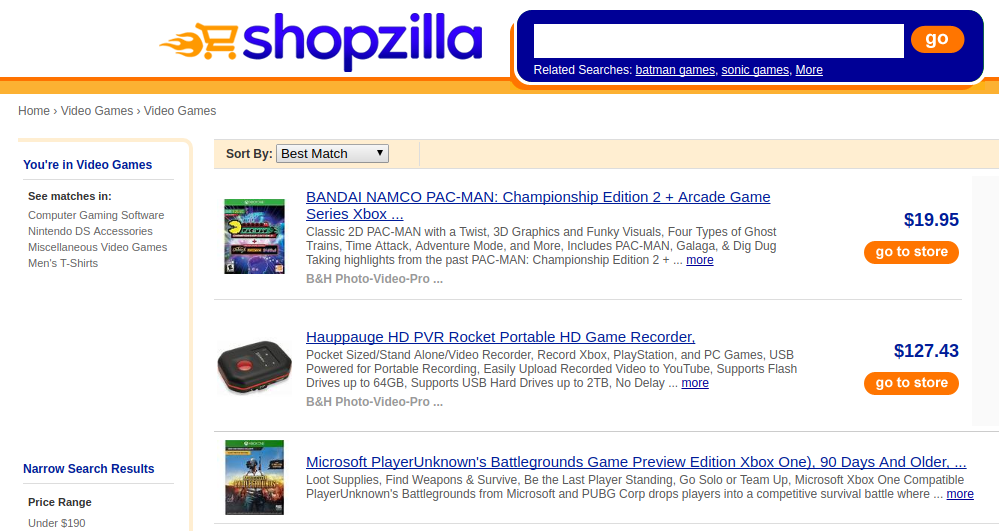 Shopzilla utilizes a smart pricing model where CPC is adjusted based on the traffic quality of the website.
Shopzilla asks for a minimum bid of $4 for all products. However, you are charged $0.01 more than the next highest bid in a given subcategory.
PRO TIP
Shopzilla encourages images of the range 200 pixels * 200 pixels to 1000 pixels * 1000 pixels.
PriceGrabber
PriceGrabber is yet another well-known Comparison Shopping Engines' website great for all kinds of product listings.
Said to attract 533.34k visitors/month, PriceGrabber features no minimum bidding model. Hence, shoppers are free to pay as low as 1 cent for poorly converting niches.

Image Source: SimilarWeb
PriceGrabber makes it possible to boost your business' visibility. It confronts product prices and offers weekly specials, coupons, and top searches.
The fact that PriceGrabber has partnered with Yahoo! Shopping, AOL Shopping ads, and Google Shopping enables the merchants to widen the outreach of their products on a larger level.
One can precisely target Spanish-speaking customers with PriceGrabber.
PriceGrabber offers three bidding source options respectively-
-Bid via feed import,
-Bidding Tool,
-CPC rate card value.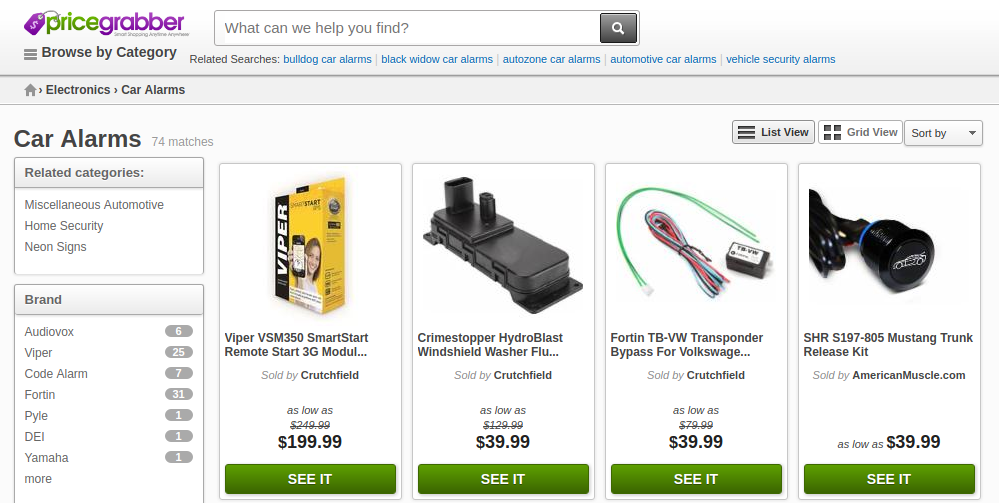 In order to accumulate more heed, PriceGrabber has a lot of media options viz:
-Banner Placements,
-Featured Merchant,
-Featured Products,
-Category Showcase.
PRO TIP
With PriceGrabber, the merchant can put forward the same file as the one invented for Google PLA.
Amazon Product Ads
No! It is not the Amazon Marketplace we are dealing with. Rather, you can find the Amazon Product Ads for your product advertisements.
Catering more than 44 million customers each month, these product ads include the Tower Ads, Search and Browse, Detail Page and Buy Box.
How can you get your ads displayed on Amazon Product Ads?
To get your ads displayed on Amazon Product Ads all you need is to set up a Central Seller account. Next, you need to assign a daily budget along with the minimum bids.
There is no denying the fact that Amazon is the King when it comes to driving traffic.
The better part with Amazon Product Ads is that it allows merchants to list and advertise the products which are barred from being listed on the Amazon Marketplace.
Moreover, it also provides you suggested bids to assist you to bid sensibly.

Amazon Product Ads has an effortless bidding system where the niches are segregated on the basis of product categories. These price categories are further divided into three different ranges in each category.
PRO TIP
Amazon Product Ads increases product visuality and helps in driving relevant customer by using at least five keywords which best defines each product.      
Sign Up and get $50 fee click credits with Amazon Ad Products here.
Pronto
Unlike other Comparison Shopping Websites Pronto has one main site and four niche sites for different uprights such as technology, home, kids, and style.
With 4.61 million visitors/month, Pronto users keep looking for low-priced bargains.   

Image Source: SimilarWeb
All your product categories need to have a minimum CPC bid in order to advertise products on Pronto. All you need to do is add some funds to your account, it is then when your products go live.
One can exemplify their brand trust with the permanent logo placement.
Pronto tenders to feature Placement and Sponsored Listings for products to gain more clarity.

The additional perk with Pronto is that it leverages you with Coupons and Offers. Hence, drawing huge customers to your website.  
PRO TIP
Submit the product level bids in the feed file and it will override the category level bids.
TheFind
Being a free Comparison Shopping Website, TheFind asks for no money to be spent on advertisement.
TheFind's Upfront Merchant Program assists you to attain more visibility and highlight your products in their results.  
Being free, TheFind asks for no set bid amount or budget. When speaking of the feed file, it accepts the same feed file as the one accepted by Google Merchant Center. Moreover, it can be upgraded to be an Upfront Merchant anytime.
TheFind mainly targets lifestyle products such as apparel, fitness, kids and family, accessories, health, beauty and more. The image from Volusion helps us in getting a better insight of TheFind.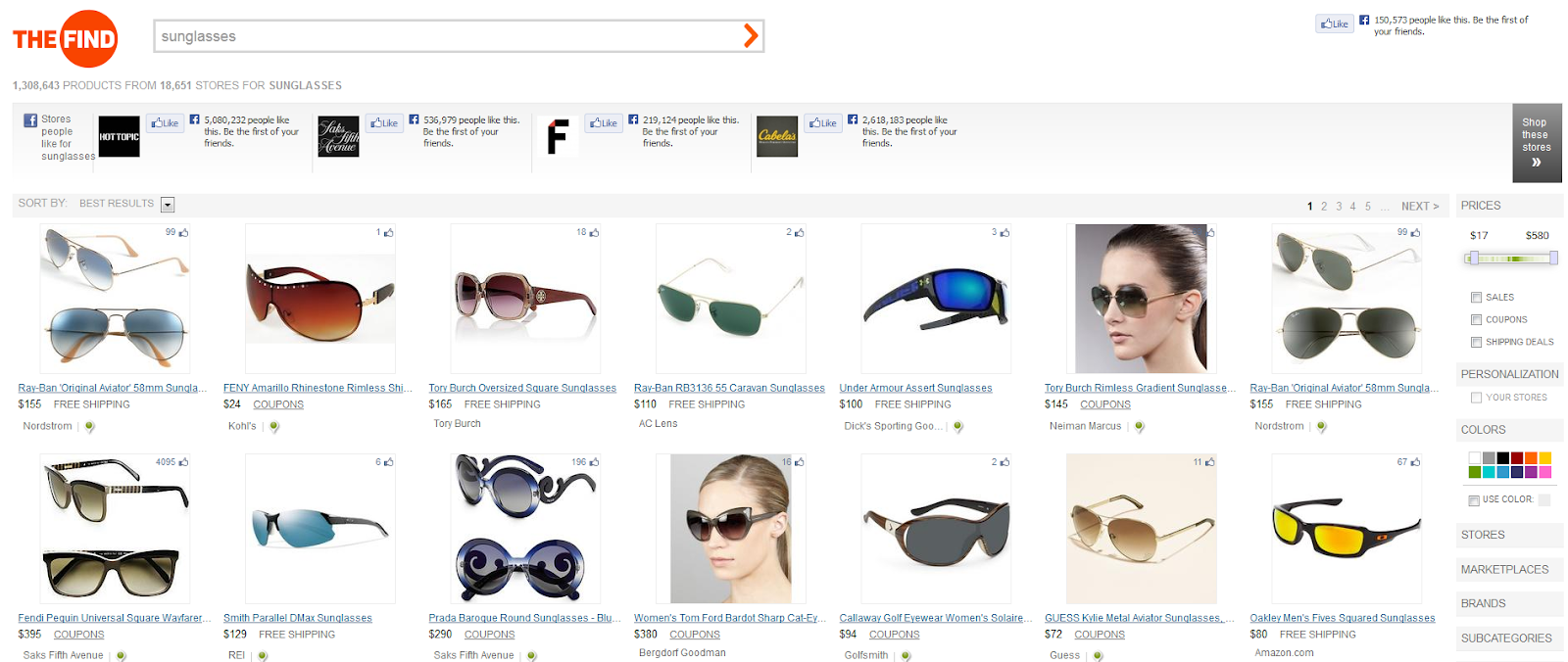 TheFind's prior mission is to assist every shopper to discover exactly what they are looking for along with assisting every merchant ranging from large to small to reach larger traffic.  
PRO TIP
It only accepts Google Product Listings Ads in XML or txt format. It is also advisable to send images of larger size in order to gain better placement. 
Become

Become caters shoppers with the capability to collate prices, go through the product reviews and articles, take part in forums and explore the best price deals online.
Become asks for a monthly budget and minimum CPC bids in order to advertise.

Image Source: SimilarWeb
The free ROI tracker helps you see your sales. Furthermore, you are free to bid on the category, sub-category or product level.
Also that you can use several keywords in order to gain more exposure.

You must adhere to the fact that Promotional Text is not free, rather costs at least $0.05.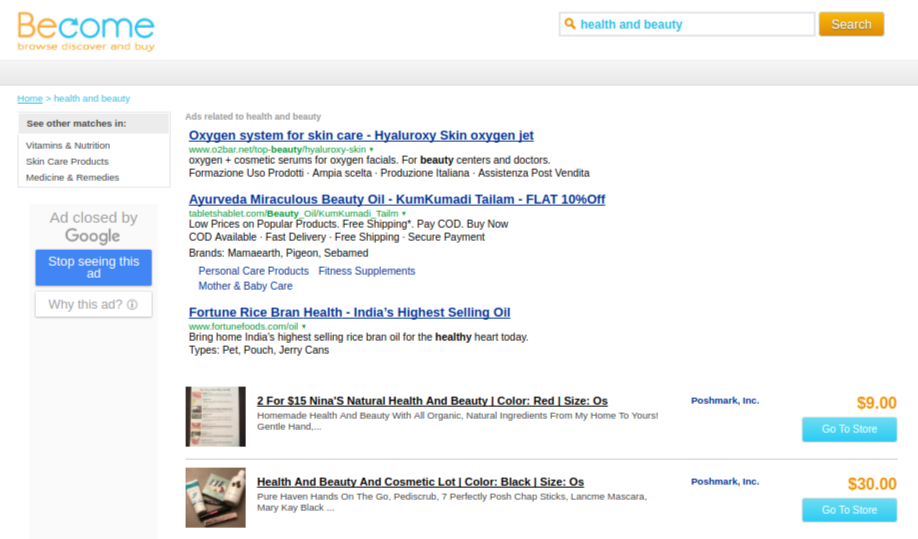 Looking for logo placements on Become Comparison Shopping Website?
Well, you need to bid for more than $0.05 more than the category minimum bids.
PRO TIP
You can boost your reliability by joining the Become's Trusted Merchant Program. A valid SSL, valid contact info and two major credit cards are required for joining the TMP.  
A Final Word
With so many eCommerce giants in the arena, it gets tougher to hold on to the topmost place. On the same note we are you don't wish to be left behind– Do you?
Comparison Shopping Engines are as imperative for your eCommerce website as keys are to Cars. You surely want to draw hoards of newer customers to your website every day. How about giving it a luck with our TOP Comparison Shopping Engines?
Know more about CSEs here.
Not every shoes fit all lengths, so pick any of the Comparison Shopping Engines that best suits your eCommerce category and get started today.
When are you planning to get listed on the aforementioned Comparison Shopping Engines?