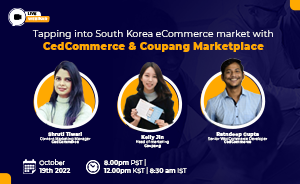 Entangled in the complexities of cross-border selling? We've got something for you! Recently, CedCommerce joined hands with Coupang- a Leading Online Marketplace in South Korea, to open the gates of cross-border selling for merchants all around the world.
While the Cross-Border Selling market is at its peak, the holiday season is knocking on the door! Furthermore, the collaboration between the two eCommerce visionaries seeks to fill the gaps in the South Korean eCommerce market. Additionally, a whopping 18.1 million active audience waits expectantly to enjoy international brands and products.
Moreover, this Webinar is a joint effort of CedCommerce and Coupang, to educate merchants and create a frictionless eCommerce environment in the South Korean eCommerce market. For this purpose, our experts will take you through the intricacies of cross-border selling in eCommerce and envision you with expert ideas to boost your sales as well.
A Quick Highlight of all the important eCommerce aspects that will be discussed in the webinar:
To begin with, South Korea's Current eCommerce landscape – Hurdles, Underlying Opportunities, Optimization Strategies, and Consumer Apprehension
Coupang's Leading Popularity- Endowed to become the third largest eCommerce market by 2025.
CedCommerce's contribution in bridging the gap between Cross-Border Sellers & Buyers – What-How-Why!
Besides that, insights into the Festive trends of the eCommerce Industry
Syndicating your listings on Coupang with Coupang WooCommerce Integration by CedCommerce
Additionally, learn to muster multichannel capabilities to empower your business with CedCommerce
Last but not the least, LIVE Interactive QA sessions – Ask the Experts!
Learn From the Experts:
Our Guest: Kelly Jin, Head of Marketing at Coupang Global Marketplace
Host: Shruti Tiwari, Content Marketing Manager, CedCommerce
Speaker: Ratndeep Gupta, Senior WooCommerce Developer, CedCommerce
Save the DATE & TIME
Date: 19th October 2022
Time: 8pm PST| 12pm KST| 8:30 am IST
Register TODAY!
Participation in LIVE Q&A Session
FREE DEMO Session
Grab this One-time Opportunity!
Also, keep an eye on your inbox for constant updates on the Webinar!
We'll be waiting for you!!
Real-quick insightful articles to help you know us better
CedCommerce x Coupang: Empowering merchants to sell seamlessly in the South Korean marketplace
Shoptalk Europe: CedCommerce Launches New eCommerce tools for merchants