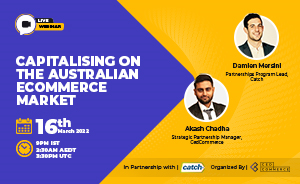 With more than 5 million households as active participants in online shopping, Australia has witnessed a massive growth in eCommerce sales. Merchants can benefit heavily by tapping into this opportunity, presenting their products to one of the largest shopping audiences. This webinar brings together CedCommerce and Catch to highlight the eCommerce potential of the Australian market and how online merchants can reach out to a larger number of shoppers.
The bonus would be to hear directly from our renowned guest Mr. Damien Mersini (Partnerships Program Lead from Catch) and Akash Chaddha (Strategic Partnership Manager from CedCommerce) who together point out the recent developments and particulars about the Catch marketplace.
This exclusive webinar revolves around how these partners are helping international merchants with their cross-border selling strategies and how they can overcome cross-border challenges. These solutions are sure to suit multiple frameworks and various business needs.
Here's what to Expect from the Webinar:
A detailed analysis of the Australian eCommerce sphere and the behavior of its native shoppers – buying preferences, average spends, and much more.
Insights into some key statistics and the best-selling product categories of catch.com.au
Ways to set up and syndicate your listings across the Catch marketplace.
The standards of customer service for online shopping in Australia. Ways to stimulate cross-border selling by matching these expectations.
A sneak peek into the festivities in Australia and the important holiday windows when the Catch marketplace gets a surge in orders.
The perks of becoming a Catch seller, the selling guidelines to be adhered to, the offers on hand – all about why joining the seller community in Catch could be a great decision.
You will be an Active Participant:
Join in for an open forum discussion regarding selling strategies, improvements to your cross-border operations, and much more. Get all your queries answered directly by the man himself, Damien Mersini – too good of an opportunity to miss out!
Our Expert Speakers for the Webinar:
Our guest: Damien Mersini, Partnerships Program Lead, Catch
Host: Akash Chaddha, Strategic Partnership Manager, CedCommerce
Join us on
Date: 16th March 2022
Time: 9PM (IST) | 2:30AM (AEDT) | 3:30PM (UTC)
Few Insightful Reads from CedCommerce about the Marketplace:
Catch Marketplace – Complete Guide to Optimize Listing for High Visibility
Cedcommerce Unlocks the easiest way to sell on Catch Marketplace