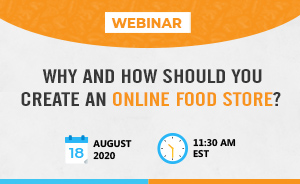 There has been a high surge in the number of online food delivery platforms in the past few years. But the year 2020 is witnessing a significant increase in the demand for Online Food Delivery Stores, as an impact of COVID-19. Cedcommerce is going to host a webinar on "Why & How Should You Create An Online Food Store?" on August 18th, 2020 at 11:30 AM EST.
Why must you join this Webinar?
If you are that business-minded person who is curious about the growing market, we have a lot more for you to learn via this webinar. Or even if you are starting a new online food store marketplace or you're the one who wants to move their food store business online, this webinar can really help you find the answers to your queries and can resolve your confusion.
In this webinar, we will be covering what you need to know about an online food store business. You'll find the latest trends and innovations in the online food store industry in this webinar. Not just this, we will also be throwing light on the challenges faced by businesses in the online food store industry as well as their solutions. For entrepreneurs and businesses, it's essential to monitor the fluctuations in the online market and strategize as per the trends and shifts in consumer behavior.
Agenda of The Webinar
The remarkable benefits of moving your food business online.
Impact of COVID-19 on online food stores.
A fair comparison between online and offline food portals.
Essential features that you must include in your online food store.
Step by step journey to creating an online food store.
How CedCommerce can help you with setting up your online food store.
Speakers
The speaker of our webinar is Vikalp Saxena, Senior Software Developer at CedCommerce, and the event will be hosted by Mahek Tandon, Content Strategist at Cedcommerce.
Additional Benefits of Joining This Webinar
Get answers to all your queries regarding the online food store business.
Tips driven from the webinar dropped straight in your mailbox.