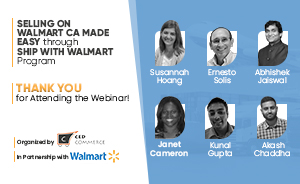 Around 14 Million Canadians browse Walmart.ca every month. If you're a US-seller who's not selling on Walmart Canada Marketplace, that's a lot of business potential to miss out on!
For US-based small and medium businesses, shipping to Canada can be a little tedious. The hassle to ship cross-border, coupled with sky-rocketing excise and shipping costs, only add to the total cost of doing business in Canada. However, with Walmart's new Ship With Walmart program, US-based merchants can easily ship their product to the maple country!
This webinar explores the Ship With Walmart Program, allowing US-based merchants to ship their products to Canada. Ship With Walmart offers two distinct services- Express and Ground.
Two different shipping methods allow Walmart.ca sellers to choose between a door-to-door and hub-to-door service at heavily discounted rates.
Why should you watch this Webinar?
Understand Ship With Walmart Program and enjoy discounted rates to ship smarter across the border.
Hear experts talk about what selling on Walmart Canada Marketplace is really like.
Learn about promoting your products more efficiently.
Understand how to set-up your Walmart Canada seller account seamlessly.
Learn more about our unparalleled 3rd-party support that'll help you pave your way in the new marketplace.
Webinar Agenda:
Walmart and CedCommerce will co-host the webinar. It will help you understand the Walmart Canada Marketplace, the Ship With Walmart program, and give you an insight into CedCommerce as well as the Integration Solutions we offer.
About Walmart Canada Marketplace
Speaker: Kunal Gupta – Senior Manager, Business Development & Partnerships, Walmart Canada
Promotion opportunities
Speaker: Janet Cameron – Business Manager, Marketplace Category Management, Walmart Canada
Ship With Walmart
Speaker: Susannah Hoang – Director, Seller Services, Walmart International
Speaker: Ernesto Solis – Senior Manager, Seller services, Walmart International
About CedCommerce
Speaker: Abhishek Jaiswal – CEO, CedCommerce
CEDcommerce-Walmart Canada Integration
Speaker: CedCommerce Team
Shopify Plugin
Speaker: CedCommerce Team
Learn all about SWW and start selling on Walmart Canada hassle-free. Watch the webinar NOW!
Organized by CedCommerce in partnership with Walmart