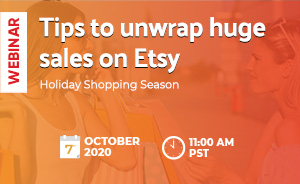 Hurray! The holiday season is right around the corner! This time of the year is full of festivities, celebrations, and of course, a lot of shopping!
This year, due to the pandemic, we have witnessed a new normal every day.
What remains unchanged is our festive spirit!
What's coming up?
A long list of occasions to target.
Heightened demands for all sorts of products.
A grand opportunity for sellers to grab.
Etsy has managed to attract buyers searching for uniqueness and remarkability since its inception in 2005. The platform that sells millions of handcrafted, exceptionally designed, and vintage products will be a go-to place for people looking for unique home-decor, purposeful gifts, and other personalized extra-ordinaries this holiday season.
"Notably, Etsy has welcomed a record-breaking number of buyers and sellers in 2020 so far, and an incredible increase in sales and revenue."
We anticipate the sellers to see a positive impact of Etsy's growing numbers on their holiday season sales. But unfortunately, not without the right practices and preparedness!
We're bringing you yet another exclusive, in-depth webinar. Through which we will be delivering an astute analysis of the holiday season planning and how to make the most of the grand opportunity!
What's in there for you
Overview: Holiday Shopping Trends
An insightful Holiday Season Calendar
Proven tips on Store Optimisation during the holiday season.
Best practices to follow for the Big Season Sales
Festive Marketing Analysis and Tricks-n-Tips
Much more to take away in the bundle!
Join along with us for the webinar: Tips to unwrap huge sales on Etsy: Holiday Shopping Season on 7th of October at 11:00 AM PST.