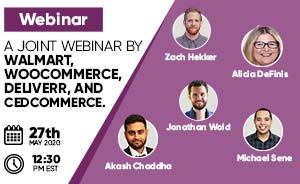 Expanding your WooCommerce store through selling on Walmart.com
A joint webinar by WooCommerce, Walmart, Deliverr, and CedCommerce.
The unprecedented challenges in the past months have led businesses to adapt to tremorous shifts while managing the supply and demand to meet the substantial shipping disruptions.
Here at CedCommerce, we are doing every possible thing to help retailers make the most of the underlying opportunities.
As shoppers are buying more essential items, possibilities are that you have already stepped into the eCommerce world, and if not, you are certainly missing out on something.
Building up an online store or scaling your products via a reputable marketplace with the best shipping carrier is no small feat, especially during a global crisis. At times, all you need is a little push to your way forward.
Hear it from these four brands who are contributing equally to help you excel in the new normal.
From WooCommerce
Introduction to WooCommerce, how to succeed on WooCommerce, basic principle to keep in mind while setting up a WooCommerce store. 
From Walmart
Introduction to Walmart marketplace US, prerequisites for sellers, why should you expand to Walmart, opportunities, popular selling categories, and more.
From Deliverr
Introduction to Deliverr, why Deliverr, how is Deliverr helping retailers at this time of pandemic, how can you win the fulfillment game through Deliverr.
From CedCommerce
Introduction to CedCommerce, setting up WooCommerce store, onboarding steps on Walmart marketplace, quickly integrating your WooCommerce store with Walmart.com,  simplifying fulfillment through Deliverr.
Join us on
Wednesday, May 27, 2020.
12:30 PM EST (10:00 PM IST)
Organizer
CedCommerce
Co-hosts
Speakers