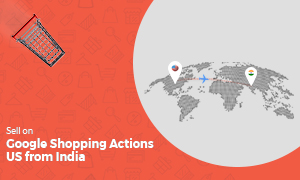 Google Shopping Webinar: April 29, 2020
Google is organizing an Inaugural Google Shopping Forum to educate Indian Sellers in the intricacies of Cross Border eCommerce Trade from India to the US. This is an invitation-only event.
With the ever-evolving Google Shopping Actions, Sellers always have something brighter to look up for. Now sellers in India have the opportunity to sell their products to customers in the US with Google Shopping Actions US. Learn all about the process and opportunities to make the best out of it.
CedCommerce, being the Official Channel Partner of the Google Shopping Actions, invites you to come and join us in the Webinar, alongside Google. For more on Agenda, look below:
From Google:
Introduction to Google Shopping Actions US, opportunities, challenges, policies, prerequisites, legal entailments, and overall operation for Indian Sellers.
From CedCommerce:
Introduction and partnership with Google, description of the Automated and Synchronized selling process through Framework specific solutions for Feeds, assistance in setup, and onboarding.
From Gxpress:
Introduction, description of Cross Border Shipping challenges in selling on Google Shopping Actions and solutions to ease the process of shipment between India and the US.
FAQs
Indicative Schedule and Details:
Wednesday, April 29, 2020.
4:00 PM to 4:45 PM IST (45 Minutes slot)
Organizer:
Google
Associate Partners:
CedCommerce (Integration and Feed Partner)
Gxpress (Shipment Solution Partner)
Speakers:
Google: Manas Roy
CedCommerce: Akash Chaddha
Gxpress: Praveen Vashistha