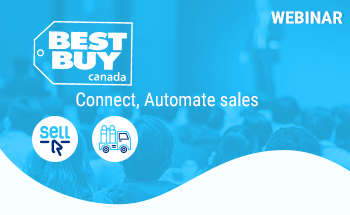 The first Best Buy Canada stores were opened in the year 2002, with eight locations in the Greater Toronto Area. However, today it has expanded to over 200 stores across Canada. Best Buy Canada is a highly trust-able marketplace and is familiar among 99% of Canadian explorer the criteria for API-based integrations and learn how to connect and automate sales at Best Buy Canada and improve shipment management processes to ensure fraud protection under current regulations.
Five best reasons that state why Best Buy Canada is a must:
Does not demands any set-up fee.
It offers you with the methodology of fraud protection.
Best Buy Canada decides the region.
It owns the shipping policy.
Proves to be helpful for the sellers to grow their audiences.
Details:
December 28th, 2017 at 10:30 IST (12:00 pm. EST-Toronto, Canada Time).
One hour duration
Speakers:
Akash Chaddha – Business Program Manager