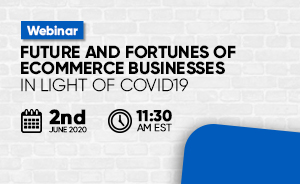 Businesses across the globe, regardless of their scale have been impacted in some way or the other during COVID. The current situation calls for businesses to respond quickly and in such a manner that not just ensures stability but also sets a positive premise for the future.
With social distancing becoming the new normal, people are largely shifting to digital means in order to fulfill their requirements that otherwise would have been taken care of by physical shopping outlets. This means businesses almost mandatorily need to be available for their customers online if they are looking at a promising future.
What does this mean for businesses that have limited to no online presence? Do they need to make the shift to the web? If yes. Would they need to evolve with the changing customer demands? What products should they focus on selling? All this and many more questions like these need to be answered.
In order for all this to make sense here is a small initiative by CedCommerce. In our upcoming webinar, we're going to deliberate on the changing industry trends and figure out the businesses that are on their road to success even in times of pandemic. We'll try to understand the impact of COVID on the eCommerce industry as well as discuss the businesses that are blooming. Their growth trends across the world and the potential these sectors hold for budding entrepreneurs.
Agenda of the webinar:
How businesses are getting impact during COVID
The diminishing gap between offline and online
Degrees of impact on different sectors of eCommerce
Businesses blooming during COVID
How can CedCommerce help business owners
Don't forget to catch the webinar "Future and Fortunes of eCommerce businesses in light of COVID19" on 2nd June 2020 at 11:30 am EST.