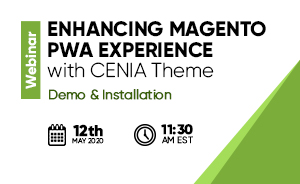 Get familiar with the approach towards improving the overall Magento Experience and let us walk you through our CENIA theme based on Magento PWA. This will be followed by the prerequisite, introduction, documentation, demo & installation of CedCommerce Cenia Theme. 
PWA is more reliable, and a future-oriented approach and how CedCommerce is working on this to make it a worthy and valuable experience. Not just this, there's a lot more you can learn. We're here to make you familiar with:
Introduction to Magento PWA Technology
Current trends of the eCommerce industry about PWA
Live Installation & Demo of CedCommerce Cenia PWA Theme
How CedCommerce is working on Magento PWA?
How Cenia Theme is Improving the Magento Experience?
Our speaker of the webinar is Vikalp Saxena, Senior Software Developer at CedCommerce, and the event will be hosted by Ketan Mishra, Production Head at CedCommerce.
Don't miss our webinar on "Enhancing Magento PWA Experience with Cenia Theme – Demo & Installation" on May 12th, 2020 at 11:30 am. EST.
Watch our previous webinars on PWA and how it influences the future of eCommerce: