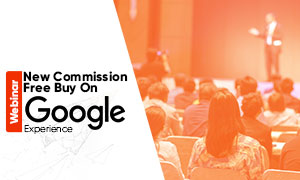 With exciting changes from Google to help businesses come out strong amidst the pandemic, here is another amazing opportunity.
CedCommerce is hosting a webinar in partnership with Google to highlight all the amazing advantages of free product listings on Google and the new commission-free "Buy on Google" exclusively for US sellers.
E-commerce is witnessing tremendous growth as the end of the pandemic is nowhere in sight. More and more stores are looking forward to digital transformation and Google understands the market better than most.
In light of these changes, Google now allows sellers to list their products for free and get incremental free traffic on their websites. Sellers do not need to pay for the clicks on these products as opposed to the way Google Ads work.
Additionally, sellers on Google Shopping Actions have the opportunity to sell from a platform which is absolutely free. Selling on Google is now commission-free and has a bunch of exciting new features and functionalities.
Register and Attend the webinar to earn a 20% discount on Google Shopping Solutions from CedCommerce.
Grab this opportunity to learn more about the strategies and benefits of selling through Google Shopping with:
Speakers
1. Aatish Motwani, Global Partnerships Manager with Google.
Agenda:
New Commission-Free Shopping Experience on Google
2. Akash Chaddha, Strategic Partner Expert with CedCommerce.
Agenda:
Role of CedCommerce as the official Feed partner in the unpaid experience.
Indicative Schedule
September 16, 2020
10:00 am CST