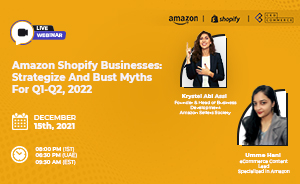 How did your Amazon Shopify Business do this Holiday Season? It is the end of the year, only a few Holidays, although significant ones are left and 2021 is ready to leave us real soon. While it is well known that over 25% of the annual sales take place during the time between Thanksgiving and Christmas, the rest of the year speaks a different story.
The whole year is full of various dynamics, and it is only at the very beginning of the year that you have to strategize your entire year and plan your budget. With clear foresight, an intelligent business strategy is to understand and organize every aspect of your business for the highs and lows of the year. To better comprehend what you can do for your business before 2022 reaches you, become a part of this action-packed session with Industry experts.
What is there to look forward to?
For your Amazon Shopify Business, it is already time to strategize for Q1-Q2, 2022. This webinar is going to help you come up with a powerful plan to execute for months other than Holiday Season when sales are not as easy. Consider this chance to connect with Leading Industry experts who will walk you through what should be done to optimally utilize the time between January to June for constructing your business. Understand trends, gather actionable insights, and rid yourself of some of the common myths about the Slowest eCommerce months of the year while selling on Amazon from your Shopify Store.
Get your questions answered and grab the unique chance to get customized business consultation with our experts.
Additionally, indulge your minds in a short discussion about Amazon by CedCommerce, the native Shopify Sales channel app that is empowering so many Amazon Shopify Businesses like yours.
What do you get out of this?
Walk away with an actionable plan and a ready to execute agenda for your upcoming year. Here's everything you will get out of this session with CedCommerce:
Early Best practices to optimize your sales on Amazon this 2022.
Strategy to make your multi-channel Amazon Shopify Business hassle-free.
Discover the high and low points of the year for eCommerce and how to deal with them.
Get answers to your queries from leading industry experts.
Who are these Leading Industry Experts, you ask?
>Krystel Abi Assi,
Founder & Head of Business Development,
Amazon Sellers Society
Krystel has more than 8 years of e-commerce experience. Currently, she is the founder and CEO at Amazon Sellers Society and Sellers Society based in Dubai, UAE and Tallinn, Estonia. She is also a certified Blue Ocean business strategist from INSEAD university and an international speaker and is widely regarded as an industry expert who is asked to share actionable intelligence on how Amazon works and how sellers can improve their business.
Agenda:
Tips & Best Practices To Scale Business On Amazon in Q1-Q2, 2022.
Busting The Common Myths About Selling on Amazon during January-June.
>Umme Hani
eCommerce Content lead,
Specialized in Amazon
Umme Hani has been devoted to offering intelligent Business Strategies and Executable Plans to Multi-channel Sellers across the globe. She has been using Content as a platform to spread maximum consciousness among sellers and make selling online effortless for years now. Hani Specializes in Amazon, Google Shopping, Walmart, and Shopify.
Agenda:
Actionable Strategies for High and Low points of the year in the eCommerce Industry.
Handling a Multi-channel eCommerce business on Shopify and Amazon hassle-free.
Content Strategies for your successful business.
When to join us?
Please register yourself to attend this Webinar with CedCommerce, while there is still time left for you to organize your plans. Join us for the live session on:
Wednesday, December 15, 2021.
8:00 PM IST
6:30 PM UAE
9:30 AM EST