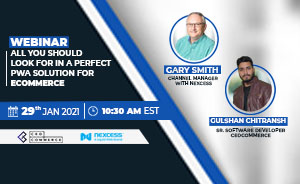 Why must you join this Webinar?
According to Statista, total smartphone users in 2021 is estimated to reach the mind-blowing number of 3.8 billion worldwide. This means that many potential online shoppers. As mobile shopping is on, PWAs are taking over. Owing to the matchless experiences PWAs deliver it is proving to be a fast emerging trend.
We're coming up with a webinar on – "All you should look for in a perfect PWA solution for eCommerce" on 29th Jan 2021, at 09:00 PM IST & 10:30 AM EST!
Join us to dig deeper into the why's and how's of deploying PWAs.
Agenda of the Webinar
What is PWA?
Why Should We Care about PWA?
What are the obstacles to implement?
Key factors for the PWA Solution
The business cases for PWA implementation (i.e. what business situations really benefit from PWA)
How Nexcess supports PWA
CedCommerce's hands-on experience of working with PWA
Speakers
The speaker of our webinar is Gary Smith, Channel Manager with Nexcess, and Gulshan Chitransh, Senior Software Developer, CedCommerce.
Additional Benefits of Joining This Webinar
Offer from Nexcess: 25% off for 3 months on Magento Hosting for New & Returning customers on all packages.
Offer from CedCommerce: 25% off on Magento 2 Cenia Pro PWA Theme.
Get answers to all your queries regarding PWA and its implementation.
Insights from the webinar dropped straight to your mailbox.
Note: Offer coupon code details will be sent to registered users through the mail.
Watch our previous webinars on PWA and how it influences the future of eCommerce: