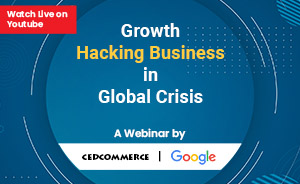 Growth Hacking Business in Global Crisis
By now you must be brunching and eagerly waiting for this webinar, featuring the collaborative efforts of the marketing experts from Google and CedCommerce. Disclosing the tips and tricks to sustain, adapt, and streamline your marketing efforts, amidst the much-known crisis.
The crisis, with a blend of the ever-changing business needs and shopping experiences, their suitability, the adaptability, and the aerodynamics needed to sustain your marketing strategies, need guidance. The analysis of the search engine marketing trends, the structuring of your Google Ads accounts and the overall campaign optimizations, enriched with the best practices for achieving higher returns on ad spend, and the overall revenue growth eventually, you would certainly not miss a ray of hope, to avoid a stumble
Notable aspects and actionable insights waiting for your Business to Breakthrough!
Shopping Campaigns best practices during the current environment.
Ways to cope with the increase and decrease in demand in the current global scenario.
A comprehensive 360-degree and a versatile Marketing approach with the Campaign selection suited for better current and future performance when the market stabilizes.
How to focus on sustaining the already Running Campaigns with a thorough competitor analysis, analyzing the CPC, and the measurable ROI and ROAS.
How CedCommerce plans to help businesses during the crisis and beyond.
Personalized Marketing Playbook focused on crisis and how to plan competitive growth when the market stabilizes (FREE).
Details
Date: Tuesday, May 12, 2020 Duration: 30 min Time: 11:30 am EST (9:00 PM IST)
Speakers
Mr. Vivek Sharma
Account Manager, Google India
Mr. Shekhar Goswami
Google Ads Expert, CedCommerce