What is the importance of brand visibility and what can you do about it?
Running short of time? Get PDF of the blog in your mail.

Play Now
In the era where disappearing is easy, building brand visibility is more challenging. To realize the importance of brand visibility, you need to be extra attentive.
The way you see your brand and the way others see it makes the real difference. To ensure that others see your brand exactly the way you want them to see. It's important to work on brand visibility along with its awareness.
There are tons of ways out there to improve brand visibility. From video marketing, influencer marketing to any other form of digital marketing, options are many. But choosing and working on what serves the best for you will make all the difference.
In the following blog, we are going to see what is the importance of brand visibility and what you can do about it. The aspects addressed in the blog include:
Brand visibility varies across platforms. The following image might give you a heads up for the same.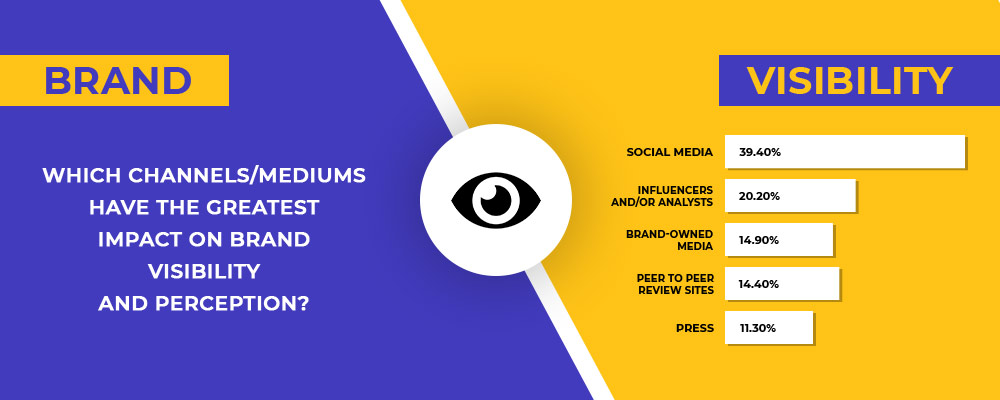 The above illustration focuses on the varied ways businesses use today: the central aim being visibility among viewers. Social media does take a large share. But the contribution from the remaining mediums also needs focus.
This is a heads up about the impact created, but now, we will be dealing with;
What is brand visibility?
In simple terms, it talks about the extent to which consumers recognize a brand. It is an aspect of brand perception, i.e., the consumer's feeling towards a brand.
For a layman, it would mean marking a presence around, through any platform that appeals to them.
But what is in your brand that you want to make visible? Doing random activities to stay afloat in the visibility circle won't make a difference. You need to question yourself about what your message intends. If it's mixed or not appealing to you. Why would anyone else pay heed?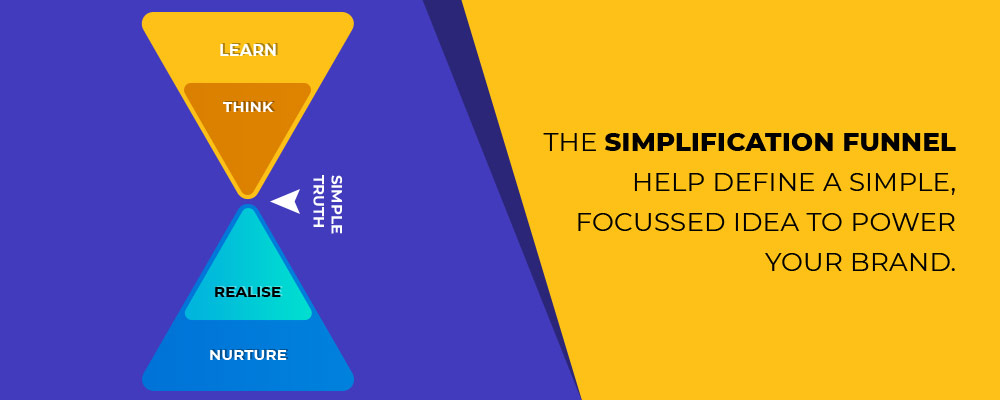 Take steps towards "brand visibility" and not only visibility. There are a lot of ways by which your brand visibility gets affected.
Proper keyword research and planning is the first step to get closer to your customers. That's where you connect with their wants. Your lack of direction will lose you, customers.
Need assistance?
You will end up being everywhere but nowhere. You can make use of tools like keywords everywhere, google ads keyword planner and Ubersuggest. These are some of the widely used tools while a lot more is available. When you work towards planning the keywords keep in mind a few factors like
The search volume of that keyword
The relevance of that keyword to the topic
The relevance of that keyword in terms of user's search intention
Measure your brand's recognition among viewers. Use a brand recognition scorecard i.e., the ways that measures your brand's performance over a specific time frame and analyses your performance over various platforms. Be it social media or organic findings, everything is present in an organized manner.
Get consultation on your brand image. This will help you in finding what the customers think about your brand. You also get to know about the market reputation you carry across.
You can get in touch with brand consulting firms who analyze your market presence, and do a comparative study with your competitors. It is ideal to interview three to four firms and before agreeing to anyone check on their experience and deliverables when you narrow down on one.
Work over the brand design i.e., a uniform brand layout and tonality that would keep you distinct among the crowd. Approach an agency or a marketing firm to help you through this.
The most crucial thing, focus on the 'whole' of branding to answer the 'what' of brand visibility. Make considerations about;
refining your target audience,
their demographics,
research about the market and competitors.
Once you know what it is in its entirety, only then can you understand the importance of brand visibility.
Why is brand visibility important?
According to psychology, there is an aspect called the "Mere Exposure Effect." Where the more we see something or come across; we tend to like it. Repetitive reminders are important and impactful.
Timing your ideas for a specific launch is important. People will pay attention when they care about it. Be clear with your audience's sentiments when you make an appearance. The importance of brand visibility is closely tied to this consideration.
Brand loyalists are always important, but for growth, you need new consumers. To get them on board, you need to work on your visibility.
Your recognition amongst the target audience improves when you make them familiar with you. That's where your brand design comes in handy. People will associate more if they trust you. Trust develops when you show up.
But, here's an exception. Do not paste your suggestive logo anywhere and everywhere. At times, it becomes annoying for the viewers, and they often don't notice. Work on emotions, give something surprising, or anything that appeals to them. Their noticing is the key. Otherwise, everything falls flat.
The importance of brand visibility comes in light when set definite goals bring results. But make sure to call them towards you.
Our ideas often run across. We fail to rank this aspect as other responsibilities keep bouncing. Emphasis on brand visibility becomes crucial to stay upbeat in the circle of our viewers.
Indulging in the PR of your brand is a responsibility you should take. Viewers can wither in a jiffy. Measured practices will ensure consistency.
Since we spoke of consistency, taking up a well-planned marketing strategy is a precursor.
Above all, the quality of your content always speaks louder. Never compromise on that, as brand visibility will look fruitful when quality is in place.
You can't miss this now!
What can you do about brand visibility?
There are several ways at the moment regarding what you can do about improving visibility. Take a look at the following for achieving that much-wanted brand visibility.
Writing relevant blogs
You can bring relevance to your blogs when you are well-versed with the subject of dealing. To start with your blog,
Read and search for blogs that cater to your idea.
Always follow an introduction, elaboration and conclusion method while drafting.
Make sure to resolve something for your target audience in your blog, and stick to the subject.
Writing blogs not only adds credibility to your work but also directs the readers with steps of betterments they can take. Thus, including CTA's in blogs is also a must-have to help guide the readers. Just like the ones here. Blogs help the readers with the next step just like video cues help viewers.
This has been one of the most sought-after ways for improving brand visibility. Brands often take this route to spread awareness and establish credibility among their target audience. The trust people put in over a published content always outweighs sensationalism.
Leveraging your social media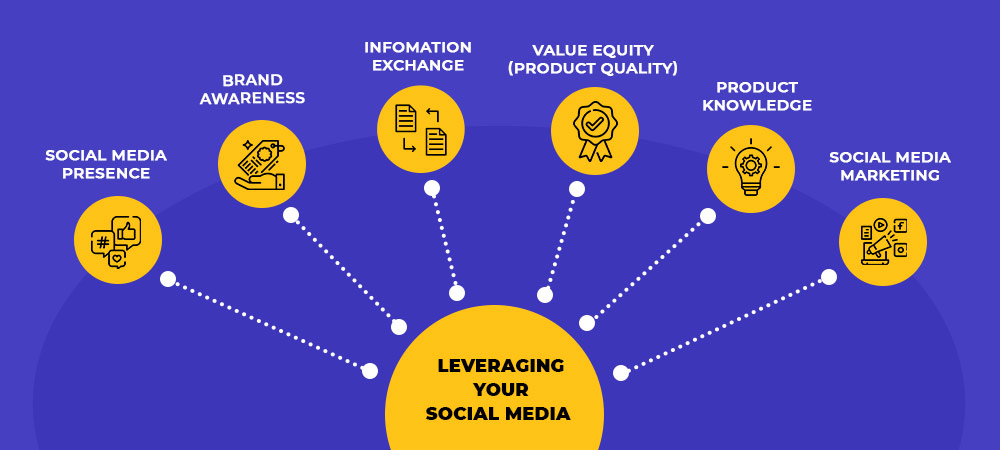 This image is according to the research findings of how and what works in social media. And how they improve the brand visibility.
The prime reason why brands are moving towards social media is their ability to engage. People get lured towards it because of the personal connection it offers. In addition to this, over the years, brands have strategized their movements on specific platforms. I.e., they have created a way to manage their investment.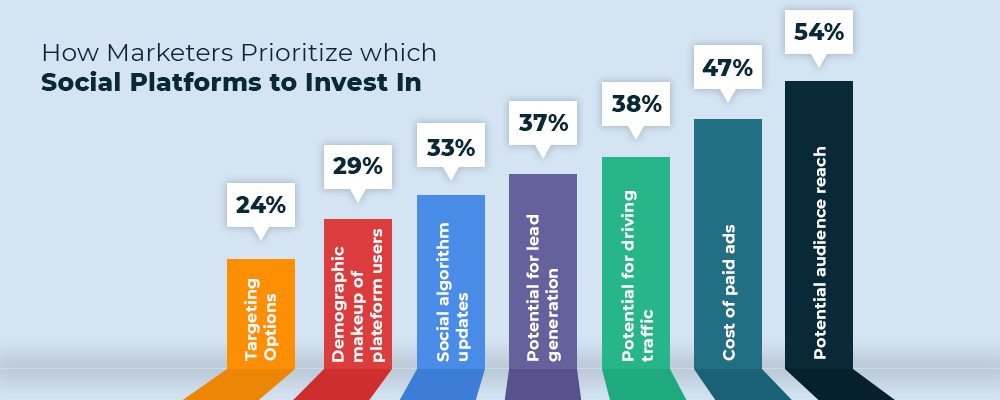 Even though they have simplified the procedure. There are a few annoying actions brands have been taking up on social media.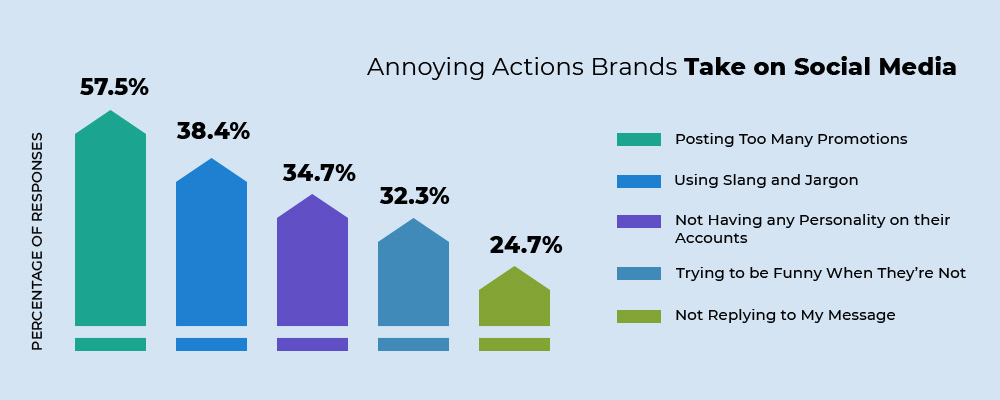 These actions have been predominant time and again. People end up muting the constant push on social platforms. Thus, diminishing visibility. Postings run on automation now, which has its own pros and cons. The timeliness might get maintained but often misses out on vigilant posting.
Create videos
Videos now multiply shareability by 1200% on socials.
The importance of brand visibility is growing manifold with video marketing today. Almost 99% of marketers are sticking to the usage for their business growth. It is now inevitable for improving your brand visibility.
Keeping in place a well-phased video marketing strategy will help you ace any platform. In addition to this, mediums like Facebook or Instagram have higher video consumption. Using plans that trigger emotions work wonders there.
91% of viewers now consume videos. Why?
They are more engaging,
provide massive reach,
ease-out tons of marketing challenges,
and, of course, serve the purpose of brand visibility.
Apart from the mentioned, another way can be giving away referrals or free products. This often lures the audience and attracts them towards the brand.
We are here to help!
Parting words!
I am almost concluding my thoughts on the elaboration I gave. My parting words would be to take brand visibility as a serious precursor for success. The more you dive in, the more you get! If doubts still cloud you, then approach an expert and learn about the importance of brand visibility!
Gear up now and never settle for the aim you have chosen. Create the journey with your best foot forward.