What Is App Maintenance and Why Is It Crucial For Your Business?
Running short of time? Get PDF of the blog in your mail.

Play Now
A report by Localytics reveals that about 80% of users abandon the mobile app. After a single-use within 90 days of installation. Astonished by the value? Well, it is a fact, and one of the major reasons for this is inconsistent and improper mobile app maintenance.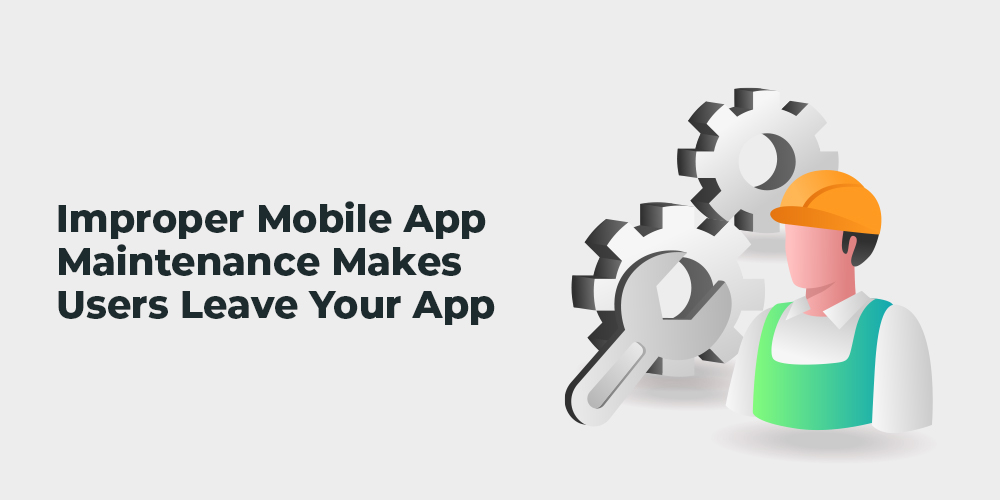 The competition in the online market is getting more fierce each day. And you cannot thrive in the market just by launching an app. But to stay ahead of the competition, you must be well acquainted with the recent technologies, market trends, and user feedback. So take regular feedback and inputs from your users to comprehend their issues and requirements. And upkeep and update your app regularly based on inputs gathered from your users.
Types Of Mobile App Maintenence
There are different types of mobile app maintenance. And there are majorly four types of app maintenance which incorporate the following.
Preventive App Maintenance
Preventive app maintenance focuses on eliminating or reducing occurrences of any errors or bugs. And ensure the smooth functioning of the application.
Adaptive Maintenence
As we already know, software technology is evolving with every passing minute. Adaptive maintenance incorporates all the necessary changes in the app that are required with change in time. And Certain updates and adjustments are made in the app's operating system, making certain hardware changes accordingly.
Emergency App Maintenance
As the name suggests, it is done when there is a sudden breakdown or error in the app. The errors or issues would be unexpected, unpredictable, and sudden. In this situation, the expert quickly fixes the issue and further enhances the app's functionalities.
Corrective maintenance
You can implement corrective maintenance to fix all the bugs, defects, or bugs in the daily function of an app. Including app errors, coding, and design.
Perfective maintenance
If you want to stand out in the competition. Then it is very important to update the features and functionalities of your app consistently. Your app must have the latest and trendy features to stay ahead of the competition. And for this, your app needs regular updates as per the market trends and user demands.
Also Read: What is App Churn? How to calculate and reduce the mobile app churn
Mobile App Maintenance And Its Importance
App maintenance is among the most crucial stages of the app development lifecycle. It helps enhance the app's services and features. And makes it as per users' requirements and expectations in the current digital environment. There are millions of mobile apps for every task. And it is very important to offer your customers a service that makes you stand out from others. So mobile app maintenance is a great way to build customer loyalty.
Identifying And Resolving Bugs
Unidentified and unresolved bugs could be the major cause of app failure, bad code, and poor user experience. Bugs in the mobile app can arise due to several reasons. These reasons incorporate change/modification in the software, hardware or app version upgrades, etc. The regular maintenance of the app can easily identify the mal-functioning areas of an app. And where the performance is degrading.
So to ensure enhanced and quality app performance, it is imperative to identify all the bugs and fix them all.
Turn Your Online Store Into A Fast, Secure, And High Performing Mobile App.
Increased User Audience
Regular taking feedback from the users and implementing them in the app make them feel valued. And, This will also build a sense of trust and loyalty among your users. And make them use your app and promote it by spreading word of mouth to their family and friends. Consequently helps in the overall growth of your business.
Higher App Store Ranking
Regular maintenance and updation in the app can also help in improving the app ranking in the app store. Also, regular updation and maintenance positively affect search engines and app stores. Showing your commitment to improving your services. It leads to improved ranking, higher downloads, and ultimately increased revenue.
Improved Security
Mobile applications contain crucial customer information and financial data. And these crucial data are prone to cyber-attacks. And weak security can make hackers breach the security and misuse confidential information. So in such conditions, regular maintenance is important. So through this, you can keep an eye on the loopholes. And fix them that could cause a security breach.
Better Productivity
Making continuous improvements and implementing the latest technologies and features in your app. Let you entice more visitors to download your app. And this way, continuous maintenance of the app directly impacts increasing your productivity.
Conclusion
Get your app developed by an app development firm that offers a customer-centric solution. Understand market trends and customer requirements. And deliver the solution based on user requirements. So make regular updation in the app to deliver seamless and uninterrupted solutions to the customers. Try MageNative's fast, secure and reliable app solution.