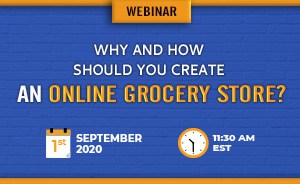 Consistent growth has been observed in online grocery platforms in the past few years. Online grocery shopping is catching up with consumers at a fast pace. According to a Nielsen study, in countries like the US, UK, Japan, etc., around one-fourth of online shoppers are already purchasing groceries online and 55% are willing to do it in the near future. If you're an entrepreneur looking to venture into the field, the upcoming webinar by CedCommerce might help you find answers to your queries. Webinar on "Why and How should you create an Online Grocery Store?" on 1st September 2020, at 11:30 PM EST.
Why must you join this Webinar?
If you are an entrepreneur looking to leverage the market of online grocery delivery that is demonstrating an annual growth rate of 13% you must join us for this webinar. Here we will answer your queries for starting a marketplace based on this idea.
In this webinar, we will be covering what you need to know about an online grocery business. You'll find the latest trends and innovations in the online grocery industry in this webinar. Not just this, we will also be focusing on the industry challenges and solutions. It's crucial for businesses to keep track of the changing industry demands along with the shift in consumer behavior, now more than ever.
Agenda of The Webinar
The current state of grocery business due to COVID
Challenges faced by the grocery industry during the lockdown
What customers are looking for?
What will be the future for online grocery stores?
Benefits of moving your offline grocery business online
How to start an online grocery store?
Points to consider before starting an online grocery store
Live Demo Of Cedcommerce Grocery Store Solution
Speakers
The speakers of our webinar are Apurva Anand, Marketplace Solution Expert at CedCommerce, and Syed Ali (host), Business Development Analyst at Cedcommerce.
Additional benefits of joining this webinar
Get answers to all your queries regarding the online grocery business.
Tips driven from the webinar dropped straight in your mailbox.